Recently, Zen Pencils, a cartoon blog by Gavin Aung Than, published, The Power of One, a new comic using words from Dr. Jane Goodall and her now well known Reasons for Hope. In The Power of One, at some point in the future, readers are shown scenes of how one human's ingenuity helps make the world better place. These scenes are narrated, in a way, by Dr. Goodall's own words. By the time readers are finished experiencing The Power of One they can see how Gavin brings his art together with Dr. Goodall's words to create one breathtaking and hope-giving experience.

Aung Than is a cartoonist based in Melbourne, Australia. As he notes on his website, after working in the corporate graphic design industry for eigh years he quit his unfulfilling job at the end of 2011 to focus on his true passion, drawing cartoons. His comics on Zen Pencils have been featured by The Washington Post, The Huffington Post, Slate, Mashable, Upworthy, Buzzfeed, Gawker, The A.V. Club, Brain Pickings, Comic Book Resources, National Geographic, ProBlogger and The Design Files. The site was named one of the best 100 websites of 2013 by PCMag and there are two New York Times bestselling book collections of Zen Pencils comics currently available.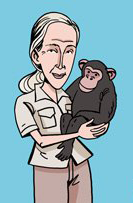 The Power of One is not the first time that Aung Than has featured Dr. Goodall in one of his cartoons. His On The Shoulders of Giants poster features a quote from Isaac Newton, famed physicist and mathematician, who said "If I have seen further, it is by standing on the shoulders of giants." Among those giants, many of the top scientists of all time, is our very own Dr. Goodall.