It's that time of year again to welcome Dr. Jane Goodall back to North America for her spring lecture tour! Throughout March and April, Jane will be traveling all across the USA and Canada for her Gombe & Beyond tour, giving 10 public lectures and meeting her biggest fans while on the road.
Today, Jane is still traveling nearly 300 days each year all around the world to speak out on behalf of chimpanzees and other animals, promote the work of the Jane Goodall Institute (JGI), meet with young people involved in our Roots & Shoots program and encourage individuals to take action and make a difference every day, no matter how small it may seem. During her travels, Jane continues to inspire millions of people, young and old, giving them hope that together we will create positive change to make this world a better place for people, animals and the environment we all share.
With 2016 in full force, it's already proving to be another busy and exciting year for Jane and the Institute! This month, we celebrate 25 years since the founding of Jane Goodall's Roots & Shoots program. What started with 12 Tanzanian students in 1991 has now grown into a global movement, spanning more than 130 countries with hundreds of thousands of engaged youth around the world, all helping to fulfill Jane's mission to save our planet. So get involved in the global celebration this month on social media by using #RootsandShoots25.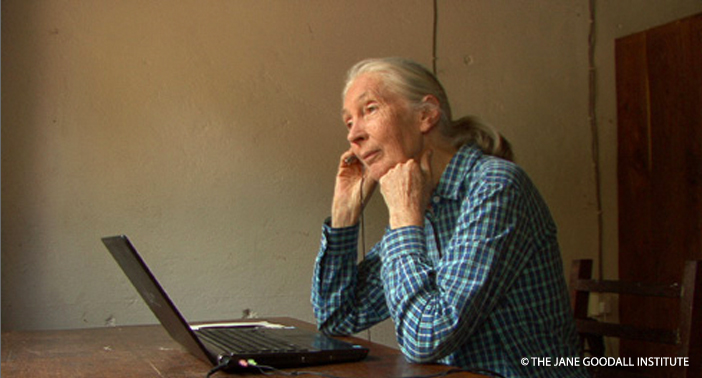 To help celebrate the announcement of Jane's spring tour, you will have a special first-time opportunity to participate in a live Q&A with Jane on her Facebook page this Saturday, February 6th at 11 a.m. EST / 8 a.m. PST. To join us for this free event, signup and be sure you're following Jane on Facebook by liking her page.
Now comes the question of what YOU can do before seeing Jane this spring. Here are four simple ways to support Jane's mission and get involved in our work:
Get your friends, colleagues, classmates and family to recycle their old cell phones. Signup to collaborate with JGI and help us save chimpanzees.
Start your own fundraiser to support an aspect of our work. You will have fun and your money will go far in helping us realize our mission.
Join Roots & Shoots and start a new group in your area before Jane comes to town.
Follow Jane and the Institute on social media. Remember, we're now on Instagram and Snapchat!