Hope For Animals and Their World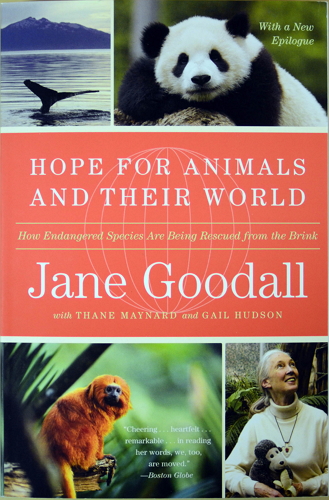 Hope For Animals and Their World, published in 2009, is a motivating series of accounts by Dr. Goodall about passionate animal justice activists like herself who have devoted their lives to save endangered species. There are also many vibrant pictures of the animals from all over the world; species which have been restored from near extinction. In one example, the Vancouver Island Marmot was on the brink of extinction with only 30 left due to logging of their habitats and increased predation and most now live in captivity. However, once activist Andy Bryant met with the logging company, things began to turn around:
Stan became one of the marmots' greatest advocates, encouraging the company to do all it could to support marmot conservation efforts .
As this story proves (along with many others in the book), sometimes increased awareness is all that is needed to invoke change. At the end of the book, Dr. Goodall includes a comprehensive section about what we can all do to heal our planet and help restore these endangered species. Dr Goodall writes,
The best way I know to counteract despair is to do everything I can to make a difference, even in the smallest way, every day…That is why I left Gombe and the forests I love — to try to do my bit to raise awareness of the plight of the chimpanzees and their forests, and do whatever I could myself.
Get your own Hope for Animals and Their World here.