Finding Maurice
by Karin Konoval

In 2010 I was cast as "Maurice" in the film Rise of the Planet of the Apes. The challenge: how do I portray, with physical and psychological integrity, a mature male orangutan?
It was the most unique and strenuous preparation for a role I've ever undertaken. I began with every book, video and sound recording I could find, to learn how orangutans moved, their particular strengths and flexibility, how they used their hands and feet, how they ate, what they ate, how they slept, what sounds they made and how and why they made them. Under Terry Notary's guidance I learned to walk and run quadrupedally on arm stilts. To help me with Maurice's heaviness we attached weights to each stilt, which made it harder. My daily practice evolved into a jaunt into the park at dawn to run around in the trees on my stilts, weight lifting and yoga sessions at the gym, practicing long calls in the shower, climbing quadrupedally on and off furniture, studying food on my lip as I ate, and urging my body into tangled postures to "nest" under a blanket.
A month into research and training, the heart and soul of Maurice still eluded me. I found a video on Youtube: "Towan the Orangutan Paints." I'm a painter myself and to my surprise here was an orangutan making choices like any human artist. Towan lived at Woodland Park Zoo in Seattle. I had to visit. I found him in the outdoor habitat, a burlap blanket over his head. Occasionally he'd poke a corner of the blanket up, then disappear again. Then, in a sudden and surprising move, he threw the blanket off and leapt to the window. We were nose to nose on either side of the glass. For twenty minutes, his eyes studied up and down my face. And somehow, in that twenty minutes, he gave me Maurice.
Throughout filming, to think of Towan would bring me instantly to a place of quiet, singular focus. My journey as an actor became one of reduction, doing less and less, settling into deep stillness and observing the world from this perspective. Every look and action became specific, nothing gratuitous. At times I felt like I was doing nothing. Shouldn't I be doing more? Towan's face would appear in my mind's eye. No.
When the film wrapped I kept his picture beside my painting table and couldn't stop thinking about him. After the movie's release in 2011, I received an invitation for an introduction to Towan and his family, and that was the beginning of a journey that continues today. Getting to know Towan, Melati, Chinta, Bela and Heran, each of them entirely unique in character, is an ever deepening and seemingly endless gift.
Through Andy Antilla and Laura McComesky, two of the orangutans' caregivers, and the Orangutan SSP, I've been introduced to the conservation community and the critical challenges orangutans face. I follow and support as I can the invaluable work of the people and organizations I've come to know. Currently, I'm one of the "foster people" to orangutans Linus and Mari and chimpanzee Knuckles at the Center For Great Apes, and through Orangutan Outreach am able to foster orangutans Krismon, Nadya and Megaloman at the Sumatran Orangutan Conservation Programme and Jumbo at Borneo Orangutan Survival Foundation.
The journey to portray Maurice through three films has been one of the most challenging and rewarding jobs as an actor I've ever had. Towan, who gave me Maurice's heart and soul, continued to teach and inspire me throughout.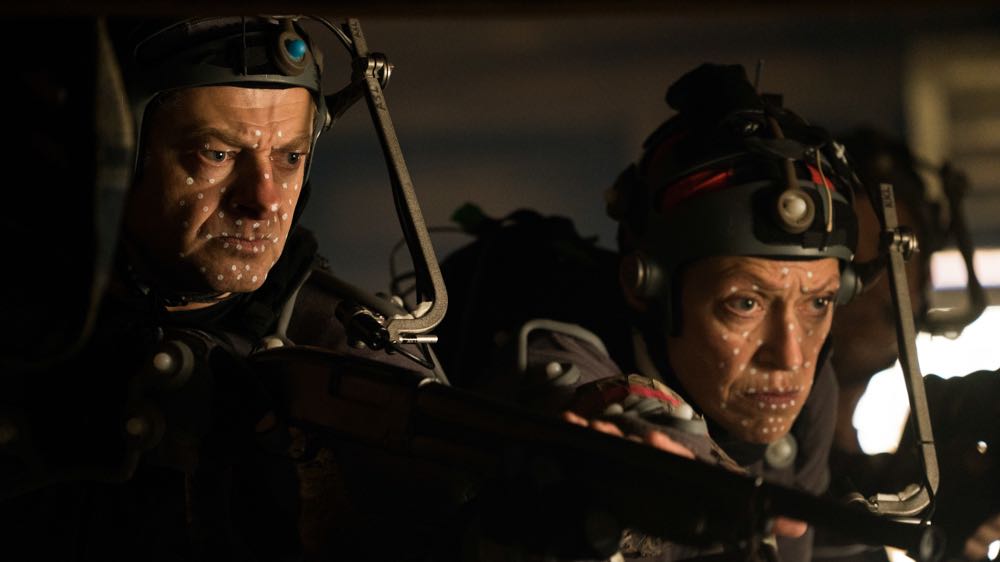 Left and above: Karin Konoval and Amiah Miller, Andy Serkis and Karin Konoval in War for the Planet of the Apes, photos courtesy 20th Century Fox.
A week after I wrapped War for the Planet of the Apes, Towan passed away. At 48 he was the oldest male orangutan in North America. His last afternoon outside in the sun, Towan watched closely while I painted for him at the window where we first met.
---
In a perfect and necessary partnership, and in honor of the upcoming release of the new War for the Planet of the Apes, 20th Century Fox will be working with the Jane Goodall Institute to provide care for rescued chimpanzees at Tchimpounga Chimpanzee Rehabilitation Center in Republic of Congo.
"I think that the Planet of the Apes series makes people think about the apes and perhaps our relationship to them. And anything that makes us think about our own humanity in relation to the rest of the animal kingdom is important. So I think the series has helped." – Dr. Jane Goodall
 Learn more here.