The Gombe-Masito-Ugalla ecosystem is home to more than 90% of Tanzania's estimated 2,200 chimpanzees—a population that is facing increasing threats due to habitat loss and population fragmentation, disease, and illegal wild meat and wildlife trade. Underlying these threats, the drivers of human inequities and challenges deplete natural resources and expand unsustainable land-use practices. In response, JGI's Landscape Conservation in Western Tanzania (LCWT) project uses JGI's Tacare community-led conservation approach to support and work in partnership with local communities to tackle the drivers of these challenges. This in turn protects endangered chimpanzee populations and safeguards their habitat through effective land-use planning, farming practices, and other efforts. This holistic approach is also improving the well-being of people, other animals, and ecosystems across the region.
One notable program completed as part of the LCWT initiative is known as the Composting Campaign. By utilizing Geographic Information Systems (GIS) data and surveying local community stakeholders, JGI determined that soil infertility was a key factor in driving encroachment into essential chimpanzee habitat. Farmers living near riverine forests have been turning to forest reserves in search of fertile land to produce enough crops for their families. JGI's solution is to improve soil fertility through composting.
When the deforested land became infertile, the search of fertile land began—continuing to further the cycle of deforestation. This is a grave threat to humans and wildlife that depend on forest habitats. In partnership with Impact By Design, JGI's team facilitated a compost effort that made sense culturally and practically. Working in partnership with farmers to understand options and needs, JGI was able to support the creation of tools and resources needed to create compost and practice composting. This in turn is a win-win for everyone.
By using social science, our partnership with the local community identified several ways to get composting off the ground (so to speak). This campaign began as a pilot program in three villages. Farmers were selected to participate in this program based on four criteria: location, role in community, experience, and gender—diversity among all four criteria is a key factor. In partnership with the Mishamo Settlement Administration, farmers were provided training and starter compost. They then began composting on part of their farm plots to learn the technique, observe the results in comparison with non-composted areas, and share the outcomes with others.
On top of working with lead farmers as ambassadors, JGI also made the campaign accessible and meaningful to the communities who were participating. This included mascots, events, a visual brand, farming tools, a farming compost calendar, and much more.
The project has also led to the creation of a database where the data is stored from farmers who are composting in these villages. Agriculture volunteers help gather data which includes information on demographics, number of compost piles created, the amount of land treated with compost, and details of farm management and harvest outputs.
Many farmers have recorded higher productivity in their plots of land and are sharing their composting knowledge with other farmers within and outside of their villages—including local schools through Roots & Shoots and religious groups. As a result of the composting campaign, many farmers have shared that they have observed other farmers ending the practice of establishing farms in forest reserves—a positive trend the project will continue to monitor, and hope grows!
This composting campaign is just one-way JGI's community-led conservation approach is paving a way forward for human coexistence with ecosystems and wildlife. But through these solutions, communities gain more than just sustainable conservation practices—together we are also…
Elevating Local Leaders and Empowering Women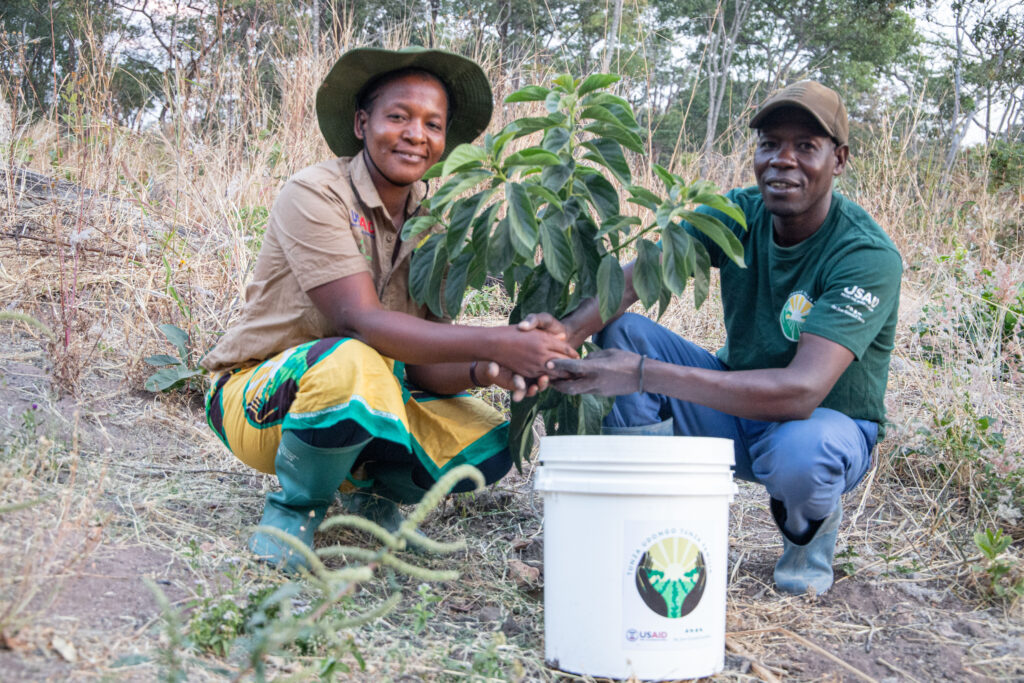 When Tanzanian farmer, Mbuke Luvinza Ntala, was first invited to join JGI's campaign to create and use compost on her crops as a lead farmer, she was hesitant—she had not seen many women take on leadership roles in her community, especially without formal education. Through training and practice speaking about her experience, Mbuke quickly gained confidence in her abilities, and has become an established resource for other farmers in her community.
Learning & Engagement with the Next Generation
Tanzanian farmer, Raphael Mbiliko, adopted composting as a sustainable and more effective alternative to synthetic fertilizers—and now he's teaching it to his own children, as well as to children in local primary schools. Investing in this training within local communities is not only helping solve issues at hand today, but also for generations to come.
Together with our partners, JGI-USA will continue to provide tangible and innovative solutions in partnership with the communities most impacted to help solve the threats facing our planet with a holistic approach. By engaging, listening, building shared understanding, and investing in human needs, sustainable actions led by local communities deliver new hope for wildlife, people, and the planet we share.
Learn more about how the Jane Goodall Institute's Landscape Conservation in Western Tanzania (LCWT) program is making an impact on the lives of local communities: