At the 2020 World Economic Forum, Dr. Goodall announced her commitment to the Trillion Tree campaign of UNEP (United Nations Environment Programme) of contributing five million trees (by protection, planting, and/or restoration) through JGI and partnerships. From forests to the individual tree, plants are the "root" of our planet's health and survival. Trees and other plants have the power to draw down from our atmosphere carbon dioxide (CO2), a heat-trapping gas released through human activities like burning fossil fuels and deforestation. By trapping CO2, forests and green spaces can be one of our greatest solutions in fighting climate change (U.S. Forest Service). Not only that, plants and forests provide oxygen, and improve the health of communities who live and work near them (ArborDay). There have even been studies on the tremendous mental health benefits (Washington Post)!
Global reforestation binds at least a quarter of the annual man-made CO2 emissions. Preventing the continued loss and degradation of forests and supporting sustainable and appropriate restoration could contribute to one-third of total climate change mitigation required by 2030. Restoring just 350 million hectares of forest could potentially sequester (offset) 1.7 gigatonnes of carbon dioxide equivalent annually (IUCN). This is a big deal, and there's space to grow – by the campaign's estimations, in total, an area the size of the United States could be reforested. In addition to important climate change legislation and convenings like COP26, greening our world represents an incredibly impactful way to ensure a healthy planet for all today, and tomorrow.
1.6 BILLION PEOPLE DEPEND ON FORESTS FOR THEIR LIVELIHOOD, INCLUDING 70 MILLION INDIGENOUS PEOPLE.
80%+ OF ALL TERRESTRIAL SPECIES OF ANIMALS, PLANTS AND INSECTS MAKE FORESTS THEIR HOME.
3.3 MILLION HECTARES OF FOREST AREA LOST BETWEEN 2010 AND 2015. POOR RURAL WOMEN ARE ESPECIALLY AFFECTED BY THEIR DEPLETION.
"The forest is for me a temple —a cathedral of tree canopies and dancing light."

Dr. Jane Goodall
At JGI, we're committed to support Jane's Green Hope through our programs, particularly across Africa Programs. In 2020, we make great strides in Uganda to build that greener future for all.
JGI PLANTS SEEDS OF HOPE IN UGANDA
The JGI team in Uganda has distributed thousands of indigenous seedlings to local farmers and Private Forest Owners (PFOs) at the household level seasonally as part of our efforts to restore and protect forests in important conservation regions. In 2020, community members in 10 areas of Hoima and Kikuube district were successfully mobilized through awareness meetings and were trained in tree nursery protocols and management to raise native seedlings of their choosing. The implemented restoration project activities have already grown remarkable change.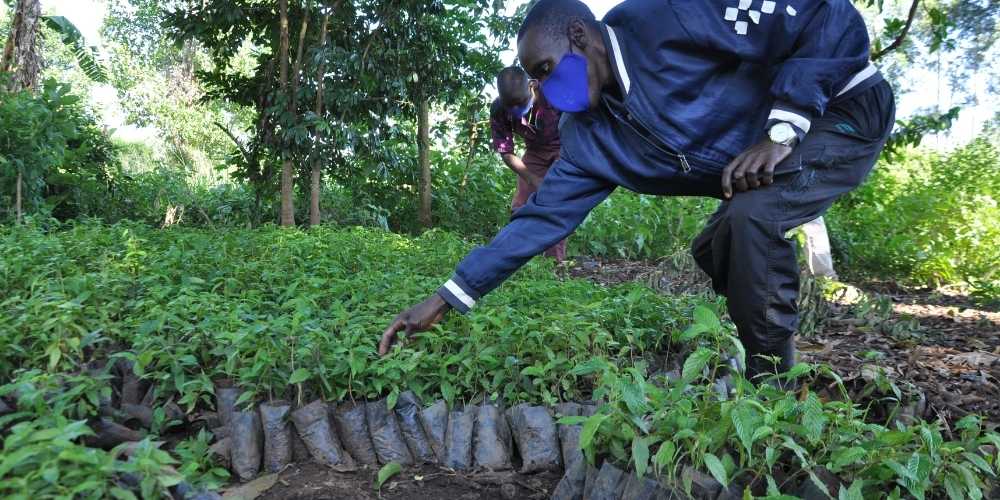 Mr. Mujuni Godfrey from Katanga region, for example, is now a model native tree farmer who has planted more than 10,000 tree seedlings in one year. Godfrey is not only able to grow these seedlings as part of income generation but is now also part of a movement to restore ecosystems in Uganda. Together, we're creating an ascending JGI family tree of increased human well-being, which is sprouting conservation and climate impact.
We know we cannot always work alone, and partnerships are vital to the success of our ambitious goals. Towards this end, three million of five million trees will be planted, protected, or restored in collaboration with One Tree Planted through the Uganda Wildlife Habitat & Corridor Restoration Project. The effort, which launched in 2020, will support long-term and large-scale restoration of the forests across western Uganda that make up the Albertine Rift—one of the most diverse terrestrial ecoregions in Africa.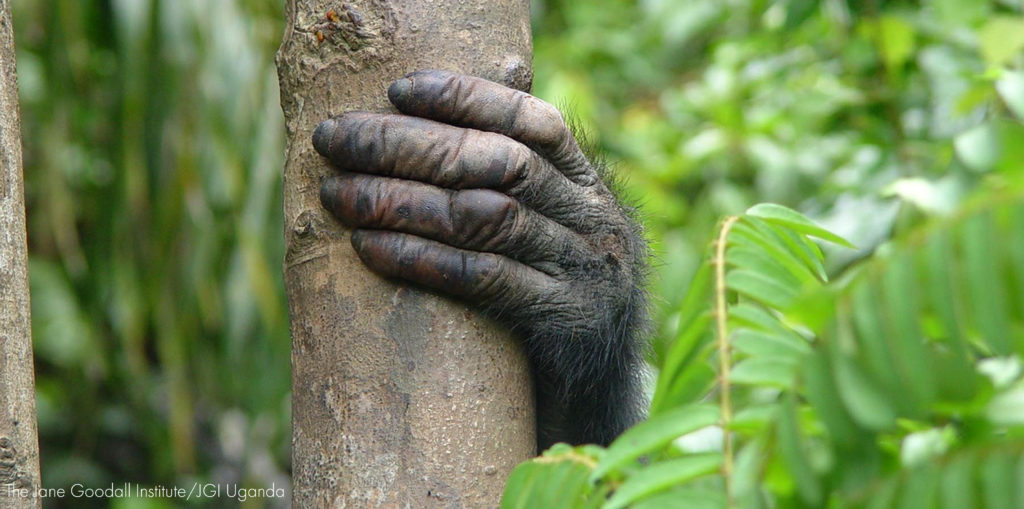 1M+ native trees planted, protected, or restored per year through partnerships in Uganda
Using Tacare, JGI's community-led conservation approach, the project will restore degraded areas, promote agroforestry practices, and strengthen forest monitoring and law enforcement. It will also continue to support over 3,500 households in sustainable livelihoods, fuel-efficient stoves, improved agricultural practices, community- managed enterprises and microcredit programs. This effort includes the establishment of more collaborative forest management (CFM) groups to monitor forests and protect watersheds. Already, approximately one million native trees are being planted and/or protected and restored each year through this work and other partnerships in Uganda.