IT'S ALMOST HERE! At long last, the new National Geographic documentary JANE by Brett Morgen is coming to you! On March 12th at 8/7 c JANE premieres as a commercial free simulcast on National Geographic and Nat Geo Wild and it's going to blow you away.
JANE, a mesmerizing film directed by Brett Morgen with musical score by Philip Glass, showcases over 100 hours of never before seen footage of Jane Goodall's early years in Gombe in the 1960s, and has us all feeling closer than ever to Dr. Goodall's magical time in the forest with the wild chimpanzees. All across America, on March 12th Jane fans will gather around their televisions for a perfect 90 minutes that will transport viewers into her most groundbreaking research. Could it get any better than that? IT CAN!
Right now, you can be a part of Jane's team! By joining Team Jane and raising funds to reach your goal, you can actually be part of Jane's mission to understand and protect great apes and their habitats. Join or start a team easily online, and invite your pals over to watch the TV premier. All Team Jane members who host a screening party to raise funds can get the party started with this free screening kit.

Get your Jane Goodall on – adventure awaits!
Invite your pals
Send out invites! Check out our example invite below for a Team Jane screening party which you can use to get your friends, family and others to explore Gombe with you alongside Jane. If you really want to go the extra mile you can include a personalized note mentioning how excited you are to watch the film!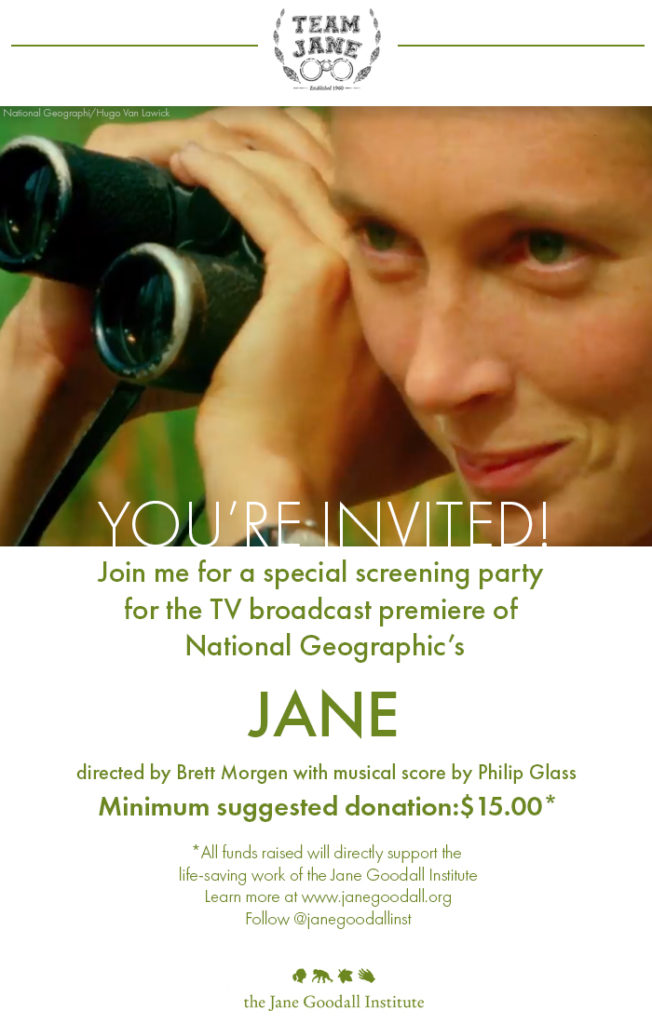 Share on Social
Facebook, Twitter and Instagram are just a few of the most invaluable promotion platforms you will have for your screening fundraiser. Be sure to mention free snacks, games, and any promotional materials you might be offering at your screening. Make use of these resources for your posts and in your description make sure to tag @janegoodallinst #teamjane #belikejane so we (and others) see all your hard/fun work!
Posting periodically on social is going to be to be crucial in reminding people that the screening is coming up. You should be cautious of posting everyday, just keep it on people's radar without going overboard! The best part is seeing people so excited about the event, they're sharing with their friends and family, too!
Join our Team Jane Facebook group to share ideas and get to know your fellow Team Jane teammates!
Get ready for people to arrive
Get creative! Figure out forest friendly decor (using sustainable, recycled materials of course – including plateware + etc.) and have your guests feel immersed in the magic. Depending on where you plan on watching the movie, coordinate on how to use the technology, a projector, and other details to make sure there's nothing in your way for the big night.
And most importantly: Snacks
Nothing says "we love chimps" like FREE SNACKS. Chimps love snacks, humans love snacks, you really can't go wrong here! Feel free to use the theme and run with it, our chimp pals would recommend bananas, figs, or insects (for the daring), and Jane would recommend a plant-based meal (check out our #IEatMeatLess campaign).
Be Like Jane
In addition to having a great time with your friends, family, and/or co-workers, hosting a screening party to raise funds for Team Jane may seem like a small thing, but it has huge impacts. By sharing Jane's story with your networks and supporting the Jane Goodall Institute, you're taking Jane's vision to new heights! You are what gives Jane hope. Not bad for a days work!
---

The Jane Goodall Institute is a global community conservation organization that advances the vision and work of Dr. Jane Goodall. By protecting chimpanzees and inspiring people to conserve the natural world we all share, we improve the lives of people, animals and the environment. Everything is connected—everyone can make a difference.