March is Women's History Month, and that means we're celebrating all the inspiring women—like Dr. Jane Goodall—who blazed the trail into masculine-dominated fields, making it easier for more amazing women to follow in their footsteps! Four such fields are Science, Technology, Engineering, and Mathematics, also known collectively as STEM. Gender stereotypes and biases in many countries around the world often dissuade young women from following their interest in these fields, but with the right encouragement, these same young women could go on to change our understanding of the world, just like Dr. Jane! That's why March's project of the month is IuvaTech Hackinar, out of Marietta, Georgia!
When Roots & Shoots National Youth Leadership Council member Samyukta use the Roots & Shoots 4-Step Formula to create an impactful project, she Step 1: Got Inspired by the fields of engineering and computer science, she saw how they were being used to solve major problems in our world. However, she also Step 2: Observed the lack of interest in these fields shown by other students, and the educational inequality experienced by marginalized groups, including women. Because of her own passion for STEM, she decided that a team of peers leading younger students through an education program of their making would be the best way to teach and motivate them. She made further observations, researching STEM teaching methods online and speaking to local middle school teachers about where they saw areas for improvement.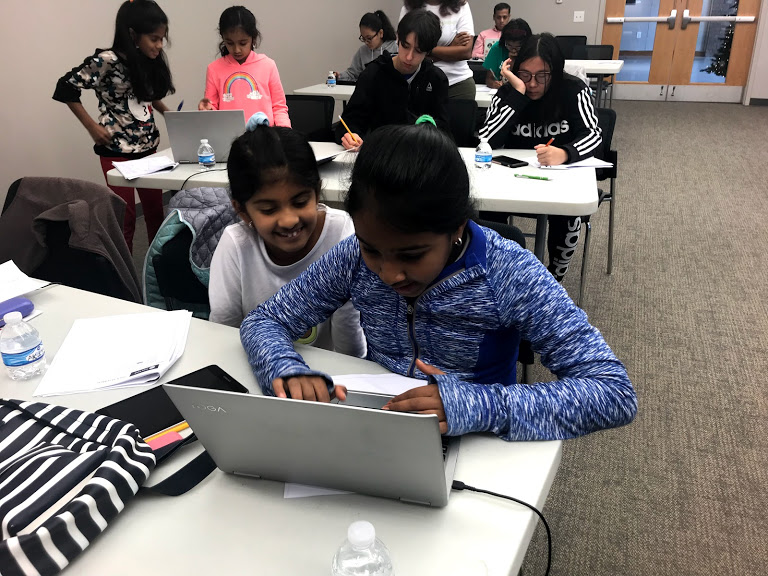 When these data were collected, she Step 3: Took Action. She spoke with prospective mentors, set project deadlines to keep her team on track, and chose a venue for the hackinar—a clever combination of "hack," referring to computer programing, and seminar. She outlined her plan by setting up an 🔗 IuvaTech website, and created social media accounts to get the word out. All this preparation paid off, and the event had 25 registrants, over half of whom were young women!
Step 4: Celebrate & Reflect also includes looking forward to the next steps in a project, and the IuvaTech team did just that! Every participant was given a survey at the end of the program so that their feedback could inform the next hackinar. In reflecting on their program, they also realized they could make it even more accessible. By partnering with tech companies going forward, they hope to offer free or discounted software to participants, who can then focus on fun and learning without the financial stress. At the end of one project is the beginning of another, and that's the best part of being a changemaker—there's always more to do!
By opening students' eyes to the potential of STEM thinking, Samyukta may have inspired the next group of young computer scientists and engineers to follow their passion. By giving them a way to solve the problems they observe, these hackinar mentors gave the gift of HOPE, and that's a piece of software we can all use.
INSPIRED TO START YOUR OWN PROJECT? WE GOT YOU.
Once you've signed up as a member and come up with a project, be sure to register it on our website for a chance to be featured in a future project of the month! Not a Roots & Shoots member yet? You're only a few clicks away! 
Not sure how to start a project? Use our 4-Step Formula to find ways to make an impact in YOUR community! Remember to invite your friends to help out, because even when we take small actions, they're multiplied by collaboration. You can even create a Roots & Shoots group at your school, or join one already in your area! 
Looking for a Quick way to help out?
Learn more about why fewer women enter STEM fields in this informative blog post, 🔗 "Why Aren't There More Wonder Women in STEM?"