2021 was another difficult year with the continuing and evolving pandemic, global political turmoil, climate change and more. Despite this, Roots & Shoots changemakers continued to show us the meaning of hope in action. For yet another year, our Roots & Shoots family stood up for their beliefs, and used the creativity and resources at their disposal—most importantly, each other—to make this world better than they found it.
We have so much to celebrate, and it's all thanks to you! Whether you are a young person learning to make a difference, or a mentor guiding their journey, you have made this year a success. While we can't possibly cover every project, event, and action you have participated in, here are some of our favorite highlights from 2021!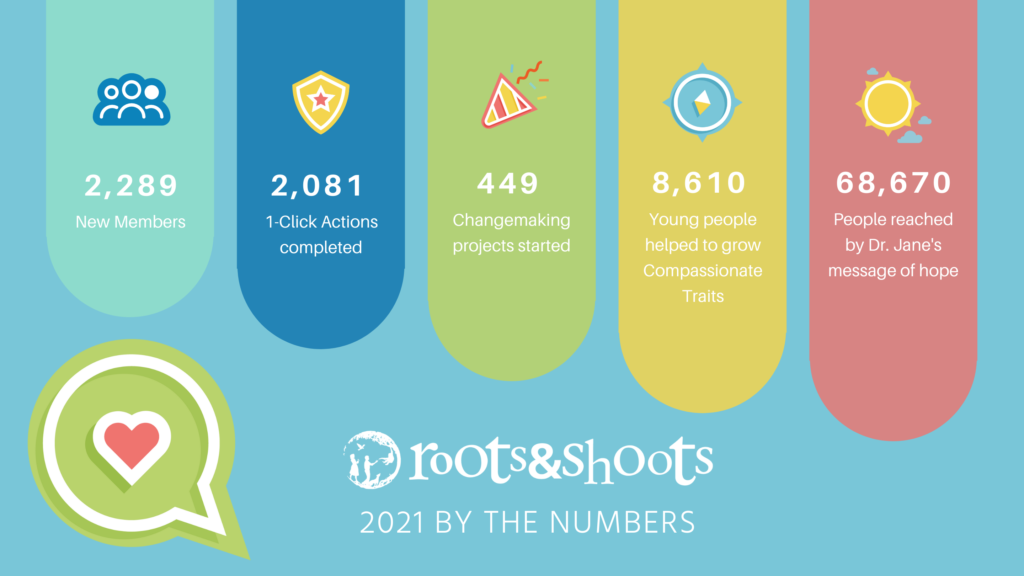 Roots & Shoots changemakers and programs positively impacted hundreds of thousands of people around the country and world in 2021. Roots & Shoots distributed 110 project support grants across the U.S. totaling $22,000.00, with 35% in Title I schools. We worked with companies and partners such as Docusign, Kratt Brothers (of Wild Kratts), National Geographic Museum, U.S. Forest Service, Google, Crate & Kids and more to inspire positive change across industries. We also saw love for RS changemakers from Character Lab, NPR, Lady Gaga's Born This Way Foundation, and local publications, shared the hope with Dr. Jane's new Book of Hope in free pantries across the U.S., and even had a Roots & Shoots group at COP26 in Scotland! To support even more impactful projects, we also released a new Project-in-a-Box focusing on tackling pollution called 'Together No Trash.'  
INSPIRING PROJECTS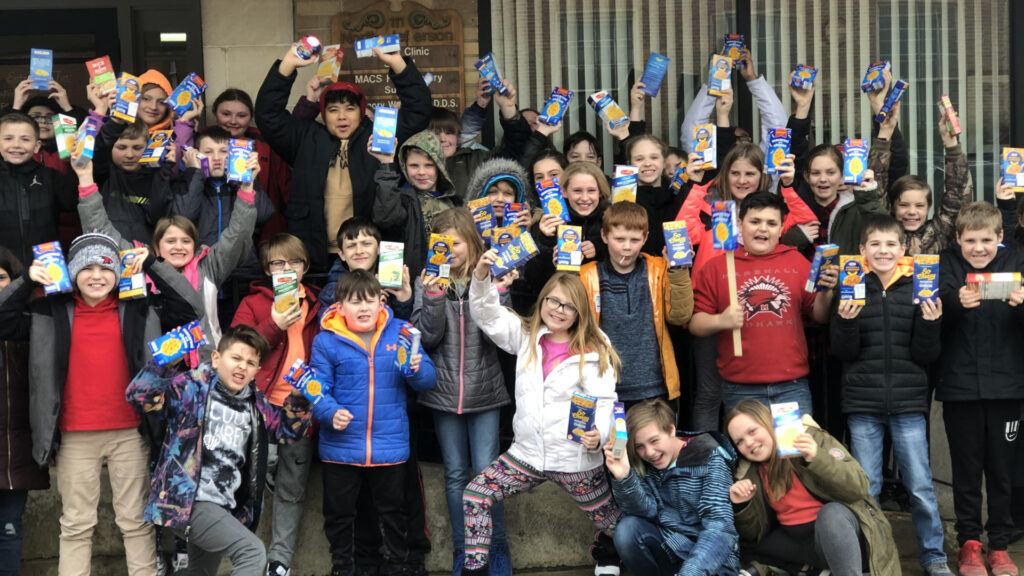 We also had some amazing projects and groups emerge in 2021, showcasing the variety and ingenuity of our changemakers! From projects that diminished food insecurity through work with food pantries to writing supportive cards for seniors impacted by the pandemic, Roots & Shoots changemakers used their compassionate traits to see challenges and find ways to help. Groups have also connected people in their neighborhoods and across the country, such as the Climate Change Champions group with 80 members from across the U.S.!  
VIRTUAL ROOTS & SHOOTS NATIONAL YOUTH LEADERSHIP COUNCIL  
In August, we held our Roots & Shoots National Youth Leadership Council Virtual Summer Summit 2021. The event celebrated the work of our NYLC members, and provided additional skills training to support them becoming the best changemakers around. Industry professionals held workshops, our changemakers presented their projects virtually, and Dr. Jane connected with these inspiring young leaders to motivate even more action!  
30 YEARS OF HOPE, ACTION, & CONNECTION!
Last, but possibly most exciting, 2021 marked 30 years of Roots & Shoots! In February of this year we celebrated the official birthday of Roots & Shoots, but we continued the celebration all year long with featured stories, actions, campaigns and exciting virtual events! Our 30th Anniversary global campaigns had a lot of AMAZING participation as well—from 'Growing Together' which focused on learning about and protecting global forests, to 'Connect the Change' which emphasized the connection between human, other animals, and the environment we all share, as well as 'World Chimpanzee Day' and 'Voices from our Earth'—people from all over the world learned and helped grow positive change as a result.  
And on November 23rd we had our 30th Anniversary Awards, featuring inspiring groups and individuals from all over the world! With our all-star list of guest presenters—including activists, influencers, and celebrities such as Arnold Schwarzenegger, IUCN president Razan Al Mubarak, and Saad Amer, co-founder of Plus1Vote—the event was a wonderful way honor people making a difference, and to inspire even more action for 2022. 
At the end of last year, we shared that we could face anything in 2021 by working together. You proved us 100% right! As 2022 present new challenges and new opportunities, we know that you'll not only persevere, you'll thrive as we build a better future, every single day.  
Thank you!