Happy Fall! Though we love the season, we know it also means the start of the school year. As so much of our lives have been difficult during the Pandemic, school has been extra tough for so many. Whether you're a student, an educator, or a parent, we hope your year is off to a great start! During this stressful time, remember to be kind to yourselves, and kind to others. We're so proud of the INCREDIBLE difference you have made through all your acts of compassion throughout this challenging time. (Check out our Back to Us campaign for incredible ways to make this back to school season the best it can be)!
This month, we are highlighting one of the many Roots & Shoots projects that shows what it means to be kind in times of darkness…SEPTEMBER'S PROJECT OF THE MONTH IS GREETING CARDS FOR MEALS ON WHEELS, FROM RACHEL IN LOS ANGELES, CALIFORNIA!
The pandemic has made life lonelier for many people, but particularly for senior citizens. Did you know that the number of senior citizens in the U.S. is increasing? One in five Americans is 60 or older! Understanding that and using the Roots & Shoots 4-Step Formula, changemaker Rachel Step 1) Got Inspired and Step 2) Observed her community. When Rachel realized that increased risk of COVID-19 for seniors meant limited access to grocery stores — which provide food as well as social interaction — she knew how important it was to help. So, she Step 3) Took Action! She and her fellow Roots & Shoots group members teamed up with Meals on Wheels to brighten people's days and spread hope through greeting cards that would be delivered along with the meals. All together, they created around 180 hand-made colorful cards that were delivered to senior citizens in their community! Rachel was even able to get some of her family members involved in the project.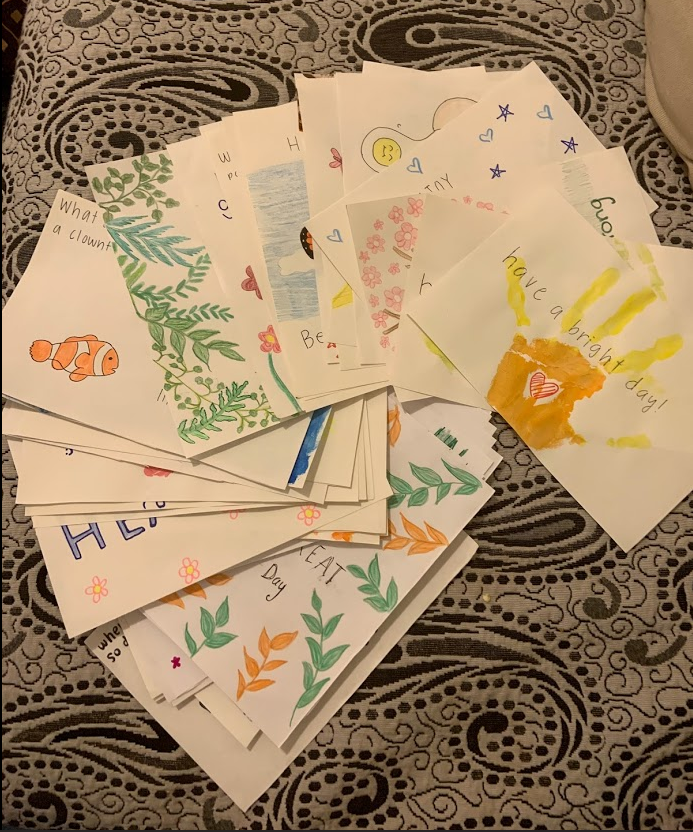 When Step 3) Celebrating and reflecting on the project's success, Rachel realized the power of the project was its simplicity. Thinking about Rachel's success, it reminds us that it doesn't take a lot to make a difference! If only one person had decorated a greeting card, then that one card would have been enough to make at least one person smile. Rachel realized that by getting her group involved, that they could make an even bigger impact! Through the project, they grew their Roots & Shoots Compassionate Traits by acting with EMPATHY, COLLABORATING with a larger organization, working as TEAM PLAYERS to accomplish more, and being HOPEFUL, taking action where it was needed most! In a world full of big problems to solve, it is wonderful to see that even small acts of kindness help us to heal!
Are you ready to turn your own acts of kindness into a Roots & Shoots project? Become a member (if you aren't one already), and then follow our 4-Step Formula to make a positive impact in your community!
Not ready quite yet? That's okay! You can always follow one of our guided Projects-in-a-Box, or join a group near you to see what they're doing!
Excited to write your own letter of encouragement? Sign up for our 1-Click Action, The Write Amount of Good, to let us know that you're helping spread positivity!