This year, Roots & Shoots has seen amazing growth, engagement, and meaningful change within our program and across the country. In February of 2021, Roots & Shoots will be celebrating its 30th anniversary of empowering young people by giving them the tools, resources and knowledge to be compassionate change-makers in their communities. For nearly 30 years, Roots & Shoots has been making sure young people have the agency and skills to shape our world for the better, and in 2020 we're making sure even more youth are involved, particularly in underrepresented communities and those with a lack of access and the resources to shine.
With generous support from the Fund II Foundation, this year Roots & Shoots is proud to announce incredible partnerships that will increase the program's reach by almost 7,000 additional individuals.
These partnerships are especially important as they support those whose voices and ideas are closest to the problems that affect them. The Roots & Shoots program will now be in even more communities to support even more youth activists, educators, mentors and other change-makers working together to take action for people, other animals and the planet we share.
Our 2020 Partners
The National Wildlife Federation
The National Wildlife Federation works to connect young people with the nature and the outdoors by promoting themes like habitat restoration, influencing policy makers and promoting a variety of outdoor programs to inspire youth to develop a relationship with nature. Using editorial pieces like Ranger Rick® magazine, and offering tools to parents and educators, and organizing youth around service-learning projects, The NWF educates communities about the significance of connecting with the outdoors.
"The Roots & Shoots 4-step model aligns well with the Eco-Schools USA 7-step framework. Specifically, the Eco-Schools USA framework is designed for students to use 21st-century skills like communication, collaboration, critical thinking and creativity to identify a sustainability need and then carry out projects to address those needs…
The Roots & Shoots 4-Step Formula enables Eco-Schools USA to place emphasis on building compassionate leaders within the Eco-Action teams; community exploration and mapping when performing an Eco-school-wide audit; choosing a campaign based on community needs when developing an Eco-Schools USA action plan; and celebrating success when students reach an Eco-Schools USA award level. Both programs have a number of resources, templates and activities to assist students in reaching their goals."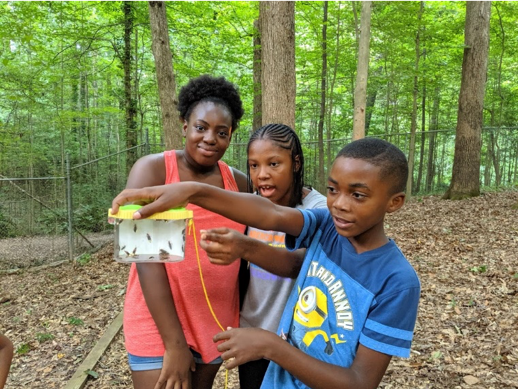 The Point
THE POINT Community Development Corporation is a non-profit organization dedicated to youth development and the cultural and economic revitalization of the Hunts Point section of the South Bronx.
"The community organizing work at THE POINT CDC aligns perfectly with the Roots & Shoots model as we focused on local environmental justice issues and work closely with community members to identify root causes and brainstorm solutions. During the last two summers, young people at THE POINT along with partner organizations, such as El Puente and YMPJ, participated in Camp EJ, a community-based participatory research project that empowers youth and community members to address air quality issues in environmental justice communities. CAMP EJ engages residents 14+ using the power of citizen science to identify the causes of air pollution and generate data to inform environmental justice campaigns and policy recommendations. The next step of this project is to work with New York City Environmental Justice Alliance (NYC-EJA) to present the collected data back to the Hunts Point community, leading to further mobilization and an expansion or our organizing efforts."
Communities in Schools
In the U.S., approximately 1 in 6 children under the age of 18 live in poverty, shouldering more than they should have to.
Communities In Schools works directly inside schools, building relationships that empower students to succeed inside and outside the classroom. CIS provides the link between educators and the community by bringing a caring Site Coordinator into schools to address children's unmet needs. The result: teachers are free to teach, and students – many who are at risk of dropping out- can focus on learning.
"By helping our most vulnerable students stay in school and succeed in life, we are building stronger, healthier and more economically stable communities where every person can reach his or her greatest potential…We are working hard to ensure that we are still making a difference every day. We are putting programs, opportunities, and resources in place to ensure we do not miss a moment with the students we serve. It is extremely important to us that our students are receiving the same services they received in school. "
Connective Inc.
Connective, Inc. is a 501 (c) (3) non-profit that empowers youth with the critical skills needed to achieve life success. The non-profit connects with youth through custom, student-driven campaigns and curated Connective Culture Clinics with the goal of enabling students to reach their full potential. Connective, Inc. partners with schools, non-profits, and community centers to reach underserved youth across the U.S.
"Every student starts by completing the Roots & Shoots Compassionate Leadership characteristics form. Understanding and improvement of those skills along with the implementation of the Connective Four Pillars are the major focus of the self-development portion of our Culture clinics."
Youth Together
Grounded in a commitment to peace, unity and justice, the mission of Youth Together is to address the root causes of educational inequities by developing multiracial youth leaders and engaging school community allies to promote positive school change. Youth Together believes that youth are integral to creating lasting change in our communities and makes sure to equip students with the tools they need to think critically. 
What's Next
At Roots & Shoots, we are focused on putting the power into the hands of young people to whom the future belongs. Our amazing partners this year and beyond will help us continue to advance our message and program to young people, educators, and communities across the country while growing our movement of community change. We are looking forward to continuing shaping the next generation of compassionate change-makers and leaders with these wonderful partners by our side, giving our youth the tools to take the future into their hands.  
Want to get started with Roots & Shoots?
Sign up for updates and follow us @rootsandshoots and @janegoodallinst  
---

The Jane Goodall Institute is a global community conservation organization that advances the vision and work of Dr. Jane Goodall. By protecting chimpanzees and inspiring people to conserve the natural world we all share, we improve the lives of people, animals and the environment. Everything is connected—everyone can make a difference.