While it isn't always easy to be positive through such a difficult season of life, for us at Roots & Shoots it's all about the everyday victories. Today, we are celebrating because spring is here, and as a season of new beginnings and change, so too are our Roots & Shoots change-makers showing what it means to bloom!
As quarantine continues, our young Roots & Shoots members are resiliently forging ahead with renewed inspiration and amazing new community projects that are coming to life from inside their homes. The projects highlighted below are responses to the new set of challenges introduced by COVID-19 and examples of how by using the Roots & Shoots model to identify issues in your community and build solutions (see the Roots & Shoots 4-Step Formula) any obstacle can be an opportunity to do an impactful project. They're easy to replicate (or join!) and are motivating us to be more community minded as we try to keep ourselves safe and healthy in such a stressful time.
The world has shifted, but that won't stop these incredible young people from making a difference for people, other animals and the environment we share every single day.
Good Spokes
Good Spokes, based in Dexter Michigan was started by Olivia Najarian. The initiative is raising money for good causes through creativity and resourcefulness. Olivia, the Roots & Shoots National Youth Leadership council member behind this project is making homemade wire bike figurines, lino cut block prints and cards to support various nonprofit organizations, including the Jane Goodall Institute. All products are available on their Etsy Page, GoodSpokesGoods.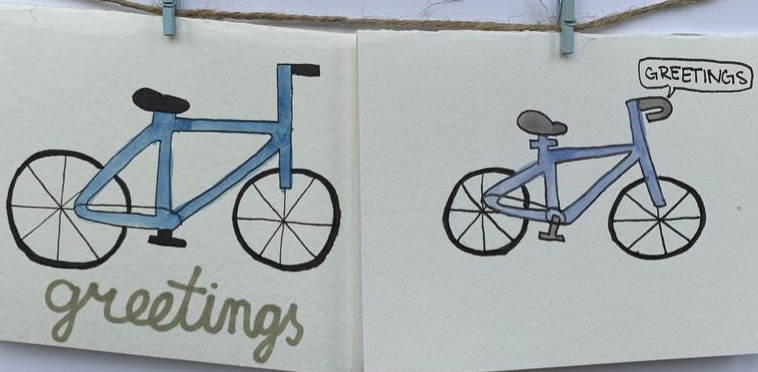 Make your Own Bee Hotel
A great example of doing your part for your local ecosystems is the Make Your Own Bee Hotel project, started by Maddy Gregg, Roots & Shoots National Youth Leader in San Marino CA, which aims to address the scarcity of places for solidarity mason bees to rest and lay their eggs. Turns out, solitary bee hives are surprisingly easy to create and are really important in helping the health of the bee community, which help pollinate landscapes. You can build a bee hotel out of everyday objects and it can maintain itself for three years without any cleaning. Help build a bee hotel near you today!
Maddy Gregg is also responsible for The Thriving Hive Project. The Thriving Hive Project is spreading awareness about the importance of sustaining the honeybee population and that of other pollinators for food security, nutrition, and pollinator health. Pollinators like the honeybee are responsible for 90% of the worlds flowering plants, and 1 out of 3 bites of our food. Educating others about the critical importance of these pollinators helps support biodiversity and local ecosystems. This project is raising money through selling homemade T-shirts and tote bags, which you can learn more about at thethrivinghiveproject.com.
Free Grocery and Gift Delivery
Based in Omaha, NE, the Roots & Shoots project Free Grocery and Gift Delivery aims to help relieve some of the hardships facing the senior citizen community during the COVID-19 crisis. Through this project, participants are providing free grocery delivery, gift cards, hand-written notes, and more to senior citizens at their homes and at senior living communities. This project is a great way to help our elderly neighbors who are at much higher health risk during the pandemic and can't get needed supplies on their own.
Greeting Cards for Meals on Wheels
Another great project helping senior citizens struggling right now is Greeting Cards for Meals on Wheels, based in Los Angeles, CA and started by Rachel Lind, Roots & Shoots National Youth Leader. Senior citizens who live alone and can no longer have in-home visits are struggling with so many challenges, especially loneliness. This project aims to relieve some of these hardships by organizing the creation of over a hundred greeting cards for seniors who are currently receiving food from Meals on Wheels. Each greeting card is a special and simple way to comfort our elderly neighbors and remind them how much their community cares. 
More from Rachel:
Take Action
Looking for ways to take action from home? Get inspired with activities on our 'Learn at Home' Page here.
Not sure where to start? Take the quiz on our homepage to turn your passion into purpose at rootsandshoots.org
---

The Jane Goodall Institute is a global community conservation organization that advances the vision and work of Dr. Jane Goodall. By protecting chimpanzees and inspiring people to conserve the natural world we all share, we improve the lives of people, animals and the environment. Everything is connected—everyone can make a difference.