Earth Day is finally here! Every year on April 22nd, we celebrate our shared planetary home, the birth of the modern environmental movement, and take action to protect natural resources and species. This year we're celebrating the 50th anniversary of Earth Day, and we're definitely going BIG for our big beautiful blue planet. There are so many incredible things happening and ways to get involved!
'Jane Goodall: The Hope'
Join us for the premiere of 'Jane Goodall: The Hope' on National Geographic Channel, Disney+ and Hulu on April 22nd, Earth Day, 9/8c!
Host a Virtual Watch Party
We can't wait for you to join us in watching this brand-new documentary! Share your excitement and experience with others by hosting a virtual watch party. Everything you need to get started below:
Where to Watch After the Premiere: Stream on Disney+ and Hulu. The documentary will also be available on the Nat Geo app online as well as by cable providers on demand, and April 23rd for purchase via Amazon, Apple TV and Google Movies. It will be available on DVD in June.
Share on Social Media
Facebook:
Join me in watching the premiere of 'Jane Goodall:The Hope' on #EarthDay April 22nd at 9/8c, exploring the living legacy of @janegoodall – scientist, activist and changemaker created in partnership with @janegoodallinst on @national geographic channel and @disneyplus ! Check out this JGI virtual watch party toolkit to get started. LINK #janethehope
Twitter/Instagram:
Join me in watching 'Jane Goodall:The Hope' on #EarthDay April 22nd, at 9/8c exploring the living legacy of @janegoodallinst – scientist, activist & changemaker created in partnership w. JGI on @NatGeoChannel & @disneyplus . Get started here: LINK #janethehope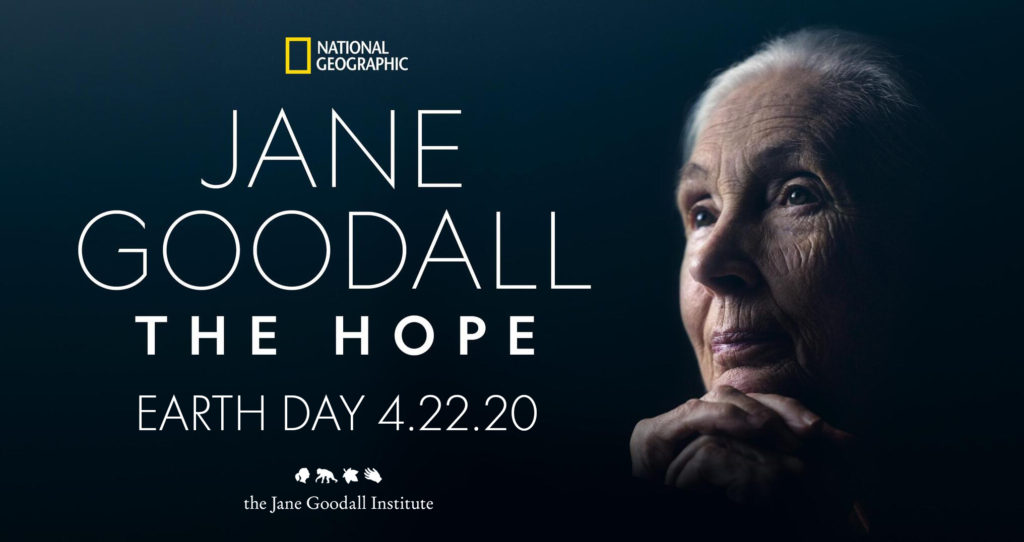 Where the 2017 documentary 'JANE' ends, this new film begins, showcasing the progression and transformation Jane undertook from scientist to activist. This new documentary special covers how these realizations forever altered her trajectory and moved her to create community-centered conservation programs through JGI, known as Tacare (now active in six African countries and growing across chimpanzee range) — and to improve the well-being of chimpanzees in captivity and at sanctuaries such as the Institute's Tchimpounga Chimpanzee Rehabilitation Center in the Republic of the Congo. The special also covers the creation of JGI's Roots & Shoots youth program that now has thousands of members in 60 countries all around the globe involved in hands-on projects to help people, other animals and the environment. 'THE HOPE' will also depict her impressive mission to ignite positive change globally, causing her to travel nearly 300 days a year and to speak out on a number of major issues ranging from human rights to the climate crisis. Told through a combination of archival footage, present-day stories and on-camera interviews, 'JANE GOODALL: THE HOPE' is an inspirational story that explores Goodall's vast living legacy and charts the many paths that stem from one woman's hope for a better future.
---
'Becoming Jane' Virtual Museum Walk-Through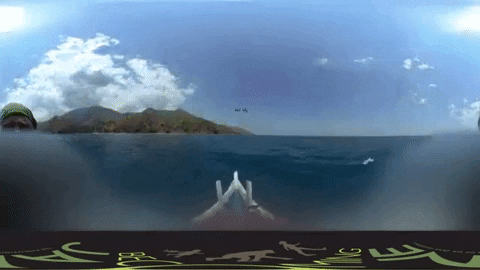 Unfortunately, during the last several weeks, many institutions have closed to flatten the curve of COVID-19. On March 13, 2020, National Geographic Museum made the decision to temporarily close, including our current exhibition, "Becoming Jane: The Evolution of Dr. Jane Goodall," produced in partnership with the Jane Goodall Institute. While we understand that this may be disappointing to some, the health, safety and well-being of our community comes first. But with new barriers comes new opportunities to share the exhibit virtually…and now you can!
The story of Dr. Jane Goodall—DBE, founder of the Jane Goodall Institute & UN Messenger of Peace—is a story of extraordinary scientific achievement and inspiration. "Becoming Jane," showcases Dr. Goodall's life and legacy and underscores her message of hope, compassion, and altruism. One of Jane's greatest reasons for hope is the indomitable human spirit. As Dr. Goodall recently said in a video message on her Facebook page:
LET'S ALL USE THE GIFT OF OUR LIVES TO MAKE THIS WORLD A BETTER PLACE, ESPECIALLY AT THIS TIME. TOGETHER, WE SHALL GET THROUGH THIS REALLY DIFFICULT TIME AND WE SHALL HAVE LEARNED WHAT'S TRULY IMPORTANT IN LIFE: FAMILY, FRIENDSHIP, LOVE AND ABOVE ALL—OUR HEALTH. – DR. JANE GOODALL
---
Roots & Shoots Earth Day Challenge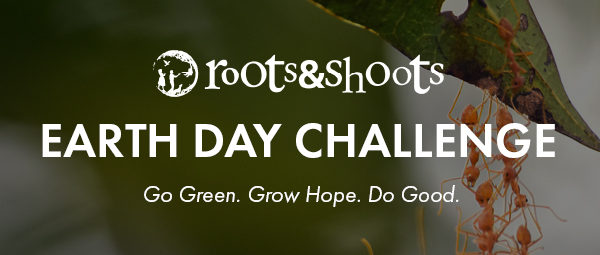 Nearly 2,000 participants have joined us in creating a more sustainable world for all ahead of Earth Day through the Roots & Shoots Earth Day Challenge!
Each day for five days (with two supplemental actions) participants of the Earth Day Challenge have received one action (via email) focusing on one aspect of daily behavior that can be modified to reduce waste and emissions, increase sustainable habits, and inspire others to do the same! The Challenge began April 16 building toward Earth Day, April 22! The challenge is already under way but all the activities will live on our Earth Day Challenge page for anyone to do.
*All elements of this Challenge have been created to focus on 1) understanding limitations for participants during stressful times of COVID-19 and financial limitations 2) social distancing protocols and need to participate from home*
---
Give to JGI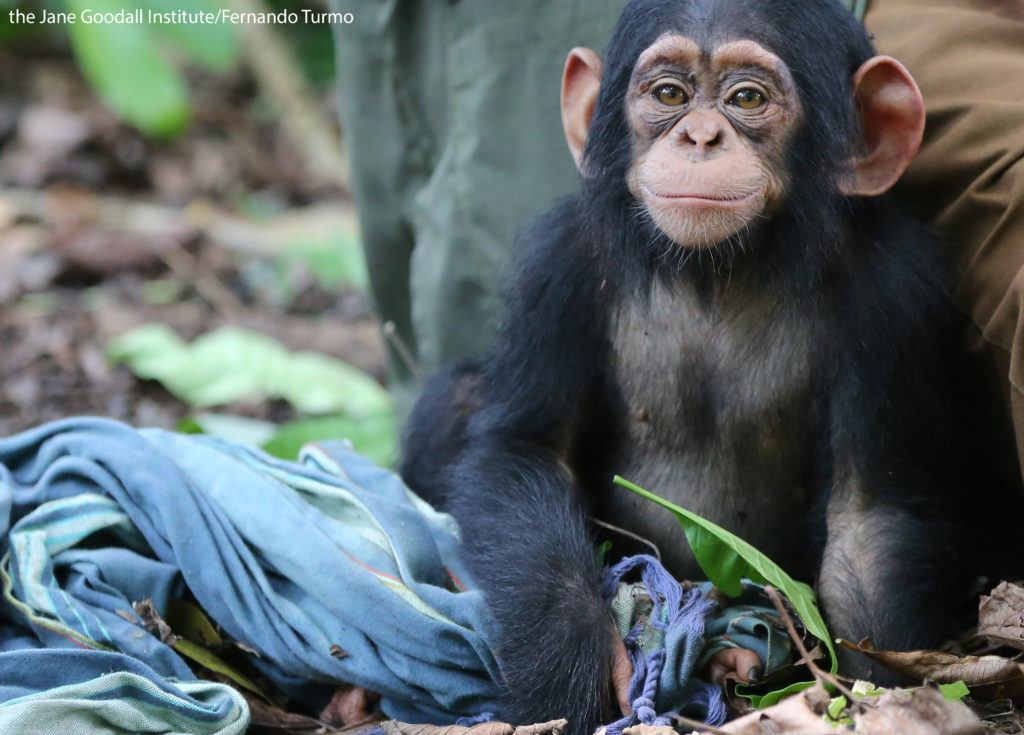 Jane and the Jane Goodall Institute need your help.
As we face the spread of the COVID-19 pandemic, JGI staff are working tirelessly to ensure the health and well-being of the chimpanzees in our care, as well as wild chimpanzees (as they are also potentially susceptible to the disease), to continue our support for human communities with which we work, and the young people we've empowered through Roots & Shoots. This is an unprecedented spring and our ability to act to save lives depends upon the generosity and support of the whole JGI family.
For those who have recently given, thank you. If you haven't had the opportunity, please do so.
---

The Jane Goodall Institute is a global community conservation organization that advances the vision and work of Dr. Jane Goodall. By protecting chimpanzees and inspiring people to conserve the natural world we all share, we improve the lives of people, animals and the environment. Everything is connected—everyone can make a difference.