Food insecurity in Camden City, New Jersey, is a problem that effects Rutgers students and the community at large. In 2014, 17.4 million U.S. households were food insecure at some time during the year (DPHP). What this means is that although resources like fast food may be available, health outcomes may be bleak as other nutritious options are scarce if they are available at all. For Amanda Ketterer, this was a challenge she was willing to take on with her Roots & Shoots group, and the results are delicious and nutritious!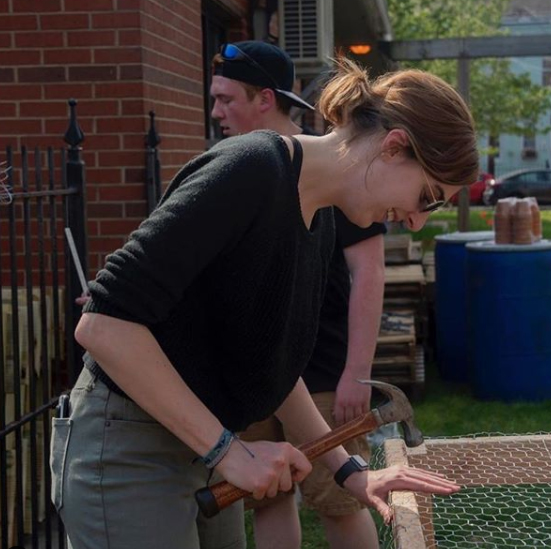 Now a junior at Rutgers University pursuing a double major in Political Science and Urban Agriculture, Ketterer met her project partner during their Political Methodology class, where a research paper assignment on a topic of their choosing quickly evolved into something far more impactful. Long time Roots & Shoots member, R&S National Youth Leader and current Roots & Shoots Fund II Foundation Fellow, Amanda is used to seeing issues as an opportunity to create dynamic solutions. Thanks to this sort of positive and innovative thinking, Amanda and her group are developing a community garden in North Camden to fight food insecurity and build excitement around collective impact; bringing the college and local city worlds together.
The Garden
According to Amanda, "The garden will include several raised beds with free produce (tomatoes, tomatillos, cucumbers, peppers, eggplants, peas and beans, service berry trees), an outdoor classroom, several rain-barrels, a rain garden, seating that wraps around trees, and an herb wall. All of the R&S Fund II Fellowship stipend is devoted to this project and I am happy to say that we are also being supported by Campbell's Soup, Rutgers University, and several local small businesses. Our goal is to bridge the gap between Rutgers University and the Camden community while addressing food insecurity. This is the first of many gardens we hope to build around the city of Camden." Construction is already underway on the first community garden, and the group couldn't be more excited to start turning hope into action.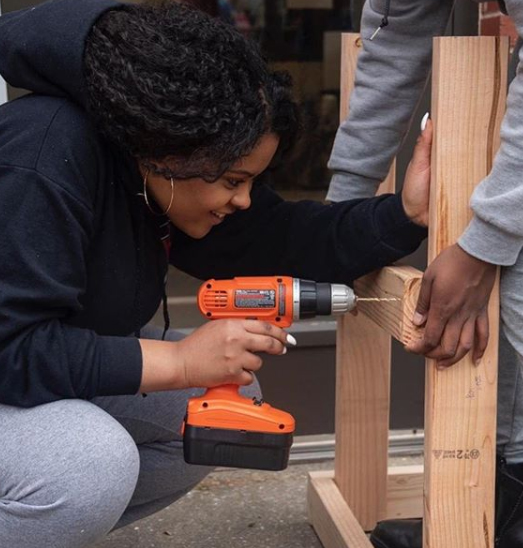 Inspiring and Maintaining Community Action
Ketterer and her team have big plans for maintaining the garden and even designing more gardens in their community to ensure that the positive effects of these efforts are felt and perpetuated for many years to come. The group also added their project into the Intro to Urban Agriculture class curriculum at Rutgers University, so while they're digging up solutions they're also planting seeds of inspiration across the student body. With momentum like this, there is no telling how far this work will go.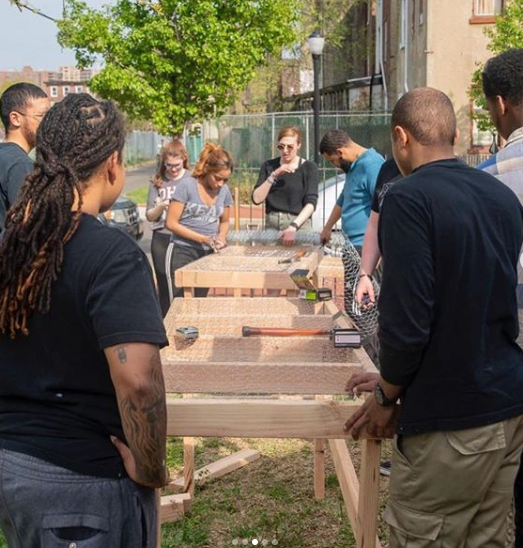 Compassionate-Decision Making
A prime example of a compassionate change-maker in her community, Amanda also took on a leadership role as an Office of Civic Engagement Intern, working to help provide funds, make budgets and schedules, and dedicate time to outreach for K-12 programs affiliated with the garden. She also has had heavy involvement in garden design and plant selection. From having her hands in the dirt to sharing the fruits of labor, Amanda is a Roots & Shoots all-star.
The Roots & Shoots Spark
While many college students would have been delighted to finish a graded assignment, this dynamic duo decided that they couldn't stop at the research or (community mapping) phase of understanding the issue of food insecurity. As a compassionate citizen and longtime youth leader, Amanda and her classmate took things one step further and decided to take-action for this significant issue that they identified in their community.
Once we gathered our information, we decided that it would be silly not to actually do something without new knowledge! So, we created a project proposal and presented it to the Office of Civic Engagement on campus, which just so happened to have a gorgeous back yard. They loved the idea and decided to take us on!"
Are you feeling inspired to take action in your community? There are many ways that you can make a difference right away!:
Complete a 1-Click Action for an issue that matters to you.
Sign up for the next Roots & Shoots Challenge (for World Chimpanzee Day!)
Look for more inspiration to take action in your community by exploring other projects making big impacts all around the world by change-makers like you.
---

The Jane Goodall Institute is a global community conservation organization that advances the vision and work of Dr. Jane Goodall. By protecting chimpanzees and inspiring people to conserve the natural world we all share, we improve the lives of people, animals and the environment. Everything is connected—everyone can make a difference.