Dr. Jane travels all around the world sharing important messages to inspire. These messages are all based on the belief that every individual's actions can make a BIG impact. In April, the Jane Goodall Institute's (JGI) Roots & Shoots program partnered with Microsoft and Skype in the Classroom to offer two live broadcasts with Dr. Jane Goodall and the JGI team! This was a very special moment, connecting people for the common good – the effects of which are still being felt today…
"More and more young people around the world are taking-action now, today, on projects they are truly passionate about. I am very excited to have the opportunity to connect with classrooms around the globe for this Skype in the Classroom broadcast and to discuss how we can improve the world for people, animals and the environment we share."

– Dr. Jane Goodall, DBE, Founder of the Jane Goodall Institute, UN Messenger of Peace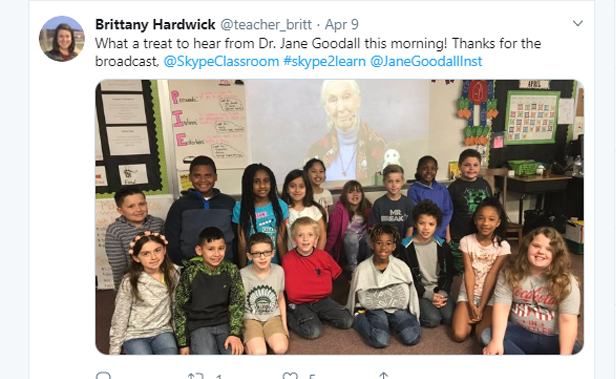 What Did the Broadcast Cover?
During the broadcast, viewers got to learn about Jane's scientific discoveries, and the work that is still being done by JGI to understand and protect chimpanzees, along with their habitats, while improving the well-being of people. Viewers also got to meet Roots & Shoots change-makers from all over the world and learned how to make a difference in their community. Following the broadcast, Dr. Jane and the team answered thousands of questions about everything from chimpanzee behavior to community-centered conservation and youth activism!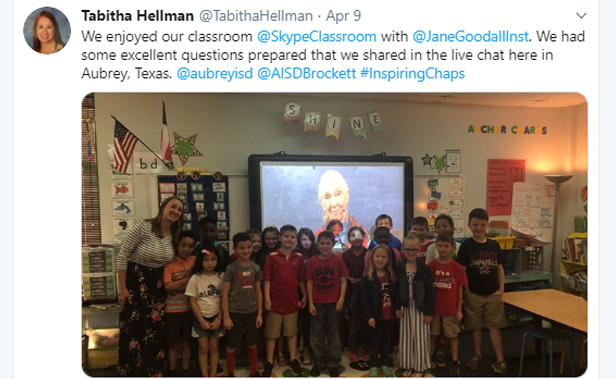 Broadcast Impact:
In the 28 years since it started, the Roots & Shoots program has expanded its reach to over 50 countries around the globe, impacting the lives of countless young people. This very special program has been providing young people with the skill-building and tools that they need to make a positive impact in their communities, and continues to grow. Through this collaboration with Microsoft and Skype in the Classroom, Roots & Shoots and Dr. Jane reached more excited, motivated youth than ever before!
There were more than 12,500 student questions posted during the live chat across the two events.
Registration from classrooms, districts, libraries and families represented 530,000 students from 123 countries eager to hear from Dr. Jane how every individual's actions can make a big impact.
An estimated 200,000 students tuned in live for the events, with the rest requesting to watch on-demand with their class in their own time zone.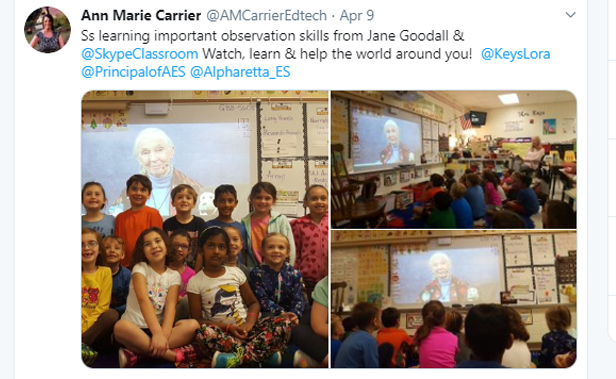 This event sparked a lot of enthusiasm and offered young people the tools they need to become compassionate stewards for the planet we all share. By learning about Roots & Shoots and how they can "be like Jane," these young change-makers came to understand that change starts by turning hope into action. As a result of this unique event, many classrooms were inspired to begin developing service learning projects through the Roots & Shoots model and consider the ways that their daily decisions impact their communities, and the world.
Check out THIS Twitter Moment to see more stories from classrooms and other change-makers to get inspired!
Event Resources:
Educators were inspired to use the available broadcast resources to expand the experience and enhance their students' learning outcomes. These resources are still available for those of you that plan on watching the broadcast.
Skype Broadcast Resources are all located here! They include:
Skype in the Classroom Live Broadcast with Dr. Jane Activity Plan
Certificate for Students
Letter for Parents
Dr. Jane Goodall Collection in FlipGrid
Roots & Shoots Resources
Feeling Inspired After the Broadcast? Here's What You Can Do:
Complete a 1-Click Action to address an issue of your choice and make a difference for people, other animals and the environment!
Become a part of Roots & Shoots to continue taking action for issues that matter to you. As a member, you'll be a part of a global network of change-makers, receive hands-on guidance and resources to build your project and even be eligible for funding! Sign up here.
---

The Jane Goodall Institute is a global community conservation organization that advances the vision and work of Dr. Jane Goodall. By protecting chimpanzees and inspiring people to conserve the natural world we all share, we improve the lives of people, animals and the environment. Everything is connected—everyone can make a difference.