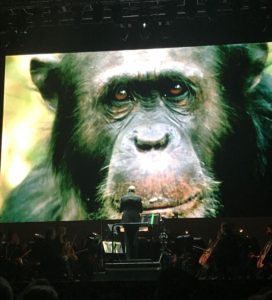 The rustling of leaves and buzzing of insects are interrupted by a loud and joyous pant-hoot, the sound of a nearby chimpanzee. While this noise may be an everyday occurrence in the forest of Gombe, it's out of place echoing off the famous Hollywood Hills. In 2017, fans of Dr. Jane Goodall flooded the Hollywood Bowl to see a special screening of National Geographic's new documentary JANE, and catch a glimpse of her early life and work in Gombe, Tanzania.
Transported by the beautiful never before seen footage arranged by acclaimed director Brett Morgen projected on the big screen, and composer Philip Glass' original score performed by the massive onstage orchestra, the audience journeyed with her first explorations through the trees of Tanzania. Light soaked faces watching the screen waited patiently alongside Miss Goodall for the moment when the chimpanzees would accept her as one of their own. They laughed as the wily great apes first stole bananas, then sheets, supplies, and even cardboard from Dr. Jane's camp. They were moved by the loss of chimpanzee mothers and children during a polio outbreak. Once more, the images of a young Jane Goodall entering the forest to live her dream were alive for people to dream of anew – something our current world now desperately needs.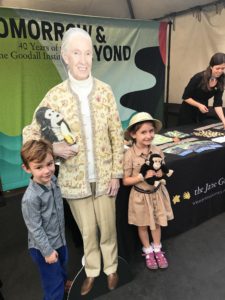 What made the experience so special was the power of one incredible woman's story to unite people of all ages and identities. Adults shared their childhood memories of watching clips of Dr. Jane on TV and reading about her groundbreaking work in National Geographic Magazine. Little girls came dressed in costume, with plush chimpanzees, of course, to look like their hero, Dr. Jane. One woman even proclaimed that Dr. Jane was the inspiration for her career in Anthropology. The common theme for many attendees was the proud exclamation that they wanted to "be like Jane."

Madi Vorva, Roots & Shoots U.S. National Youth Leadership Council alumna and Jane Goodall Institute Youth Board Member gave us a glimpse into the celebrities' experiences she heard on the yellow carpet: "It was incredible to hear celebrities like Kate Bosworth, Monique Coleman and Jamie Lee Curtis share how Jane has inspired them to live more hopeful, meaningful and daring lives. Jane's life of service on behalf of all living beings, especially her beloved chimpanzees, is an example to follow for young people and movie stars alike. Big thanks to the Skype team for inviting me to represent Roots & Shoots on the yellow carpet!"
Dr. Jane was, and continues to be, an empowering role model for young people, especially young women, to overcome any obstacle to achieve their dreams. She is a living testament to the phrase "Girls just wanna do science," by establishing groundbreaking research at a time when simply being a girl was a barrier to becoming accomplished in science (which, though improved, continues to be a problem. Read more here.) More than anything, her time in Gombe exemplifies what it means to work very hard, remain true  to your passion, and unwilling to bend to the expectations of society – pushing both our notions of what is possible for women and our ideas about our relationship to the rest of the animal kingdom.
Dr. Jane's remarkable story inspires others to share her love for animals and the environment. She understands that as individuals, we affect our world every day and must be conscious of what the outcomes of our decisions are, aiming for positive impact through our actions. Dr. Goodall also knows that together, we are more powerful in accomplishing our goals. Whether it is a JGI's  Roots & Shoots group creating a recycling program at their school, a team of students discovering new conservation techniques, or friends spending their Saturday cleaning up the local beach, people are joining together to protect the planet we all share for future generations to enjoy.  
JANE captures her message of hope, that despite the numerous and daunting problems facing the planet, every individual can make a difference.
Explore Gombe today by getting your very own JANE DVD, and do it in style when purchase your own "Girls Just Wanna Do Science" t-shirt. All proceeds benefit the work of the Jane Goodall Institute to protect great apes and grow the next generation of Jane Goodalls.
---

The Jane Goodall Institute is a global community conservation organization that advances the vision and work of Dr. Jane Goodall. By protecting chimpanzees and inspiring people to conserve the natural world we all share, we improve the lives of people, animals and the environment. Everything is connected—everyone can make a difference.