If you've ever had to talk yourself out of curling up in bed and reading your favorite book for the entire day, today is YOUR DAY. There is no better way to express your love of reading on National Read A Book Day.
Today, Wednesday, September 6th, is that day — a whole day get lost in a book and celebrate what we all love about reading. Every poem, short story, novel, and textbook transports readers to a new place or a new state of mind. Stories help us to connect with other people and other parts of the world…to go on an adventure just by turning a page. Words written by scholars and story-tellers encourage us to laugh, cry, connect, learn, and explore.

CAMI'S BOOK LIST

Many of us are back into the classroom where our teachers will ask us to choose a book to read. Here is my own personal MUST READ list of books that you might like too:
In The Shadow of Man by Jane Goodall. A beautiful story of Dr. Jane's early years studying chimpanzees in Tanzania.
To Kill A Mockingbird by Harper Lee. This classic is from the point of view of a young girl's experience during the depression in America.
A Separate Peace by John Knowles. This novel is about a young adolescent boy on the verge of adulthood, who is in boarding school during the time of World War II.
Alice's Adventures in Wonderland by Lewis Carroll. A fantastical book about a young girl's trip down a rabbit hole and into a world of imagination!
Seeds of Hope by Jane Goodall. Dr. Jane takes her research to a ground level and informs readers about the importance of protecting plants.
The Giver by Lois Lowry. In a futuristic setting where everything is simplistic, a boy learns the truth of society's past and must make a decision in order to protect himself.
Planet of the Apes by Pierre Boulle. A science fiction novel about an alternate planet where apes are the dominant species.
The Sixth Extinction by Elizabeth Kolbert. This book discusses human impact on extinction in the past and the current extinction happening today.
Through a Window by Jane Goodall. Dr. Jane speaks about her time spent with the chimpanzees in Gombe.
Gulliver's Travels by Jonathan Swift. A fictional book commenting on the satire of human beings and a man who is shipwrecked during one of his voyages.
This slideshow requires JavaScript.
ROOTS & SHOOTS READING CHALLENGE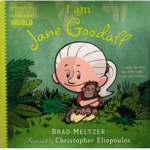 Once you've chosen your next literary adventure, take a few minutes to celebrate this day by sharing an adventure with others…take part in our I AM JANE GOODALL reading challenge! Grab the book I am Jane Goodall and read it to someone else (i.e., family, friends, classroom, pets, etc.) By sharing Dr. Jane's story with others, you'll be spreading a bit of hope and helping to remind your peers that "ordinary" kids can change the world. Join the 83 readings for #83yearsofJane reading challenge here.
TAKE ACTION
Interested in making a difference as you honor National Read A Book Day? Here are some Roots & Shoots ideas for taking action:
Post to social media #ReadABookDay to share what you're reading and inspire others to pick up a book.
Host a Book Drive to collect new and used books to give back to parts of your community.
Take others on an adventure! Read to others at bookstores, libraries, community centers, or local hospitals.
Be sure to share your activities with the Roots & Shoots network on Facebook or in a Project Profile on rootsandshoots.org.
---
Works Cited
Asper, Sam. "Read "I Am Jane Goodall" to honor Dr. Jane's Birthday." Jane Goodall's Good for All News, 12 July 2017, news.janegoodall.org/2017/04/03/jane-goodall-birthday-83yearsofjane/. Accessed 28 Aug. 2017.
"I am Jane Goodall." Jane Goodall Institute, shop.janegoodall.org/product/I-Am-Jane-Goodall/JGI105. Accessed 28 Aug. 2017.
facebook.com/nationaldaycalendar. "NATIONAL READ A BOOK DAY – September 6." National Day Calendar, 27 Aug. 2016, nationaldaycalendar.com/national-read-a-book-day-september-6/. Accessed 28 Aug. 2017.
---

The Jane Goodall Institute is a global community conservation organization that advances the vision and work of Dr. Jane Goodall. By protecting chimpanzees and inspiring people to conserve the natural world we all share, we improve the lives of people, animals and the environment. Everything is connected—everyone can make a difference.

---