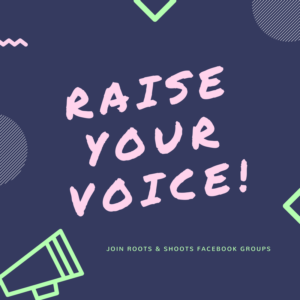 Got feelings about all this mention of climate change (or lack thereof) in the news? Want to reach out and support refugees in your community but not sure where to start? Did you spot an endangered species in your yard and NEED TO SHARE the pic?
Join the club. No, really…join Roots & Shoots Communities on Facebook.
YOUth have a lot to say about what's going on in our world and deserve a place to share, vent, discuss, collaborate, and lead conversations. Whether you're interested in discussing and taking action on climate change, industrial agriculture, wildlife trafficking, or ALL of these issues, there's a Facebook group waiting for your voice. The power we can harvest as a community of hopeful change-makers is truly unlimited. Big things are going to happen now that we're coming together to tackle problems facing our Earth. Below, learn more about each group and click to join the ones that speak to you.
ROOTS & SHOOTS COMMUNITIES ON FACEBOOK: 
CLIMATE CHANGE + HABITAT DESTRUCTION
How can each of us combat climate change — as individuals, community members, and citizens of Earth? Let's talk project ideas and actions we can take to fight habitat destruction and protect our planet.
Join the group.
INDUSTRIAL AGRICULTURE/EXTRACTIVE INDUSTRIES
The food we eat, the clothing we wear, and the items we purchase all impact animals and the Earth. What can we do to lessen our negative impact and educate our peers about their choices?
Join the group.
INVASIVE SPECIES + BIODIVERSITY LOSS
We share our planet with countless other creatures. We must remember that the things we do affect our ecosystems and that it is our duty to protect all forms of life. Let's figure out ways to best do our job.
Join the group.
MIGRATORY SPECIES + POLLINATORS
Whether traveling from flower to flower or across borders, these creatures need our help to make the journey.
PEACE + CONFLICT
What can YOU do to promote world peace? How can YOU help settle conflicts? What can YOU do to make this world better? So much, and it starts with a conversation.
Join the group.
REFUGEES + DISPLACED HUMANS
Just like we show compassion for other animals, we too must show compassion for our fellow humans. How can we support, work with, and learn from other people?
Join the group.
WILDLIFE TRAFFICKING, POACHING, PET TRADE
One of the greatest threats to endangered species is illegal trafficking and poaching. To fight this, we must educate ourselves and others. Let's brainstorm.
Join the group.
EDUCATORS + MENTORS
Communicate and collaborate with other group leaders and formal educators leading Roots & Shoots projects and growing compassionate young leaders.
Join the group.
Click here to see all of the groups. 
---

The Jane Goodall Institute is a global community conservation organization that advances the vision and work of Dr. Jane Goodall. By protecting chimpanzees and inspiring people to conserve the natural world we all share, we improve the lives of people, animals and the environment. Everything is connected—everyone can make a difference.