Hope in Action
The power of a single story is immeasurable. When a young 26 year old woman from England traveled to Tanzania to study wild animals and share their stories, she transformed our understanding of our relationship to non-human animals, and what was possible for a woman in science, or in general. The reverberations of her story have echoed endlessly and caused the emergence of millions of other bold, unstoppable women.
In honor of the Jane Goodall Institute's 40th anniversary, Jane Goodall's Hope in Action campaign calls upon people everywhere who have been inspired in some way by Dr. Goodall's message of hope, to share their stories. We want to celebrate all of you who are leaders and drivers of conservation, environmentalism, innovation and positivity, making the world better for people, animals, and the environment. You move us, and it's time to show the world what the future of green looks like!
How to put your hope into action: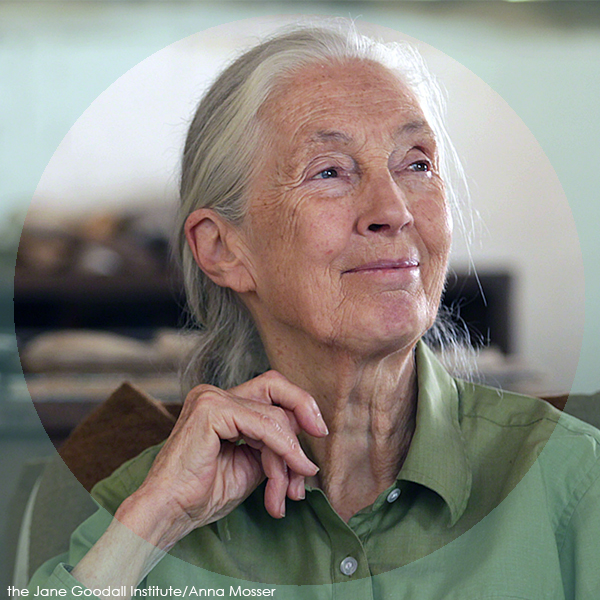 To submit, simply click here and fill out the form with all the details of your tale of achievements for the benefit of people, animals, and the environment.
We've already started to receive stunning stories, demonstrating the incomparable and revolutionary energy embodied by women when they see what is possible. Today is United Nations' Women's Day, a day to challenge bias, stand up against violence, support the advancement of women in the workforce, invest in the education of women and girls, and celebrate the achievements of all the sisters of the world who have never stopped in the face of "no, you can't." Honoring the economic, cultural, artistic, scientific, political and social achievement of women, we want to share your stories.
As Dr. Goodall began as one person with a mesmerizing story of perseverance, kindness and brilliance, so each of your stories begin. There's no telling who they will inspire, or how that inspiration will transform the world creating a brighter future for women, girls, and all living things.
---
Women in Action
Maggie McArthur
Jane Goodall was one of the first conservationists I ever hears about. Ever since, she has been a massive inspiration to me. When I grow up, I want to be just like her.
---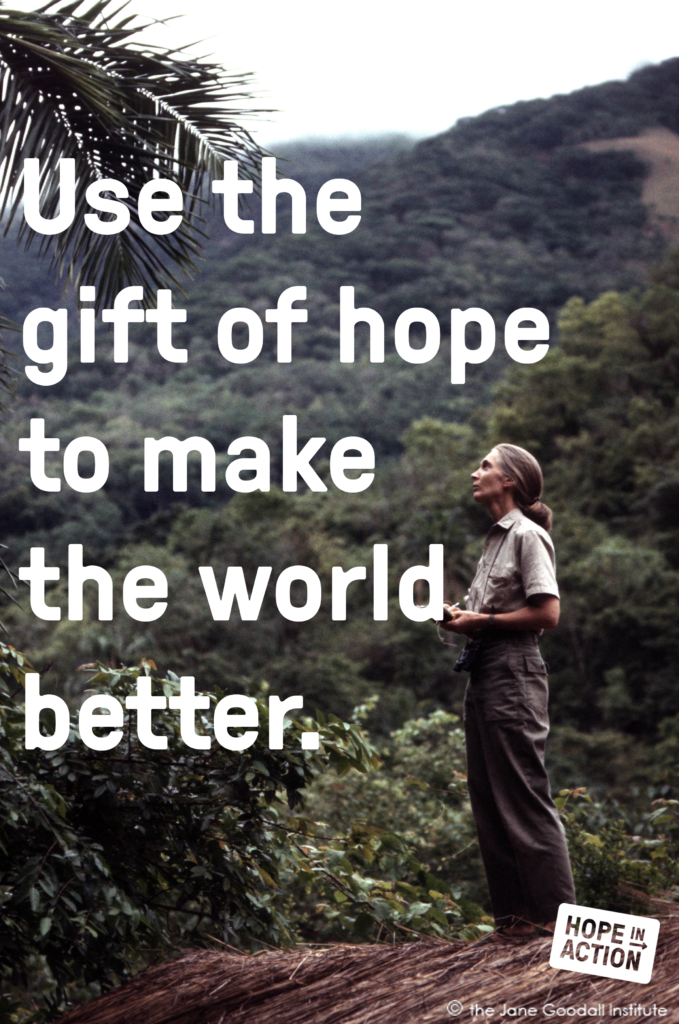 Jennifer Deol
Dr. Goodall has inspired me ever since I saw her documentary "Jane Goodall's Wild Chimpanzees" on television when I was in grade 9. I grew up wishing Eliza Thornberry existed in real life, and that people who had deep connections to animals existed. So when I saw Dr. Goodall connecting to with chimps on such a personal level it profoundly changed my perception of what was possible, and what was possible for me. Dr. Goodall became my hero and my inspiration and it is because of her I fought to become a biologist and study ecology and environment. I come from an immigrant household where anything outside of traditional careers was not tolerated so this was unheard of in my local community.
---

Kimberly Navarrete
I was inspired by Dr. Goodall when I fell into a deep depression. It was around 3 years ago. I still battle with it every day and every night of my life, but there's this thought in the back of my mind that keeps telling me that maybe you were born to make a change. That I could use my illness to help other people see what most of us see. That there is immense beauty in this world. On this very planet on which I stand on and fight constantly to find the meaning of life. Then you realise that the answer is on this planet. And I don't want to see it die. It makes my heart ache.
---
Anna Brigantino
In my youth I had read about Jane's work with the chimpanzees in Africa. I found it fascinating as I spent most of my time outdoors surrounded by animals on our small ranch. I had always felt more comfortable with animals than people and always saw animals as of the same intelligence and with the same emotions as people. So her work was confirmation to me that I wasn't crazy as most people would have thought me had I spoken up about my feelings toward animals… I was truly surprised how very little effort or expense on my part, seemed to make such a difference in the amount of wildlife I see. When I retire, I would love to start a program to encourage other city dwellers to implement similar procedures to help out our natural wildlife. We are encroaching so much on their territory, it seems the least we can do to try and offset the balance and give them a better chance of survival.
---
Carol McDougall
My daughter, artist Christine White, and I recently completed this wild mural at the school where I teach art. The inspiration to connect children to nature through art has become a passion of mine. One of my heroes, Dr. Jane Goodall, has been shining a light for me during this journey for most of my life.
In China, I wanted to create an interactive, nature mural to help my students notice and preserve the beauty around them. My daughter shares this vision and with her talent and experience, we were able to create something, which leaves a lasting impression. For more details about the mural creation, please read Christine's blog www.http://christinewhite.ca/this-wild-mural-step-by-step-guide-for-painting-internationally/
Jane Goodall has been inspiring female naturalists since she followed her dream to Africa and noticed what no other scientist before her had seen. A few years ago, I had the good fortune to hear Jane Goodall speak in my hometown of Victoria, BC. With grace and tenacity, she shows us there is hope in how we choose to look at the world around us and make a difference. Since then, I often ask myself, "What would Jane do?" Mostly, I think Jane would look us in the eyes, reach out to hold our hands and tell us, "You are hope."
My hope is to continue to connect children to nature through art around the world.
---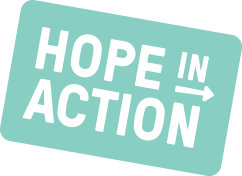 What is a story, but an image of the choices we make and the people who have impacted our lives? These stories are inspired by Dr. Goodall, but demonstrate the incredible vibrancy of women around the world who are just as inspiring. We hope you continue to read our Hope in Action stories, and encourage you to share your own!
We want to know how Dr. Goodall has inspired you and what you've done as a result of that inspiration. As we tether each of your stories of hope into a constellation of action, YOU will inspire even more good. With a massive galaxy of those stories, we'll shine on into a more brilliant tomorrow and beyond.
Submit & share: http://bit.ly/hopeinaction