This one is for the kids (and adults) who feel like playtime is time for imagination and being whoever you want to be! Many toy dolls today offer opportunities to children who want to journey into discovery of identity and fantasy through the stories of incredible women. Add on the tasty layer of The Queen's Treasures® Dr. Jane Goodall 18 inch doll accessories and clothes, and there is no limit to where play and dreaming can take us!
Jane Goodall often remarks of her entry into imagination – a portal created by a happenstance gift of a stuffed chimpanzee toy named Jubilee given to her by her father. With Jubilee at little Jane Goodall's side, Jane was an animal researcher, following creatures never studied or seen before in the wild. It was through this play that Jane discovered her calling in life, and it is often through this envisioning and "open-ended entertainment" where the most profound life evaluations and developments are made. This propelled Jane all the way into the forests of Gombe, Tanzania, where her exceptional mind, so full of wonder, studied and in turn showed the world the true nature of our closest living non-human relatives.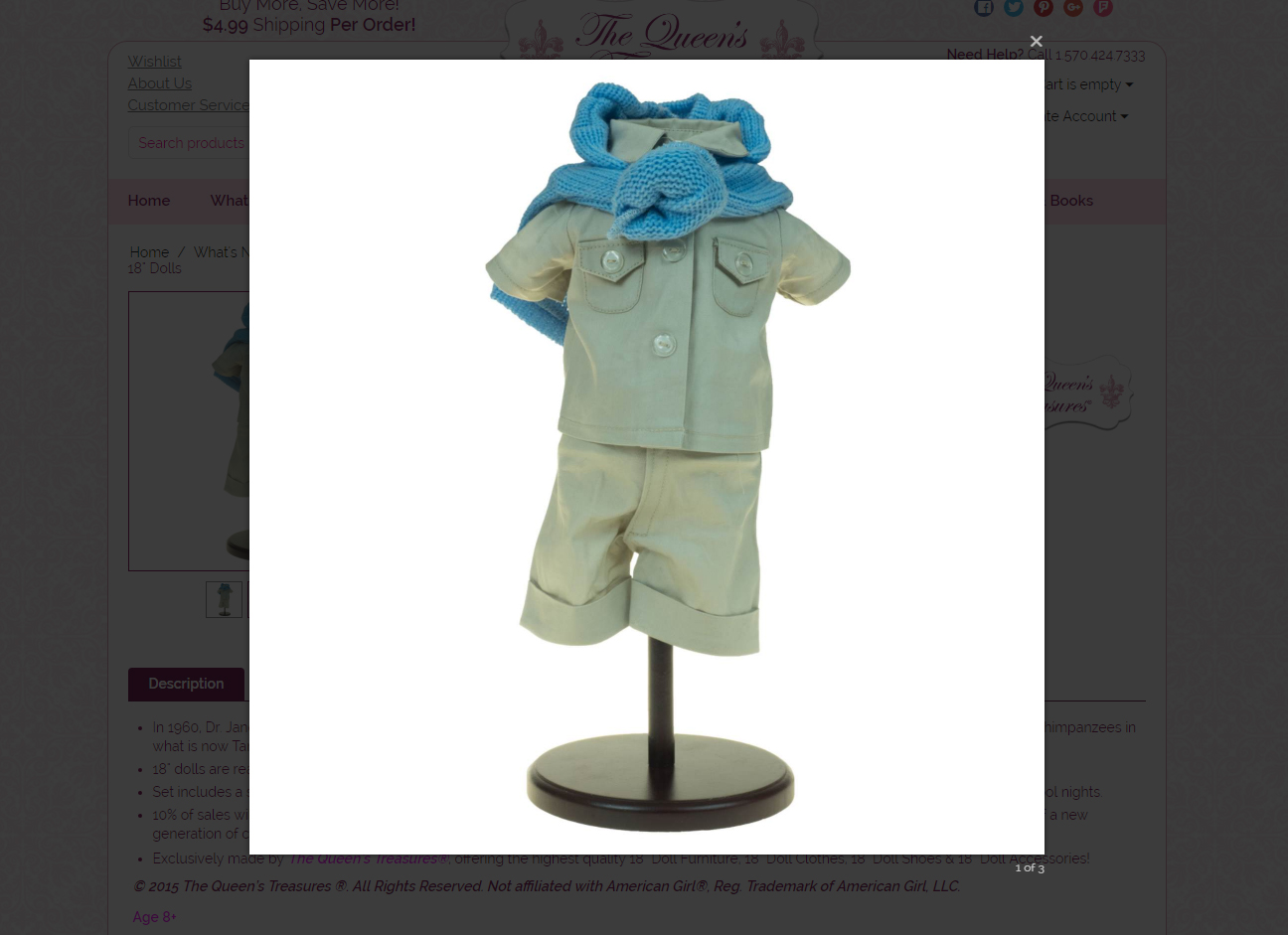 The Queen's Treasures is bringing this action full circle by providing a whole new generation of children the opportunity to learn about and interact with scientist, conservationist, activist and U.N. Messsenger of Peace, Dr. Jane Goodall.
"Children will be able to reenact and pretend play the true story of Dr. Goodall, whose pioneering research on wild chimpanzees helped change the way human beings perceive animals."
Many toy companies and parents are beginning to realize the importance of creating both emphasis on imagination in play, but also strong women as represented in toys. Toy items like dolls have been found to bring out empathy in children, while other items hone different skills – like building blocks for spatial orientation and reading maps benefiting general cognition. The value of providing a toy which embodies a young woman who desired for more and changed science, is immense and goes beyond breaking gender barriers. Not only can you have control over the story with these accessories, but any doll – or any person – can be just like Jane and take the story further.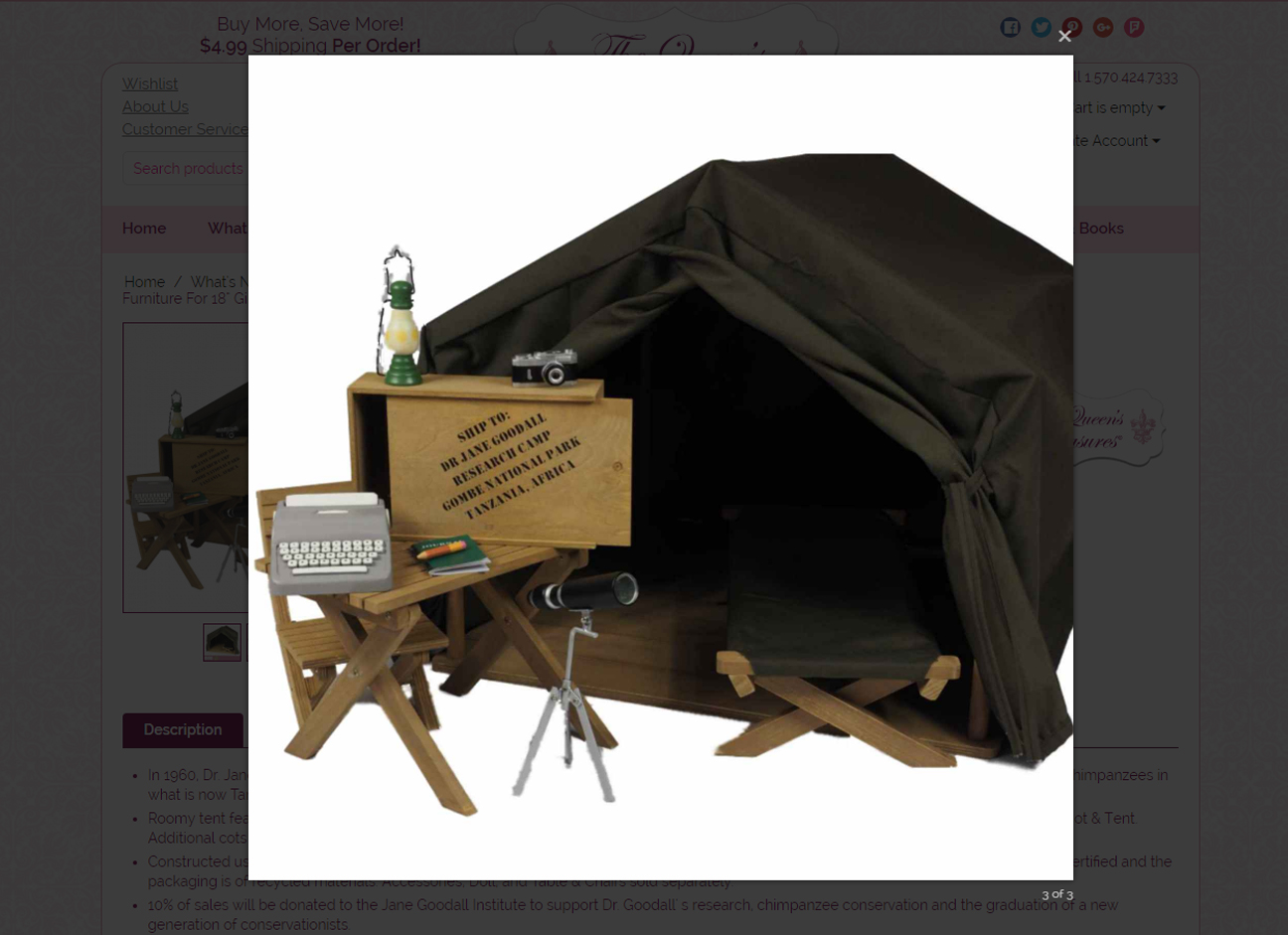 "Every time children play with toys, they're getting something out of it. They're learning something about the world," said developmental psychologist Erica Weisgram of the University of Wisconsin-Stevens Point.
The Queen's treasures Dr. Jane Goodall accessory kit will not only open young people up to the story of Jane and the possibilities of all girls and young people in science, but also features a rainforest camp reminiscent of the one that Dr. Goodall had at Gombe Stream Research Center in Tanzania. As a playful and powerful bonus, 10% of sales for these items will go to the Jane Goodall Institute to support Dr. Goodall's research, chimpanzee protection, conservation and efforts to further influence the creation of a generation of young people committed to making the world a better place for people, animals and the environment. Where will the imagination take a generation with Jane and Jane's story in their hands? Anywhere and everywhere.
Get the line: http://www.thequeenstreasures.com/new-products/dr.-jane-goodall-inspired-gombe-stream-research-camp-18-doll-line.html