Today is a day to celebrate the amazingness of the orangutan and bring to light the plight of their species. These gentle forest animals are sometimes referred to as the "red ape" and their name literally means "person of the forest". Just as with the other three great ape species, the orangutan population is sharply declining, with less than 41,000 left in Borneo and a shocking 7,500 remaining in Sumutra [WWF].
One of the biggest threats to orangutans is the loss of their natural habitat, pushing their species on the brink of extinction. At the core of this habitat loss, is palm oil. Palm oil is in almost everything – it's the most popular vegetable oil used in products in the world. It is also one of the leading monocultural products contributing to deforestation and endemic population loss in equatorial Rainforests. These monocultures – that is to say where only one kind of species of crop is being grown – create an environment where most of the variety of plants and animals cannot survive.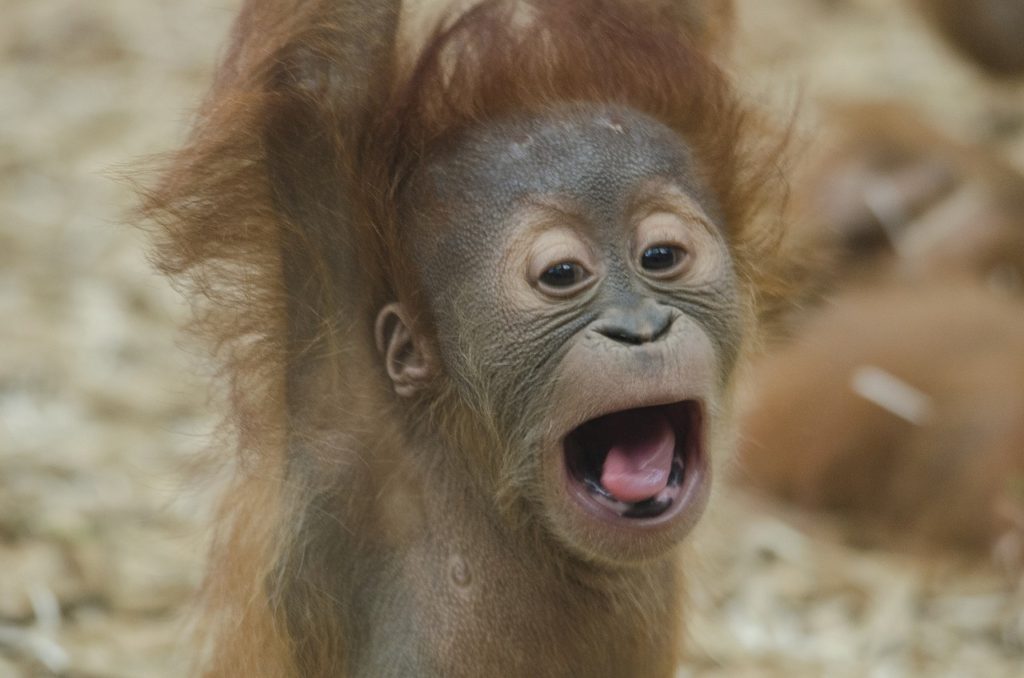 This is killing orangutans in Indonesia (one of the greatest producers of palm oil) as well as all of the other living things in that area, and other areas around the world (in South America and Africa particularly). There are many other reasons why the monocultures of palm oil are horrible: 'child labor, wage exploitation, unsafe working conditions, and human rights abuses,' and its amplification of methods of "slash and burn" to clear incomprehensible amounts of land with uncontrolled fire, to name a few. Slash and burn also releases huge amounts of greenhouse gases, contributing to global warming and increased wildlife extinction.
In areas where agriculture is a profession available to survive and when larger corporate entities are willing to incentivize palm oil monocultural productions, it is very difficult to tell local people to stop doing what will provide financial stability for themselves and their communities. However, we can not tolerate practices that aren't sustainable and are destructive from those companies. The cost to orangutans, their habitats and ultimately the people relying on this unsustainable practice, is far too great. Sign this petition to urge companies to only use deforestation-free palm oil and use this list of companies using better palm oil practices in your daily life.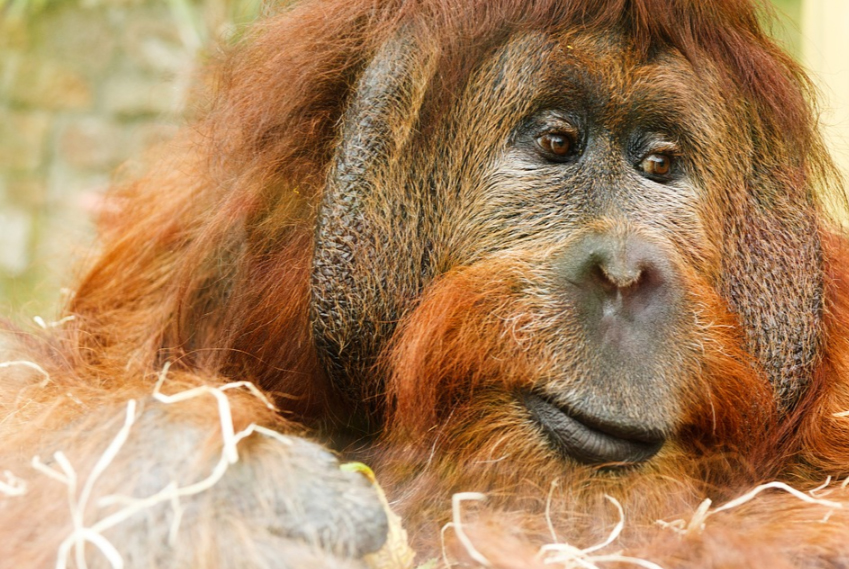 To learn more about orangutans, we share with you an incredible book about our orange little friends that is a must read in Dr. Goodall's eyes. Eliot Schrefer is an active supporter of JGI, a member of Jane's peak society and a friend to great apes. In his book, "Rescued," Schrefer takes us on an unforgettable journey, telling the story of an unlikely friendship between a young boy named John and his pet orangutan, Raja. Raja was stolen from the wild when he was a baby and now lives in captivity as a pet. This book breaks the barriers of conventional friendship and confronts the harm of keeping a great ape as a pet.
This is a book that combines skillful interpretation of orangutan character, the cruelty inherent in keeping apes as pets, and the plight of the wild orangutans. Eliot has created unforgettable characters in Raja, the orphaned ape and his human 'brother,' John. Moving, fascinating and eye opening. – Dr. Jane Goodall
Thanks to Scholastic books, you can now read the first chapter of "Rescued" and begin the journey with John and Raja.
So, on this international day let us join our voices as one to help save these amazing species for future generations. Get involved with organizations helping to save orangutans in the wild, like Orangutan Foundation International founded by famed primatologist and fellow trimate Dr. Biruté Galdikas. You can also help orangutans at sanctuaries like Center for the Great Apes that care for these beautiful primates after they have been retired from medical testing, research, the entertainment industry and as illegal pets.
This story was written by Ashley Sullivan and Jacob Petersen