From the eyes of a child, to the eyes of the world
Jane Goodall did what might have been considered impossible, by some, for a young girl to accomplish. Jane took her childhood desire to live among and learn from African wildlife, and made it a reality. Beyond that, she turned what was passion, the study of animal behavior, into a journey across many countries and many people – across vast barriers and unimaginable discoveries. What began as a venture into imagination, became a commitment to the belief that with hope and dedication, the Earth can be a place where people, animals, and the environment exist in sustainable harmony.
It all started in Gombe
At the age of 26, Jane traveled to what is now Tanzania from England, and began studying wild chimpanzees in Gombe. With little prior research ever done on chimps, what were considered "primitive apes," and with encouragement from famed human origins anthropologist Louis Leakey, this study would provide answers into the similarities and differences between humans and our closest living primate relatives. She won the trust of the chimpanzees in Gombe, and transformed the way we understand, perceive and respect the fascinating lives of these animals, all creatures and ourselves.
Her work beginning in July of 1960 is now a 56-year continuous research study of social and family interactions of wild chimpanzees in Gombe Stream National Park, Tanzania – one of the longest of any study of animals in the wild.
"When I began in 1960, individuality wasn't an accepted thing to look for; it was about species-specific behaviour. But animal behaviour is not hard science. There's room for intuition." – Jane Goodall
The key of knowledge and the door of destiny
The findings at Gombe were and are still some of the most profound in the history of humankind. In the place of a group of dull primates, Jane instead found highly intelligent, emotional creatures living in complex social groups. Because of Gombe, we know humans aren't the only animals who can make and use tools, and that chimps can be dynamic hunters and lovers, "who have personality, who are capable of rational thought [and]emotions like joy and sorrow."
To advance the revolutionary findings of Jane, including tool-making and other behaviors, the Gombe Stream Research Center was founded in 1965. Through coverage of the research and chimps in Gombe, the exposure and impact was so globally received that Gombe's chimpanzees are known the world over. It is through this pinnacle and long standing study that we are able to continue to make new observations, and bring a sense of wonder to millions of people in the efforts for conservation, and the protection of these still captivating animals.
Gombe is a living laboratory, with the mission to operate and develop methods to continue and further the long-term primate research projects begun by Dr. Jane Goodall. The work of Gombe is even bigger than its origins, as advancements in science, conservation and training next generation Tanzanian scientists, all create a phenomena that continues to change minds in order to build and protect a thriving world for us all.
The rest of the story, is up to you.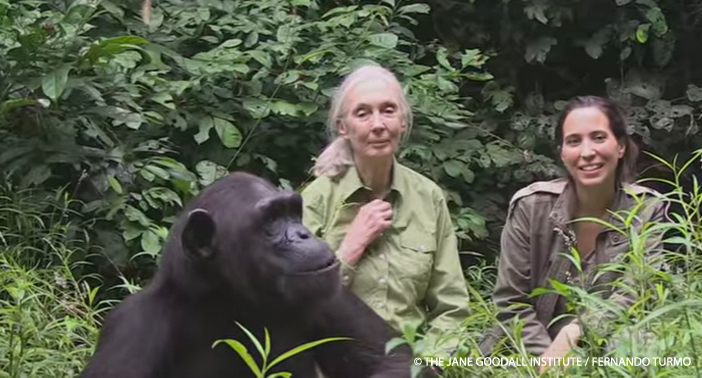 Learn your role to play here.