Social media has become a part of our everyday lives. For the last decade, sites like Facebook and Twitter have ruled our online presence and newer platforms like Instagram and Snapchat are swiftly becoming popular among younger generations. Just last week, Dr. Goodall's own personal Facebook page reached 900,000 likes! In fact, Jane's page has grown by a tremendously 800%+ in just the last three years, helping her message and mission go so much further. Other huge milestones from the last week included Jane and JGI's Twitter surpassing 300,000 followers, JGI's Facebook page reaching 150,000 likes and the Roots & Shoots Facebook page at almost 50,000 likes!
In the video message above, Jane thanks all of her fans and followers for helping to get her message of hope out into the global community. It was in 2014 at the People's Climate March that Jane really experienced first-hand how much social media was impacting the world and helping to get people together. And since that moment, she regards social media as one of her five reasons for hope.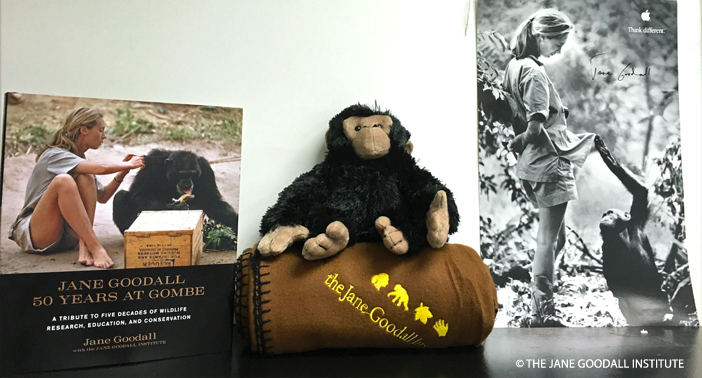 To help celebrate these incredible milestones, we are holding a contest to say thank you to all of our followers! Up for grabs will be a signed copy of Dr. Goodall's book, Gombe 50, a rare signed Apple Think Different poster of Jane and a plush toy chimpanzee.
Here's what you need to know: In 500 words or less, tell us what action has Dr. Goodall inspired you to take and how did it change your life. This could be something in your personal or professional life. It could be something big or small, maybe it is the career path you chose, a way you decided to lessen your impact on the environment, or something else. The contest begins on Tuesday, May 3, 2016 and will run for one week, ending on Tuesday, May 10, 2016. We encourage Jane fans of all ages and from all over the world to take part in our contest, so get started now! We cannot wait to read how Dr. Goodall has inspired you!