A new school year is here, and while we're sure many of you will be missing the free time of Summer, school brings a lot of great opportunities for fun, friends, and making a difference ! Every lesson is a chance to better understand the world, and it's only by understanding the world that we help make a meaningful positive change. Now's also a great time to start or join a 🔗Roots & Shoots group at your school, and meet other like-minded changemakers who can collaborate with you on impactful projects in your community!
This school year, you probably have a long list of things to buy or borrow—from writing utensils and notebooks, to textbooks and other assigned reading. Having your own set of school supplies to use when you need it can make the learning experience, which is why Roots & Shoots member 🔗 Isabella started her project, "School supply Drive for Children in Cali, Colombia," to ensure that every student had what they needed to succeed in the classroom.
Isabella used the 🔗Roots & Shoots 4-Step formula to create a project and was first Step 1 – Inspired by organizations like the Red Cross, who offer humanitarian aid to those in need of protection and essential supplies. She then learned about Roots & Shoots, and saw that it was her path to helping, too!
By Step 2 – Observing the work that Red Cross was doing in Colombia, Isabella realized that children and families in some communities didn't have the same access to supplies needed for school, including pencils, markers, lined paper, and folders. Some of these items can become very expensive, especially for families with multiple children to send to school. She decided to Step 3 – Take Action by working with the Colombian Red Cross to identify the best way she and her group could help.
Together, they decided to focus on one neighborhood in one city—the Siloé neighborhood in the city of Cali— and they created a list of 73 children between the ages of 3 and 14 whose families expressed a need for school supplies. By focusing on one community, they were able to make sure to meet the specific needs of the people they were working with. Isabella's classroom Roots & Shoots group got to work collecting supplies from her community, including fun and colorful backpacks to carry the supplies. They then packed everything up in these backpacks, and shipped them out to their recipients.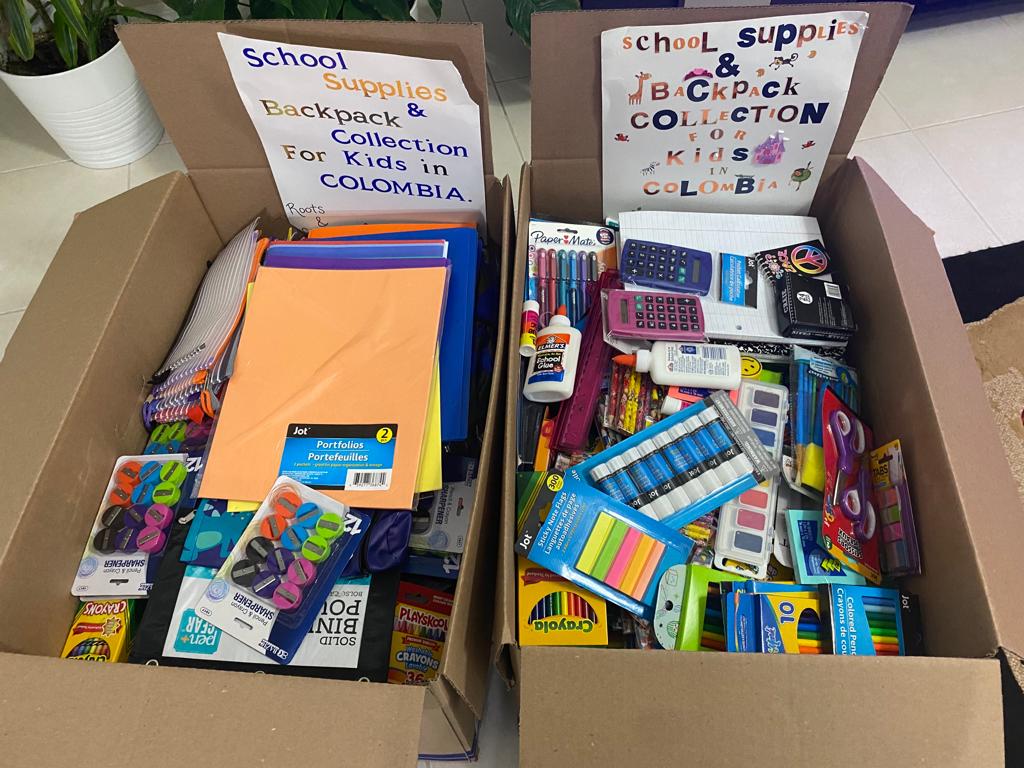 Through their hard work getting the word out about their school supplies drive, this group was able to collect enough donations for each of their 73 students! These children will be able to use the supplies Isabella and her group gathered to make the most of their school lessons, fostering a love of learning that opens doors; who knows, maybe some of these kids will even be inspired to start their own Roots & Shoots groups!
Isabella and her group celebrated their efforts, and then quickly got to thinking about what they could do to next time if given the same time and funds. Their plan is to try and partner with a shipping company going forward, meaning that any funding they receive can go directly to purchasing more supplies, rather than paying for shipping. We can't wait to see how their impact grows!
INSPIRED TO START YOUR OWN PROJECT? WE GOT YOU.
Once you've 🔗signed up as a member and come up with a project (using the 4-Step Formula), be sure to register it on our website for a chance to be featured in a future project of the month! Not a Roots & Shoots member yet? You're only a few clicks away!
Become a Member and Register your Project
Not sure how to start a project? Use our 🔗 4-Step Formula to find ways to make an impact in YOUR community! Remember to invite your friends to help out, because even when we take small actions, they're multiplied by collaboration. You can even create a Roots & Shoots group at your school, or join one already in your area!
Looking for a simple way to help out? Here are some 1-click actions you can take to spread compassion!
🔗 Pages for Peace: In addition to school supplies, consider collecting and donating books you no longer read. By bringing them to a school or library near you, you know that someone else will get to enjoy them as much as you did!
🔗 What is Systemic Racism: to better understand this issue, watch this informative video and then take action!