In 2016, Chris White at Elm Street Elementary in Rome, Georgia, was looking for a way to implement community service as part of a STEM initiative. Using the Roots & Shoots 4-Step Formula, Chris focused on Step 1 – Get Engaged and noticed that her students had a serious interest in dogs. Using Step 2 – Observe, Chris White and her third graders explored their community and found a program where kids can read to shelter dogs. Thus, they started the Roots & Shoots project PAWSitive Kids.  
Who knew when we started this project four years ago that it would travel around Georgia and get the recognition of Jane Goodall? We definitely believe the risk was worth the outcome.

– Chris White, Roots & Shoots Educator, Rome, Georgia
Chris reached out to a local shelter in Floyd County, Public Animal Welfare Services (PAWS), and the team there was enthusiastic about collaborating with the students. Through Step 3 – Take Action, the young people in PAWSitive Kids were able to plan and implement their project, giving the kids a chance to work on their reading skills in a comfortable and nonjudgmental environment while providing social interaction to dogs who desperately needed it.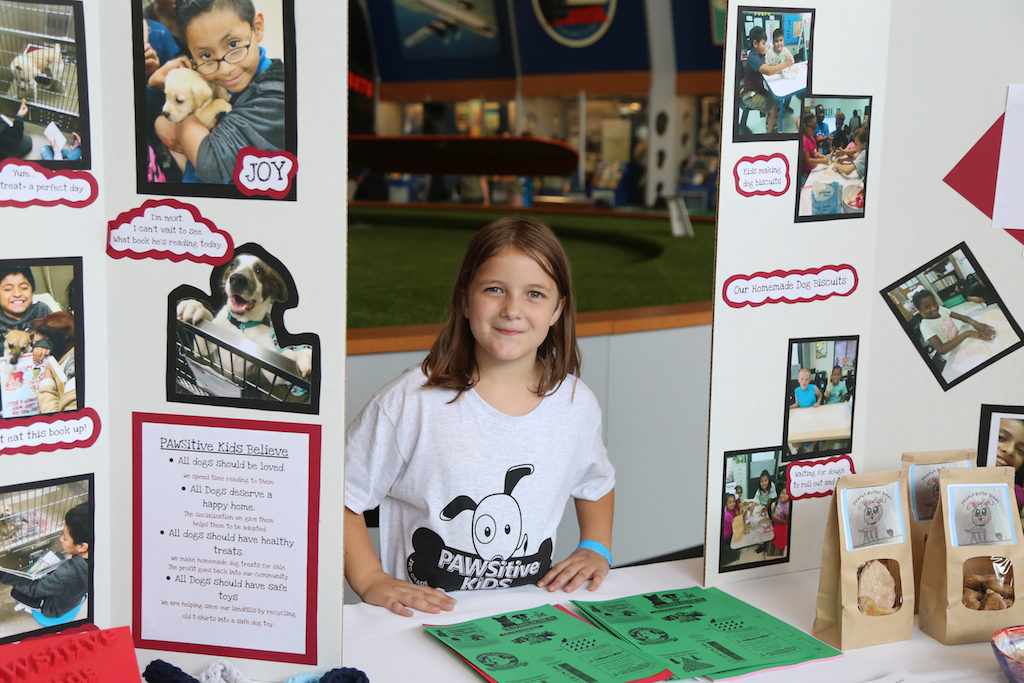 It wasn't long until Chris noticed a change in the students that went beyond the project itself. As emphasized in the Roots & Shoots model, doing these service-learning projects increases demonstration of the nine Roots & Shoots Compassionate Traits such as empathy, critical thinking, and acting with purpose. Her students began wondering about the animals running free in their respective neighborhoods and took to discussing their desires to adopt a dog rather than buy one. Chris noted behavioral improvements in the classroom as well, seeing an uptick in both student attendance and engagement. Chris said, "Behavior is great. They all can't wait to go. Nobody wants to get in trouble so they can't go to PAWS."  
Following the success of the first year's reading focus, the group moved onto improving canine health. Working together, the young participants of PAWSitive Kids came up with a way to make their own dog biscuits featuring all-natural ingredients, looking to feed shelter dogs and otherwise sell at local events. With the money raised, the students were able to donate to Relay for Life, The Salvation Army, and their local shelter. It didn't stop there. Alongside Elm Street's third-grade focus on recycling, Chris and her students began crafting pull toys for dogs, made from recycled t-shirts.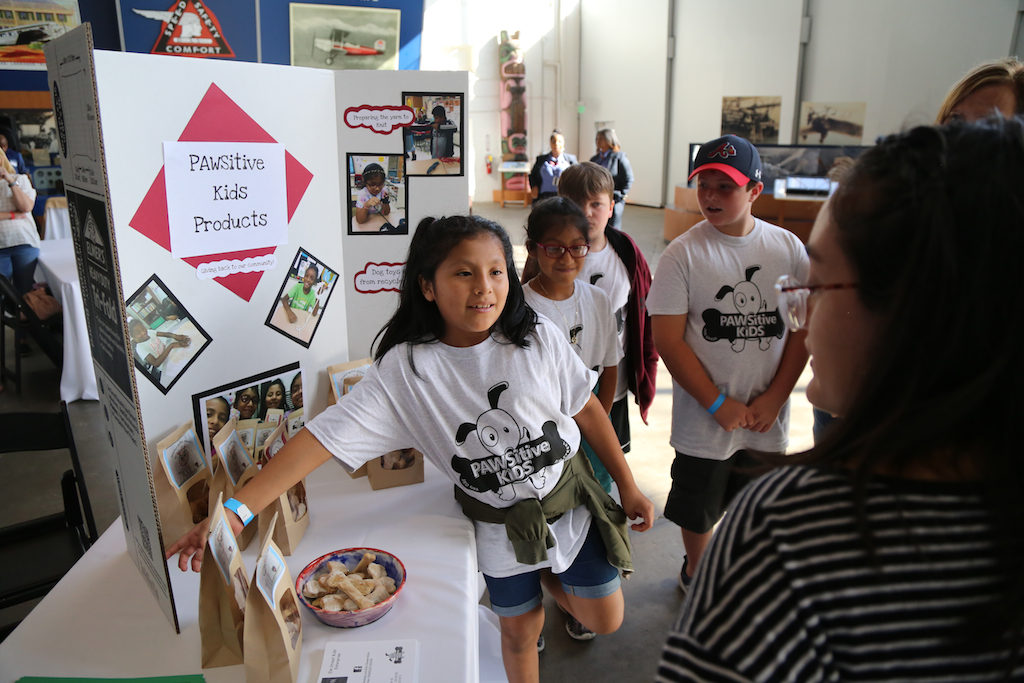 Through this project, young people from all backgrounds were able to practice critical ELA abilities and develop skills such as leadership, compassion, and confidence, all while making a difference for the shelter animals they loved so much. These homegrown influencers and their dedication to animal welfare, educational development, and community stewardship exemplified so many wonderful values of our Roots & Shoots program.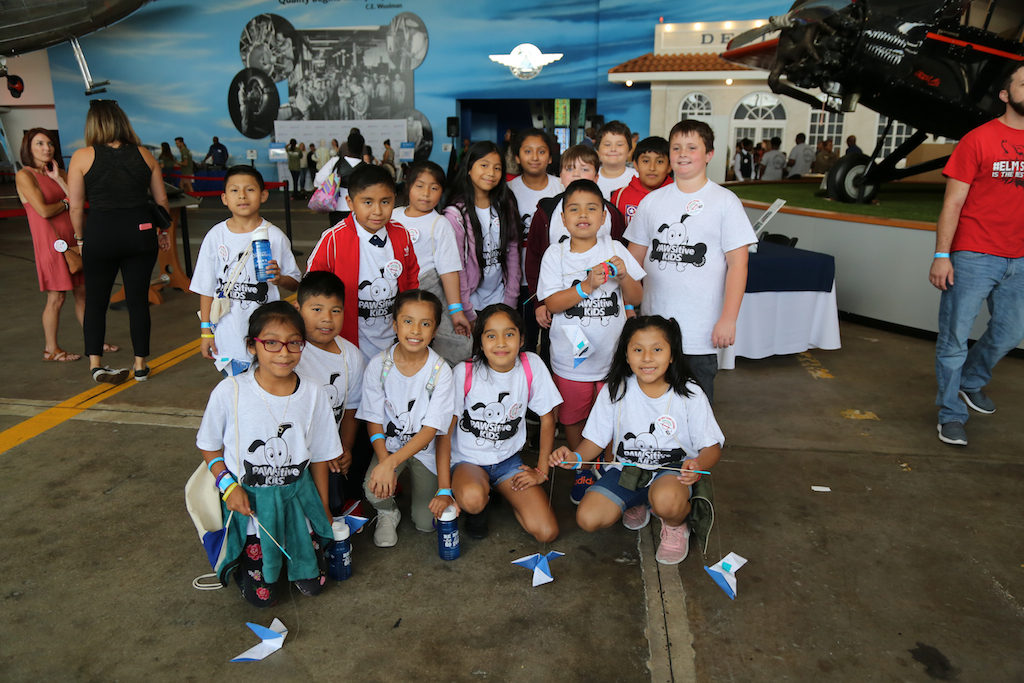 On September 21, 2019, it was time for Step 4 – Celebrate, as PAWSitive Kids found themselves as invited guests of JGI's Roots & Shoots Celebration of Compassion, Action, and Peace, an event celebrating the power of youth and their ability to turn ideas into action, inspire one another, and enact change. Following the ceremonial recognition of PAWSitive Kids, Elm Street's mindful third-grade innovators were given $5,000 by Dr. Goodall and event sponsor Delta Air Lines to see the project grow further. As is the case with Roots & Shoots projects led by youth around the world, whether simple or complex, the power of their reach and impact is constantly growing.  
Chris hopes to see similar projects come together through JGI's Roots & Shoots program. The key is keeping an eye out for what students are truly passionate about and nurturing that curiosity and energy.
Think outside of the box. I've been in education 27 years, and when I started, I never thought I would have taken 15 kids to the local animal shelter.

Chris White, Roots & Shoots educator, Rome, Georgia
Want to get started with Roots & Shoots?
Become a member for free today! Get inspired by taking the changemaker quiz on our homepage and exploring projects here.
---

The Jane Goodall Institute is a global community conservation organization that advances the vision and work of Dr. Jane Goodall. By protecting chimpanzees and inspiring people to conserve the natural world we all share, we improve the lives of people, animals and the environment. Everything is connected—everyone can make a difference.