There is no question that Dr. Jane Goodall, DBE, founder of the Jane Goodall Institute & UN Messenger of Peace can draw a crowd. ​As we face some of the greatest challenges to humankind and the natural world, we have a unique opportunity: the power of technology to connect and share ideas. Now, you can look forward to having Jane with you wherever you are with the brand-new 'Jane Goodall: Hopecast'!
Since the late 1980's Dr. Jane Goodall has been traveling on a perpetual world tour to share her reasons for hope, her story, and her firm belief that every individual can make a difference every single day. She has reached millions of people over the years, and it is what Jane knows to be her purpose – to inspire and spread hope. As the world turns, so do the tides of technology and our circumstances. Despite the tragedies we see globally in light of the COVID-19 pandemic, one glimmer of goodness is that it has given Jane time at home, to slow down and turn to new ways to share her message.
More Than a Podcast: A HOPECAST
The Jane Goodall Institute is currently working with Dr. Goodall to produce a podcast series which includes fireside chat conversations with influencers, leaders from business, policy and NGO industries with topics related to Jane's vision for making the world a better place for all. Jane's episodes of 'The Hopecast' will engage these individuals and audiences to break down systems, ideas, and barriers to open the true ability for every individual to act. The podcast will also highlight the work of the Jane Goodall Institute, including our innovative community-led conservation work, captive welfare, and trailblazing science & technology for conservation and youth empowerment. In addition to these conversations, the podcast will include excerpts from Dr. Goodall's lectures, stories from audiences of hope, other interviews and readings of her own writings or ones that she loves including Dr. Dolittle and Tarzan.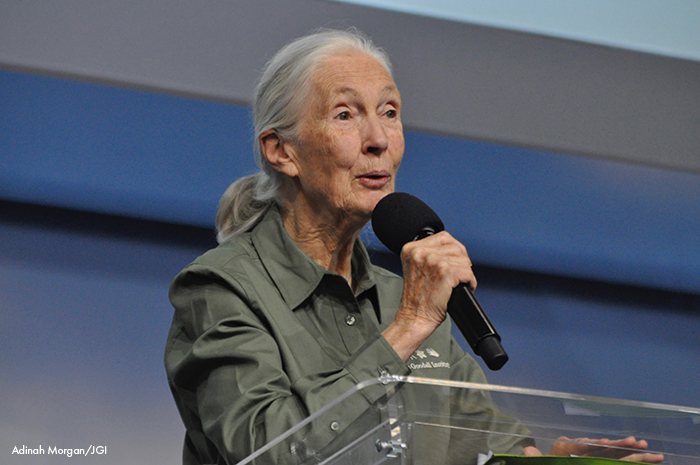 Jane has often said that to reach people, you much reach the heart. And to do that, you must use stories. To unpack the complex and difficult issues of wildlife trafficking, endangered species and biodiversity loss, climate crisis and environmental justice, ecosystem degradation, youth empowerment and education, inclusion and equity in conservation and science, science communications and compassionate leadership, Jane will use the conversations and stories of hope in the face of adversity to demonstrate the power we each have to create positive change. With these stories and the growth of this 'Hopecast' community exchanging thoughts and experiences, the future will surely be a brighter place that is #GOODFORALL.
MORE ABOUT 'THE HOPECAST'
Scientist. Activist. Storyteller. Icon. Jane Goodall blazed the trail and changed the world. Now, she's studying new subjects – humans! This brand-new podcast will take listeners on a one-of –a-kind journey as they learn from Dr. Goodall's extraordinary life hear from changemaking guests from every arena and become awed by a growing movement sparked by Jane and fueled by hope. Join us as we get curious, grow compassion, and take action to build a better world for all.
---

The Jane Goodall Institute is a global community conservation organization that advances the vision and work of Dr. Jane Goodall. By protecting chimpanzees and inspiring people to conserve the natural world we all share, we improve the lives of people, animals and the environment. Everything is connected—everyone can make a difference.