When she was in the 6th grade, Brooke Abbruzzese decided that she wanted to make a difference for animals and the environment. Always an animal-lover, Brooke had recently become captivated by primates after reading Jim Ottaviani and Maris Wicks' graphic novel, "Primates," which tells the stories of Jane Goodall, Birute Galdikas, and Dian Fossey. Around the same time, her dad introduced her to a friend of his — a primatologist who had worked with Koko the gorilla. Hearing about Brooke's interest in primates and Dr. Jane, the friend told her about Roots & Shoots and encouraged her to start her own group.
She gathered her friends and called their first meeting to order. Similarly to how the original Roots & Shoots group started on Dr. Jane's back porch in Dar es Salaam in 1991, Grant Park Roots & Shoots was born at Brooke's house amongst good friends. The teenagers shared an interest in chimpanzees, and together, they signed up to become "Chimp Guardians" through the Jane Goodall Institute (JGI). This is when they had the idea to raise money for JGI's Tchimpounga Chimpanzee Rehabilitation Center, a sanctuary in the Republic of Congo which is home to more than 150 rescued chimpanzees.
This slideshow requires JavaScript.
Roots & Shoots, youth program of the Jane Goodall Institute, encourages youth to get to know their own communities and ask, "how can I make a difference?" Even though the members of Grant Park Roots & Shoots were interested in helping chimpanzees and their habitats half a world away, they found inspiration in the culture and resources of their local Portland community that led them to their big idea: a vegetarian cookbook. The culinary scene in Portland is rich. To collect recipes, they contacted local restaurateurs and chefs whose enthusiasm for their idea, inspired the group to dream a little bigger. They asked Jane Goodall to submit a recipe. And Ina Garten. And Michelle Obama. And they all said yes! Grant Park Roots & Shoots sent 150 letters (each included a picture of an orphaned chimp at Tchimpounga) and heard back from many others who were excited to participate.
Three years later, they've published "Saving Pan," a vegetarian cookbook with 50 recipes featuring submissions from renowned chefs, celebrated conservationists, and more. Brooke and her team consulted with a food photographer, an experienced publisher, and other players in the vibrant Portland food scene. They've already sold many copies and have donated more than $10,000 to Tchimpounga.
Challenges along the way were no match for the fierce determination of the young women of Grant Park Roots & Shoots. When they were waiting on recipe submissions, they sought to self-educate by watching conservation documentaries, researching laboratories where animal testing takes place, and inviting guest speakers to speak to their group. When they couldn't meet for a few weeks over summer vacation, they kept in touch and picked back up after the school year began. When there were "too many cooks in the kitchen," they split up into smaller groups to write, design, and test recipes.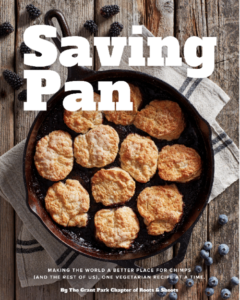 Right now, the group is focused on marketing their cookbook, but I think we're all excited to see what they come up with next. When I asked Brooke which recipe she would recommend I try (as someone with limited baking/cooking experience), she suggested Jonathan Grumbles' Berry Smoothie or Michael Pollan's Any Veggie Frittata. I'll be sure to let her know how they turn out.
These cookbooks are selling like hot cakes. Get yours here.
Become a member and start your very own Roots & Shoots project TODAY!
---

The Jane Goodall Institute is a global community conservation organization that advances the vision and work of Dr. Jane Goodall. By protecting chimpanzees and inspiring people to conserve the natural world we all share, we improve the lives of people, animals and the environment. Everything is connected—everyone can make a difference.