Imagine sitting in the forest for hours at a time, watching your favorite primate species, and filling notebooks with your observations. This was the life of Jane Goodall during her years in Gombe, Tanzania, and her findings changed the world. She was a true pioneer in the field of Primatology (technically her degree is in Ethology, or animal behavior), inspiring people around the world to follow in her footsteps. But for many, it is difficult to know where to begin when pursuing this dream.
Is Animal Behavior Research for Me?
There are some essential prerequisites to thriving during primatology field research. One must love the outdoors, be adaptable to physically and mentally challenging conditions, comfortable with minimal contact to the outside world, and replete with patience. Passion is a must, because primate research is simply not the easiest field! Jane, for example, wanted more than anything to be a naturalist and loved learning about the lives of animals – this was enough to keep her focused and dedicated to the work, despite the challenges!
Education
For aspiring primatologists, a graduate degree in biology, anthropology, psychology, or similar major is the typical path. There are always exceptions, so don't be dissuaded if you have already received a degree in a different field! Although not absolutely necessary, it's an added bonus to connect with professors who share your interests or have associations with primate related field sites and study abroad programs.
Though it was Dr. Goodall's interest and self determination to learn more about wildlife that inspired Dr. Leakey to send her to Tanzania to study chimpanzees without any formal training, in most cases today, education is a necessary baseline. Jane was lucky and worked very hard initially, and she eventually went to Cambridge to obtain her PhD under the guidance of Dr. Leakey, knowing it would help legitimize her research, her funding, and her place in the field.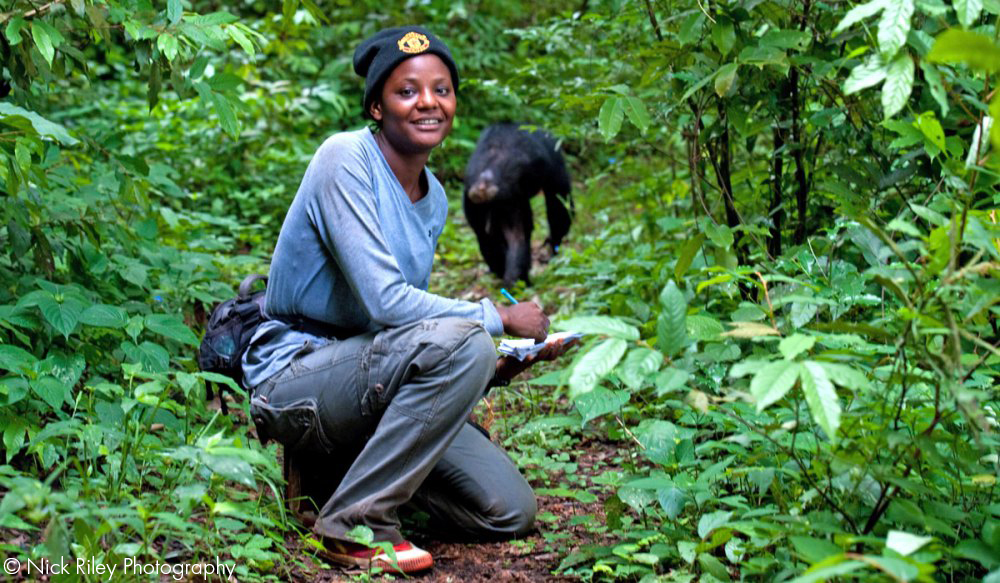 Internships and Jobs
Despite an undergraduate degree, it's often internships, research experience, and volunteer work during and after your undergraduate degree that will enhance your curriculum vitae (academic resume). These tips will help as you work to build your skillset during and after college.
Regularly check boards such as Texas A&M and Primate Info Net to find jobs for wild primate/non invasive research, as these positions are temporary and often only posted a month or two in advance.
Diversify your experiences by applying to positions with other species besides primates. These experiences will broaden your experience, challenge you to think about topics in a new way, and show well roundedness.
Shoot for the stars and put yourself out there. Contact experts working on projects you're interested in – it may lead to valuable connections or advice. Also keep an eye out for networking events and conferences. Many offer student rates to keep it affordable!
Show your passion for the field – it will help you advance in the field of primatology. For example, Dr. Louis Leakey saw Jane's passion, determination, and patience for field work, and chose her to be the pioneer of chimpanzee research, purely based on these traits.
Other Ways to Prepare
Use your talents to advocate or fundraise for primates and other endangered species. Dr. Goodall realized that research is not the only important piece of work in this field, which led her to travel the world educating others about chimpanzees, other species and conservation. This in turn, led to the creation of the Jane Goodall Institute and JGI's youth program, Roots & Shoots, which inspires youth to take action. You can start advocating and fundraising right now by joining Team Jane!
Read and research topics of interest as much as you can. You never know where it will lead you, what ideas it might spark or how it might influence you.
Save money and invest in your future. Your first years as an aspiring primatologist are often an expensive endeavor. Don't be discouraged if you must take time to work and save money to reach your goals. Dr. Goodall had to do the same, working as a secretary to save money for her first trip to Africa.
Life as a Primatologist
After you have graduated from a university and equipped yourself with research experience or internships, it is time to seek a full-time job or graduate positions. If a life in the field is not for you, there are so many other routes to go; environmental law, education, communications, and a wide range of nonprofits are all encompassed in the broad field of wildlife conservation and research.
Although primatology and conservation related fields may be challenging, working every day to understand the animal kingdom and the natural world can be one of the most rewarding careers imaginable.
Celebrate World Chimpanzee Day by learning more and getting involved here.
---

The Jane Goodall Institute is a global community conservation organization that advances the vision and work of Dr. Jane Goodall. By protecting chimpanzees and inspiring people to conserve the natural world we all share, we improve the lives of people, animals and the environment. Everything is connected—everyone can make a difference.