All of the chimpanzees of Tchimpounga have a different story – many are tragic, and almost all result in a rescue from either the illegal bushmeat or exotic pet trade. Many years ago, a diplomat received a chimpanzee as a gift. Luckily, this diplomat was aware that keeping a chimpanzee as a pet is a dangerous and inhumane practice. Unsure of what to do, he brought the chimp to the Brazzaville zoo in the Republic of Congo in 1991.
At that time, the Jane Goodall Institute was collaborating with the Brazzaville zoo to care for the many chimpanzees that the Congolese Ministry was confiscating and transferring to the zoo. Happily, this chimpanzee found his way into the care of the Jane Goodall Institute's staff, to be rehabilitated and given a happy, safe life with other chimps in a more natural environment.
This chimp is named B.A. He was originally given a full name upon arrival at the zoo, abbreviated to B.A., but this name has since been forgotten. When B.A. arrived at the zoo, he was inside of a sack, very weak, and in overall terrible condition both emotionally and physically. Thankfully, the staff of the Jane Goodall Institute took this sick chimp and gave him the care and devotion he needed and  nursed him back to wellness.
B.A. was transferred from the Brazzaville zoo to the Tchimpounga sanctuary along with his other rescued chimp companions in 1992. From early on, B.A. showed much more interest in playing with his fellow chimpanzees over interactions with human caregivers. He has always demonstrated this independence, preferring the company of his chimp friends, perhaps a result of his traumatic past and mistreatment by people. It is unfortunate that many of the rescued chimpanzees carry the burden of such terrifying memories, though it is truly a rewarding and wonderful thing to see these same chimps emerge with joy upon finding contentment with other chimps just like them in Tchimpounga. This is their second chance.
---
MORE FROM THE CHIMPANZEES OF TCHIMPOUNGA!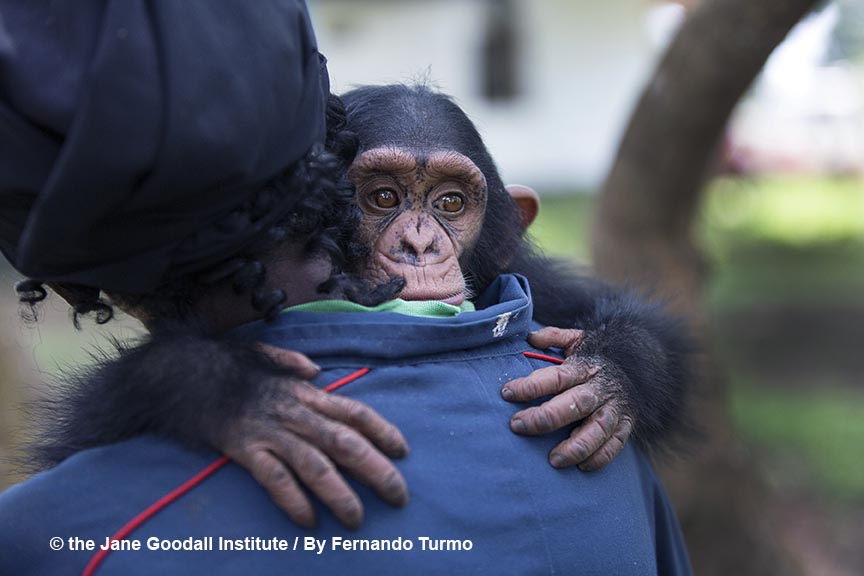 To receive even more wonderful stories from our rescued chimpanzees at Tchimpounga Chimpanzee Rehabilitation Center, consider becoming a Chimpanzee Guardian here. Your donations allow us to keep our promise to never turn away a chimp in need, and to keep delivering expert care to our nearly 150 chimps.
Every Chimpanzee Guardian receives:
Bio card with photo of one of Tchimpounga's chimpanzees
Custom Chimpanzee Guardian certificate
Exclusive art print
Large plush chimpanzee
JGI logo bumper sticker
Monthly updates and stories about the chimpanzees of Tchimpounga
Special invitations to webinars and events with JGI staff
And the knowledge that your support is saving lives!

---

The Jane Goodall Institute is a global community conservation organization that advances the vision and work of Dr. Jane Goodall. By protecting chimpanzees and inspiring people to conserve the natural world we all share, we improve the lives of people, animals and the environment. Everything is connected—everyone can make a difference.