Shy, Kind Jack
In 2013, a car came to Tchimpounga sanctuary which held two wooden boxes. In one box was a chimpanzee named Doudou, and in the other box was Jack. The two chimpanzees came with ropes and chains around their necks, and were very hungry and afraid. Quickly, the JGI staff started their work to heal these chimps emotionally and physically from the damage the people of their past had inflicted.
Caretaker Jean Aimé took care of them both during their quarantine period. The sensitivity and affection of this experienced caregiver greatly aided the emotional recovery of these chimpanzees during their first weeks in the sanctuary. Jack was integrated with Doudou in the group of juvenile chimpanzees, where he met other chimpanzees of his own age and began to create a new life, with new friends and new experiences.
After several years living in the facilities of the main sanctuary, Jack was transferred to the forests of the Tchimpounga sanctuary island of Tchindzoulou, where he has been integrated into a group of fifty rescued chimpanzees. Jack has a timid personality, but he still likes to play with the other chimpanzees, exploring this new island home!
---
MORE FROM THE CHIMPANZEES OF TCHIMPOUNGA!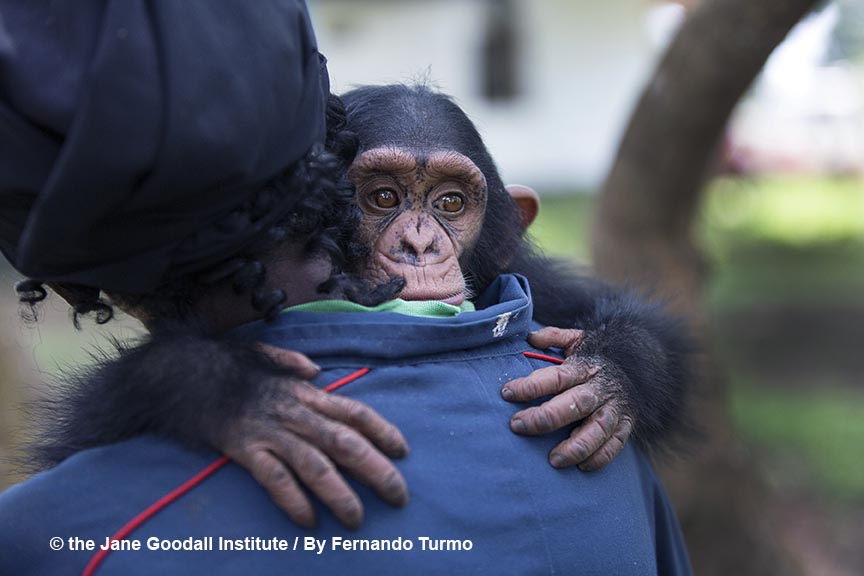 To receive even more wonderful stories from our rescued chimpanzees at Tchimpounga Chimpanzee Rehabilitation Center, consider becoming a Chimpanzee Guardian here.Your donations allow us to keep our promise to never turn away a chimp in need, and to keep delivering expert care to our nearly 150 chimps.
Every Chimpanzee Guardian receives:
Bio card with photo of one of Tchimpounga's chimpanzees
Custom Chimpanzee Guardian certificate
Exclusive art print
Large plush chimpanzee
JGI logo bumper sticker
Monthly updates and stories about the chimpanzees of Tchimpounga
Special invitations to webinars and events with JGI staff
And the knowledge that your support is saving lives!
---

The Jane Goodall Institute is a global community conservation organization that advances the vision and work of Dr. Jane Goodall. By protecting chimpanzees and inspiring people to conserve the natural world we all share, we improve the lives of people, animals and the environment. Everything is connected—everyone can make a difference.