Photos and videos of young chimpanzees living at our sanctuary receive so much love and adoration. Not many things are as cute as a group of healthy chimpanzees playing, hugging, and exploring their world. But these photos and videos we share only show one side of what Tchimpounga Chimpanzee Rehabilitation Center does for rescued chimpanzees. When a chimpanzee arrives at Tchimpounga, their life is often in peril.
The true cost of wildlife crime is horrific – devastating individuals and pushing species to extinction. It's common for chimpanzees to be suffering from infected wounds, parasites, malnutrition and dehydration, not to mention psychological scars from being taken from their mother at such a young age. Before a chimpanzee can begin to enjoy his or her new life at Tchimpounga, JGI's veterinary staff often has to rush to make sure they survive.
Mambou was no exception.
When he arrived at Tchimpounga he was sick and emaciated. JGI's veterinary staff were afraid that the orphaned chimpanzee would be too weak to survive, and began urgent medical interventions to save his life. Day and night the team worked with Mambou, healing him and giving love and comfort. Between the vet staff and Tchimpounga's amazing caregivers, little Mambou was able to gain his strength back little by little. Eventually Mambou had healed completely, and was able to join other rescued chimpanzees.
Today, Mambou is unrecognizable from the skeletal, sickly chimp who first arrived at the sanctuary. He has grown into a healthy and charismatic young chimpanzee, larger than many of his peers and extremely confident and well-liked. Most recently, Mambou was transferred to Tchindzoulou, a forested island within Tchimpounga sanctuary. There he will begin the next chapter of his life, in which the trauma of his early days at Tchimpounga is forgotten as he roams free through the trees with a group of chimpanzees like him.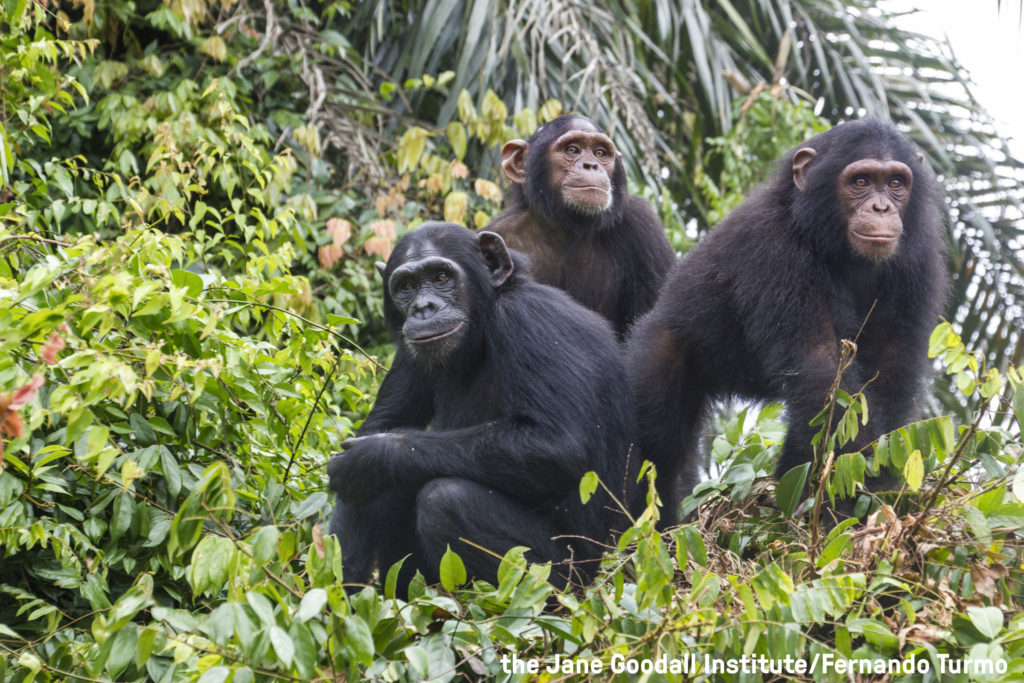 Stop the Show: Chimpanzees Aren't Entertainment
Internationally, chimpanzees like Mambou and other great apes are used as props in television, film, circuses, roadside attractions, as pets and as social media share-able content. This cruel business removes chimps from their mothers at an early age, puts them into torturous training programs, asks them to perform unnatural acts, and eventually tosses these beautiful, highly social and perceptive animals aside when they are too large or aggressive to manage. Read about others rescued from this fate: Lousingo, Motambo, and Luc. 
How to Help
Sign the Petition: You can help #StoptheShow by using your voice to protect chimpanzees and other animals and prevent them being put into harmful situations in the name of "entertainment." Sign our petition and share with your friends, family and loved ones!
Share: Click to Tweet: http://ctt.ec/QT7rH "Using chimps & other great apes in entertainment comes at an enormous cost. #StoptheShow: Sign & share. http://bit.ly/stoptheshownow"
Get the T-Shirt: Did you know we share 98.6 % genetic material with chimpanzees? We believe chimps should remain wild and free and not be used in the entertainment industry. Show you do, too: http://bit.ly/2rkhblf . All proceeds benefit the Jane Goodall Institute's programs to keep chimps wild and free + rescue chimps orphaned by the illegal pet/entertainment and bush meat trades.
---

The Jane Goodall Institute is a global community conservation organization that advances the vision and work of Dr. Jane Goodall. By protecting chimpanzees and inspiring people to conserve the natural world we all share, we improve the lives of people, animals and the environment. Everything is connected—everyone can make a difference.

---