It has been four years since the passing of Nelson Mandela, on December 5th, 2013, but his memory vividly remains in the minds of millions around the world. His commitment to peace and justice were exceptional, and he impacted and inspired through both his words, and the way he lived. Dr. Goodall's reflection on Mandela is a wonderful way to think about how to use the lessons of compassionate leaders to build a better tomorrow for all of humanity, and all living things. Jane uses a precious piece of Robben Island Prison, where Mandela was held for years, to share her message of hope regarding the indomitable human spirit.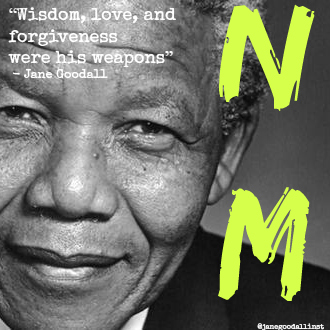 Some are iconic figures – like Nelson Mandela who emerged from 17 years of hard physical labor (21 years in prison) with the amazing capacity of forgiveness so that he led his nation out of the evil regime of apartheid without the bloodbath most people had predicted. In fact we find this indomitable human spirit all round, if we bother to look. And it is very inspiring. (Mongabay) – Dr. Jane Goodall

(Read more from Reason for Hope and get your own copy here.)
We hope you will use this message of perseverance and bravery to make positive change through your everyday actions.
DR. JANE GOODALL'S REFLECTION: NELSON MANDELA
It is hard to imagine a world without Nelson Mandela. For so long, he has been that iconic figure who brought South Africa out of the evil regime of apartheid without a blood bath.

He was imprisoned for 27 years, physically and mentally abused, humiliated, and isolated from the outside world. When he was eventually released, how was it possible for him to urge black South Africa and colored South Africa to forgive past injustice? Yet, that is what he did. And because of that, because of who he was, he was hailed as father of the new Rainbow Nation and, as its elected president, helped steer it toward a new future.

How fortunate for South Africans and the world — that unlike those other freedom fighters Mahatma Gandhi and Martin Luther King — he was not assassinated for his courage to stand up against injustice. Instead, for 27 long, long years, he endured the "slings and arrows of outrageous fortune" and was not destroyed but hardened and strengthened. Rather than becoming embittered and filled with hatred for his enemies, he learned to understand them and even sympathize with them as their absurd and hateful regime crumbled. And when he came back into the world, into the life they had deprived him of, he took on what seemed an impossible task and made the impossible triumphantly come to pass in the emergence of the new Rainbow Nation.

For years, I have carried with me a piece of rock from Robben Island Prison where Mandela labored in the limestone quarry under the unforgiving eyes of his captors. In front of hundreds of thousands of people, I have held it up as a symbol that illustrates the indomitable human spirit. It symbolizes too the ultimate power of right over wrong.

I never had the chance to get to know Nelson Mandela, but I met him on two occasions. And each time, I could sense the power of this remarkable man. He had an aura of implacable determination oddly mixed with a transparent tranquility of spirit, the assurance of one who knows he has fought the good fight, walked the good talk. Wisdom, love and forgiveness were his weapons. And there was a twinkle in his eye. He could surely never have survived without a sense of humor! I was left with a vivid impression of the man beneath the hero's mantle that had been so justly bestowed upon him by an admiring world.

We grieve for his passing. We rejoice in his accomplishments. We pray that his enduring spirit will continue to guide his country through its present and future travails.
---

The Jane Goodall Institute is a global community conservation organization that advances the vision and work of Dr. Jane Goodall. By protecting chimpanzees and inspiring people to conserve the natural world we all share, we improve the lives of people, animals and the environment. Everything is connected—everyone can make a difference.

---