It is no coincidence that throughout human history, many of the greatest thinkers – Aristotle, Isaac Newton, for example – were also exceptional observers of the world through physics and astronomy. The connection between philosophical explanations of the nature of humanity and our universal position has always been tightly bound. To understand best what it means to live on earth as a human being along with all of this world's other creatures, we must fundamentally acknowledge that, as Carl Sagan put it, "The Earth is a very small stage in a vast cosmic arena." So what would happen if access to the most advanced way to view the entire planet in the greatest detail was given to….everyone?
Today, launching just in time for Earth Week, the new Google Earth (originally downloaded by billions of users) is now revamped and available on your browser. Google Earth was "built to inspire the next generation of curious minds to explore, learn and care about our vast, fragile planet." What an elegantly aligned way to introduce Dr. Jane Goodall and JGI's story mapped out on the new Google Earth waiting for you to discover here!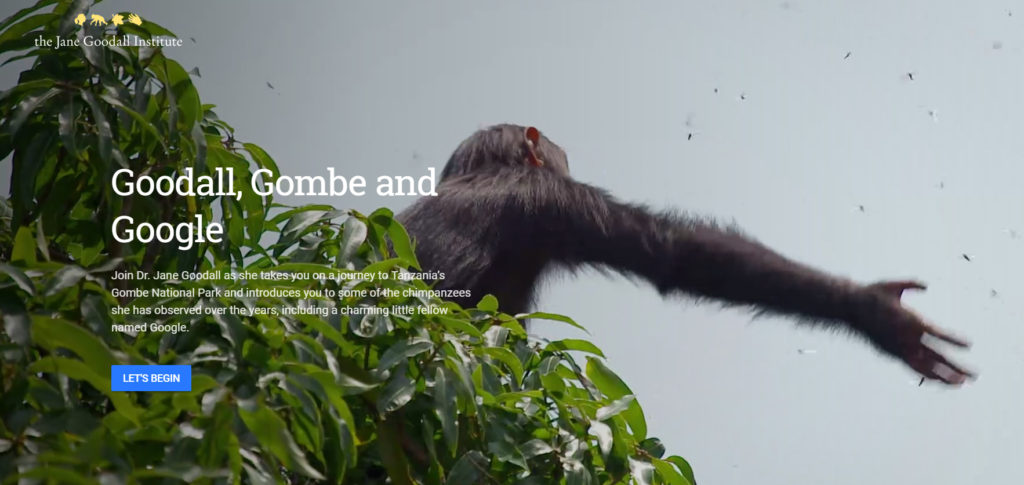 Like Google Earth, Dr. Jane Goodall and JGI's story provided something revolutionary for humanity; an explosion of investigation and curiosity, conviction to stand up for what you believe and do what you dream, and an awareness of the ways in which all living things are inextricably linked. Through a new JGI Google Earth tour, audiences can connect with this story, these chimpanzees, forests and conservation efforts by the local communities outside the park in a whole new, immersive way, via satellite imagery, Google Street View, videos, pictures and more. As an organization founded by a keen observer and storyteller, and one that puts mapping at the center of our work in conservation, it is a perfect marriage of narrative and science.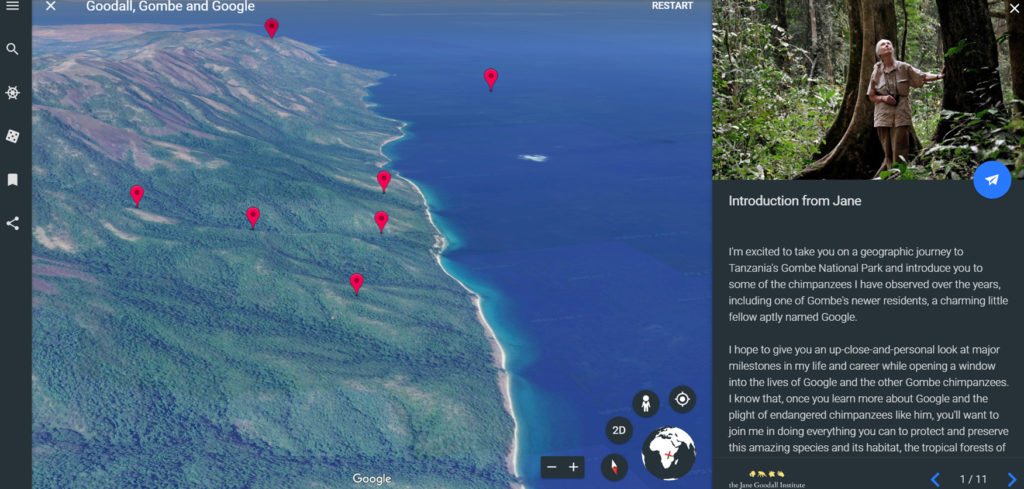 The tour allows the user to interact in incredible ways like integrating geographic landscapes with videos of chimp tool use, scrolling through old photos of Jane and her mentor Dr. Louis Leakey while zooming into the leafy trail behind a group of wild chimpanzees, and moving between satellite imagery of habitat restoration to examine the success of our conservation work, to name a few. With this level of open source technology and sensational multimedia use anyone can explore in ways never before possible.  For those who may feel completely removed from the magnificent chimpanzees of Tanzania or any form of nature, with one perspective shift and click they will be taken in a few seconds right under the shadowed canopy of Gombe's forest staring into the eyes of our closest living relatives. When we are given something as stimulating, engaging and easy to see and use as this new Google Earth story featuring the forests, animals and landscapes most special and essential to the story of Dr. Goodall and JGI, it can give us renewed passion to protect life on earth, or expose someone for the first time to the magic of what Jane and JGI share with the world.
"At the Jane Goodall Institute we are continually seeking new ways of sharing Dr. Goodall's story and chimpanzee discoveries in Gombe National Park, but also our innovative use of technologies with local communities to design landscapes that work better for people and chimpanzees. The new Google Earth platform helps us share this story in a brand new way, bringing together in 3D views a variety of satellite and Street View imagery that engage all of the senses — so well in fact that you actually feel like you could be there in person walking in Dr. Goodall's very own footsteps"
-Dr. Lilian Pintea, Vice President of Conservation Science for the Jane Goodall Institute.
Watch Lilian demonstrate JGI's Google Earth tour here.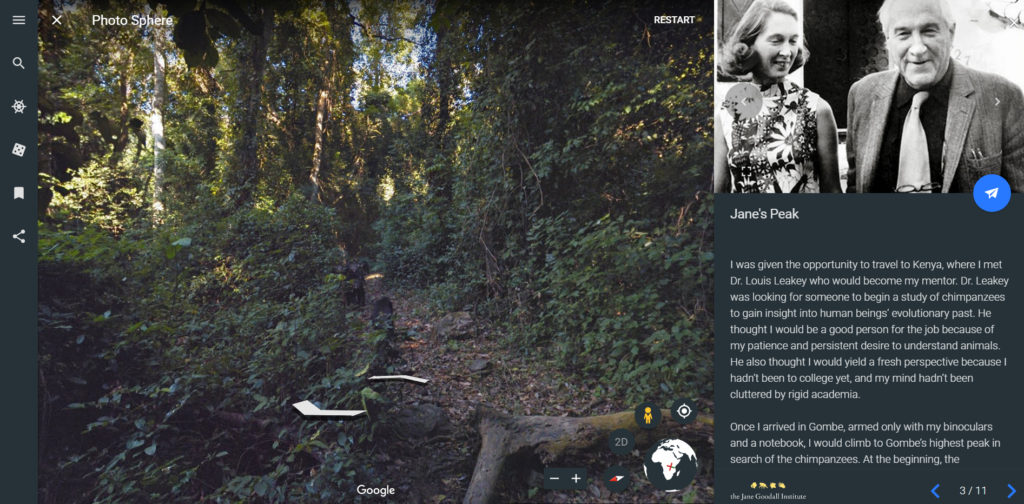 Our world is a truly beautiful one, but it is small and precious. Of all the ways we could imagine to celebrate our Earth, there is none better than seeing it in all of its nearly incomprehensible and fascinating spectacle. It is also the best way to examine what humans have and continue to do to harm it, and in turn, ourselves. We share our story to inspire yours to protect the earth and understand the importance of all life: Join us in rediscovering the journey of Jane and JGI through Google Earth today!