On April 22, 2017, science-enthusiasts of all ages will be taking to the streets to celebrate Earth Day by participating in the March For Science. A gathering of passionate change-makers, the March For Science is all about celebrating the awesome impact science has in our everyday lives. Science is our way of examining the world around us, taking in data, and using that data to help people, animals, and the environment. Scientists are hard at work finding cures to diseases, developing technology for safety, and crafting ways to curb climate change. The March for Science is an event of appreciation and a time to make sure that political decisions reflect the data and work of research.
Three members of the Roots & Shoots U.S. National Youth Leadership Council, Olivia Colombo, Yanni Pappas, and Caroline Gibbons, have weighed in on what they think are the top five reasons that their peers will be jumping for joy at the March for Science.   
It's time for young voices to be heard about climate change. Teens and young adults are no strangers to the severity of climate change. In fact, young people are incredibly active in standing up for the Earth and calling on adults to make the best possible decisions for our future…like when ACE Action Fellows made the headline

"Kids Suing to Save the Climate."



Knowledge is power, and our generation values that fact. "Knowledge gives individuals the ability to make informed decisions about their everyday actions to make a long-term difference," as Caroline eloquently put it. As lovers of science, we are fascinated with causations and correlations, digging through data, and then using our findings to mold the world. We're the generation that, for better or for worse, is accustomed to fact-checking everything we hear, and it's only going to make our actions stronger when backed by fact. With such an abundance of conflicting news sources with varying degrees of credibility, we've become truth-seekers. Beyond that, we are driven to act on truth and be motivated by the oftentimes devastating reality of our world.

Other countries are taking action to save the environment, and it's time for the U.S. to hop onboard. At the beginning of the new calendar year, Delhi, India made a commitment to ban all disposable plastic. When Olivia reported on this for Jane Goodall's Good For All News, the post was shared hundreds of thousands of times on social media, illustrating that society does indeed have an interest in these changes. People lamented, "We should do this in our community!" Thus, India is inching towards joining other green, sustainable countries like

Finland,

 

France,

 

Iceland,

 and even the state of

Vatican City.

 Our generation is determined to get the United States on that list.

We <3 STEM. For most teens, our high school experience has either been sprinkled with or totally immersed in STEM (Science, Technology, Engineering, and Math). We have natural curiosity about the world around us, and our generation has been blessed with the technology to explore and put our curiosities to the test. Technology and engineering pervades every aspect of our lives, but there's a shortage of minds behind the technology. The

Bureau of Labor Statistics

projects that "by 2020 there will be 1.4 million computer-science-related jobs available and only 400,000 computer science graduates with the skills to apply for those jobs." Now more than ever it's time to cultivate interest in STEM, close the gender gap in science and computer science, and get all hands on deck.

We want to be compassionate leaders. Through our passion for science, young change-makers always have our sights set on bettering the world. We want a safe, healthy, and happy world — for people and other animals. We will serve others and serve our communities,

building organic gardens,

 

empowering women with access to hygiene products,

 and

striving toward climate change legislation.

 Everything we do is out of compassion and out of wanting the make the world a better place.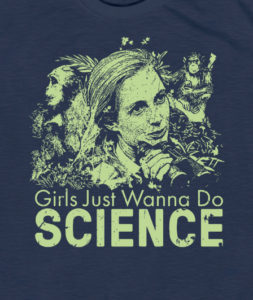 It's time to stand up for science, appreciate all the advances that have been made, and remember that our goal is to be motivated by compassion. Will you be marching for science alongside youth leaders and renowned scientists alike? Gather your group and trek to Washington D.C., attend a local satellite march, or even march virtually. Want to show your love of Dr. Jane and women in STEM? Check out the "Girls Just Wanna Do Science" posters and attire. Hear what Dr. Jane herself says about the March for Science below, and in her words, watch out for the "cardboard life-sized Jane!"