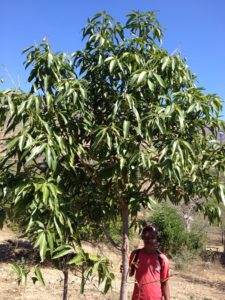 Haiti is a beautiful country located in the Caribbean Sea. Frequently experiencing natural disasters such as hurricanes, floods, and earthquakes, Haiti has struggled to rebuild and thrive while facing such destruction. According to Haiti Partners, 50% of children don't attend school and 59% of citizens live on just US $2 per day. Many groups and organizations are providing solutions and support for the Haitian people. One such organization is doing just that by running a campaign called the Giving Tree Project.
The Giving Tree Project, a Roots & Shoots campaign, was launched nearly eight years ago by Haiti Plunge Inc.. Haiti Plunge Inc. is a non-profit organization that implements projects in Haiti focused on agriculture, sustainable development, and education. Through the Giving Tree Project, mango trees are distributed to Haitian children ranging in ages from newborn to seven years old. Within 3-4 years, the trees begin to produce fruit, helping to alleviate food insecurity and providing extra income for families. The money from selling the fruit is often used to cover school tuition, something that many families struggle to pay for. Additionally, the planting of trees contributes to reforestation in Haiti and the roots of the trees secure soil, preventing soil erosion.
So, how does the Giving Tree Project manage all of this INCREDIBLE GOOD they're doing? Haiti Plunge Inc. purchases mango tree saplings for the Giving Tree Project from a nursery in Haiti. The trees are then distributed to children and families in a rural, nine-village cooperative. From there, Haiti Plunge Inc. communicates with local leaders and teachers about the progress of the mango trees. Not all of the trees make it – some trees are eaten by goats or are unable to thrive where they were planted. The organization works closely with participants to record feedback and improve practices so that as many trees will flourish as possible.
Haiti Plunge Inc. is making a difference in the lives of Haitian people, and you can, too! Here are 3 ways to get involved:
Support Haiti Plunge Inc.
Haiti Plunge Inc. strives to make sure that every child in the Cabaret Mountain Region receives a mango tree. You can help them reach their goal by donating here. $20 = one tree.  Donors receive a picture of a child with their tree along with a short bio.
Join A Haiti Plunge Inc. Volunteer Trip
Want to get in on the fun? High school and college students are encouraged to apply to take part in a volunteer trip to Haiti. Haiti Plunge Inc. makes about 7-8 trips annually, so be sure to join in!
Join Roots & Shoots
Roots & Shoots provides valuable resources to help you launch your next community campaign. Following the 4-step formula, Haiti Plunge Inc. was able to use community mapping to assess the needs in their community. As a cross-cultural education organization, Haiti Plunge Inc. also used community mapping as a communication tool to overcome language barriers between American and Haitian students. You can sign up for free and start designing your own community project by clicking here.
---
Resources
https://haitipartners.org/about-us/haiti-statistics/
http://www.worldbank.org/en/country/haiti/overview
http://www.thehaitiplunge.org