Do you ever fantasize about farming and growing your own food? Growing up, did you ever plan on living like Laura Ingalls in Little House on the Prairie?  Or have you seen the organic farming and permaculture craze engulf the Internet, and you've decided it's time to hop on board?  There's no doubt that in the midst of an industrialized, pesticide-filled, and climate change-ravished society, our agricultural industry needs a wake-up call.  As sustainable and organic gardening has become all the rage for environmental and health reasons, school and home gardens are also flourishing.
"Many producers, especially new and underserved farmers, tell us that access to land is one of the biggest challenges they face in establishing and growing their own farming operation," explained Agriculture Deputy Secretary Krysta Harden just a few weeks ago.  People interested in organic farming, for whatever amazing, environment-saving, and health-conscious reason, often have difficulty finding land and then struggle to get it USDA certified organic.  Bluebird Hill Farm is striving to solve that problem by hosting an essay contest, in which one passionate farmer or family of farmers will win a USDA certified organic farm, home, and funding to pursue their dream.  If you or someone you know fits the description of a passionate, aspiring organic farmer, then take a look here and start crafting your essay!
An interest in where our food comes from starts at an early age— and with proper care, this interest can blossom into a passion for feeding our hungry world.  School gardens are an increasingly popular school project, for all ages and communities as it teaches sustainability, responsibility, and curiosity about new foods and their origins.  As a member of the U.S. National Youth Leadership Council, I built an organic garden at the local Massachusetts elementary school last spring, with funding from a Roots & Shoots Mini-Grant and a school garden grant from the Whole Kids Foundation.  Alongside the school principal, I established a garden program, in which students learn in the classroom about gardening, take turns tending the garden, and then donate surplus crops to a local homeless shelter.  Learn more about my organic gardening endeavor and how I used the R&S 4-Step Formula in my video blog, and learn about cultivating knowledge through a school garden project with the help of Whole Kids grants here.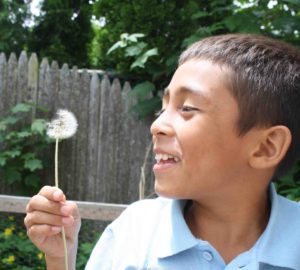 As an NYLC member, I  was introduced to a different, and quite beautiful, approach to gardening through the R&S group, Something Good in the World (SGITW), when they presented their plans for "the Children's Peaceful Garden" at the United Nations International Day of Peace.  Speaking in front of UN Messengers of Peace (including Dr. Jane!), celebrities, world leaders, and the youth, representatives of SGITW explained their desire to build a permaculture garden and peaceful space for youth. When this endeavor was recognized as the R&S Project of the Month, it was written that "Peace in the garden is an awareness of the interconnection of all living things, and that peace for one will bring peace for one another."
The founder of SGITW, Barbara Sarbin, wrote in a recent post for Good For All News that community and school gardens lend themselves to a peace that goes beyond the learning environment. "They're so happy to gather eggs from the free-ranging chickens, like they've always done. They laugh, they chatter, their eyes sparkle," she writes, reflecting on her work with refugee children and the peace they find in the learning environment of a garden.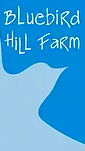 Ready to put on your gardening gloves?  Consider writing an essay to win organic farmland with Bluebird Hill Farm or passing along the opportunity to your fellow farm-lovers.  Want to make a difference on a local level? Get in touch with a local Roots & Shoots group or school, roll up your sleeves, and plant a garden.  Watch Youth Leader Olivia's video for ideas, and then check out the Whole Kids Foundation and Roots & Shoots Mini-Grants for funding to get started and make your garden dreams a reality.