What inspires us? A few stray notes rolling across piano keys? A dancing shadow against a brick wall? A woman who followed her dreams into the jungle, and ultimately left, in order to save it? The things that inspire us and those that inspire are everywhere. They are sometimes unexpected, and on some rare occasions, inspire more individuals than was ever thought possible.

Dr. Jane Goodall is one of those people.
Compassion for animals and a passion for the environment may seem like commonplace now, but prior to a young pony-tailed girl reaching her yearning fingertips to touch the mirroring hand of an infant chimp in Gombe, it was certainly not. Dr. Jane Goodall helped us rethink our relationships with the other lives with whom we share this planet, and reshaped our responsibility towards them. Her words, her drive, her inner peace and her connection to all living things, captured the imagination. Today, Dr. Goodall continues to inspire millions to make change, by being the change.
Every single day, Dr. Goodall and the staff of the Jane Goodall Institute hear stories about how Dr. Goodall's life, work and message have caused them to take action or feel moved in some way. The stories speak of what can be accomplished today for a more harmonious planet tomorrow: a future of green.
What if we could amplify these stories and make that future a reality?
---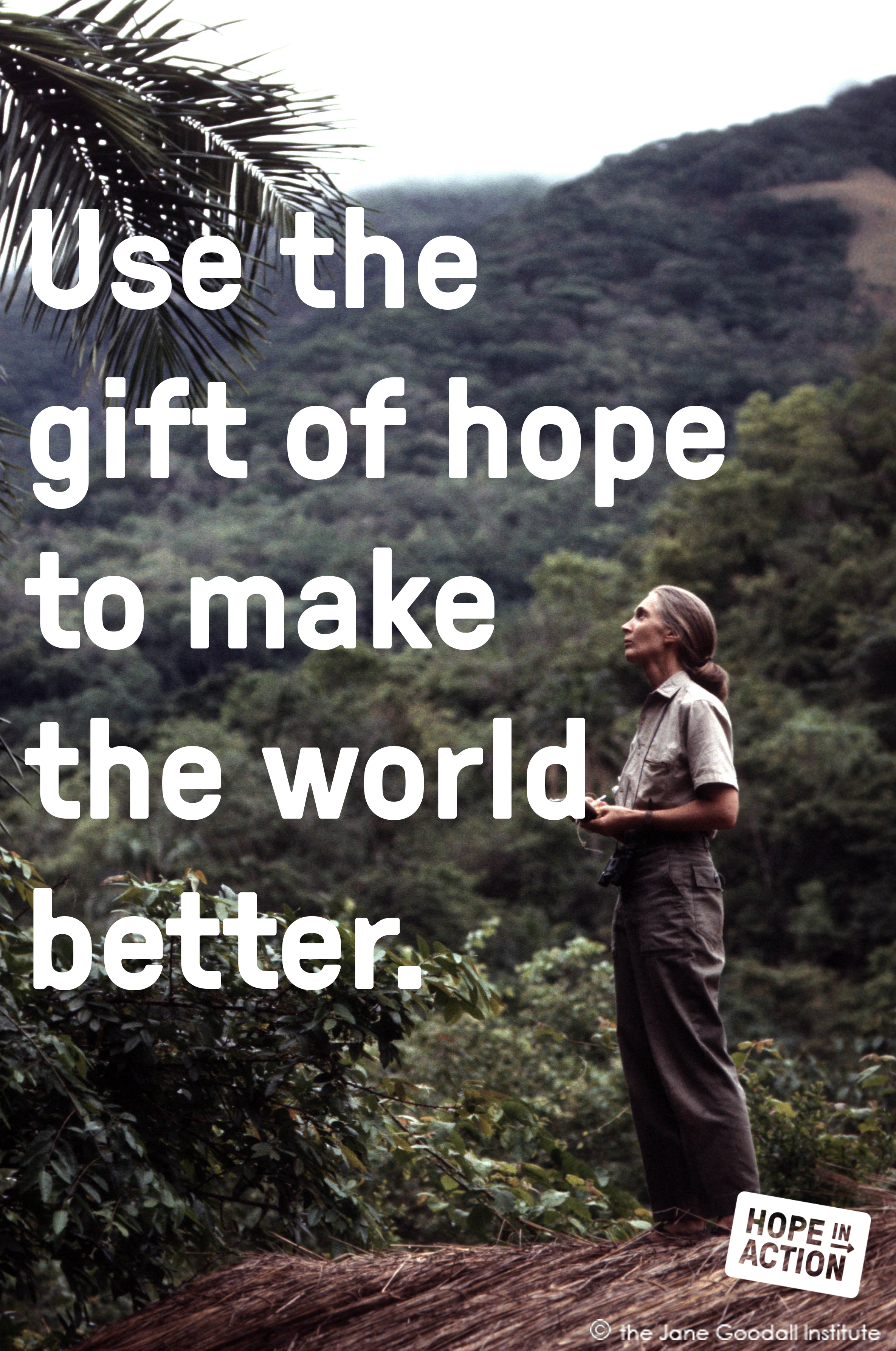 Hope in Action
In honor of the Jane Goodall Institute's 40th anniversary, Jane Goodall's Hope in Action campaign calls upon people everywhere who have been inspired in some way by Dr. Goodall's message of hope, to share their stories. We want to celebrate all of you who are leaders and drivers of conservation, environmentalism, innovation and positivity, making the world better for people, animals, and the environment. You move us, and it's time to show the world what the future of green looks like!
We want to know how Dr. Goodall has inspired you and what you've done as a result of that inspiration. As we tether each of your stories of hope into a constellation of action, YOU will inspire even more good. With a massive galaxy of those stories, we'll shine on into a more brilliant tomorrow and beyond.

How to put your hope into action:
To submit, simply click here and fill out the form with all the details of your tale of achievements for the benefit of people, animals, and the environment :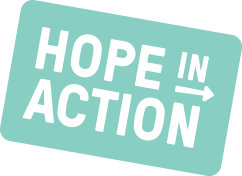 By sharing your story you enable us to take it even further, and you may be highlighted on our website, social media or other platforms! With each story, we are building and expanding an action for good community of all ages, and we want you to be a part of it.
Don't forget to also share your stories on social using #HopeInAction, and tag @janegoodallinst.
Click to Tweet: http://ctt.ec/ch0kD
---
A Hopeful Future
The environment, wildlife, humanity — all of that which Dr. Goodall showed to be so intrinsically
interconnected —is in crisis. It is up to all of us to do something about it. True change is made up of little instances of doing good – whether it's showing up to city hall day after day to prove that there's something wrong with the water, turning a few empty plots of land in a food desert into a place to grow, or speaking out against someone, though it is difficult, when they are endorsing hate; you can be the start of something infinitely worthwhile. Dr. Goodall believes every little action added up can make a huge difference. So whatever the action, no matter how insignificant it may seem – tell us!

"We still have a long way to go…If only we can overcome cruelty, to human and animal, with love and compassion we shall stand at the threshold of a new era in human moral and spiritual evolution—and realize, at last, our most unique quality: humanity."
The more we share these stories, from every busy city to the most remote corners of the world, the more we can activate millions to carry on Jane's work and engage the next generation to defend this planet we all call home. Help us show the world how we can each make a difference, and chart the course for the next 40 years.
Here's to each of you – the do-ers and the builders of tomorrow!