This year has been a wonderful one at Tchimpounga, filled with friendship and new adventure, especially for the chimpanzees who have been able to move to their new island homes. But sadly, Tchimpounga has also suffered a great loss. This December 11, 2016, we said goodbye to La Vieille, a gentle old soul who lived at JGI's Tchimpounga sanctuary for 24 years.
Rescued in 1992 after being abandoned at the Pointe Noire zoo, La Vielle arrived at Tchimpounga as an adult chimp who had suffered the loss of her mother and long periods of isolation. But her spirit endured, and she became a surrogate mother to the youngest rescued chimpanzees at Tchimpounga. She showed these frightened infants the love and affection that was stolen from them when poachers took them from the forest and their families.
La Vieille was a fantastic "mom" to her Tchimpounga babies. One example of La Vieille's selfless, caring nature occurred a few years ago during an emergency at the sanctuary. A grass fire reached Tchimpounga, and began to burn down parts of the sanctuary. When this happened, two adult chimpanzees were able to escape their enclosure and found their way into the enclosure La Vieille shared with the young chimpanzees! The two chimpanzees began to attack a young female chimp named Mokolo. In a flash La Vieille, who generally never left the ground, zipped up the climbing structure the three chimpanzees were on and frightened both males away before recovering Mokolo, safe and sound.
Without Tchimpounga, La Vieille would likely not have been rescued from Pointe Noire zoo. Many young, traumatized chimpanzees would not have had her loving, calming presence in their lives, and La Vieille's life would have been brief and filled with only pain. But because of Tchimpounga, La Vieille was able to spend the second half of her life amongst friends, human and chimpanzee, who cared for her and loved her.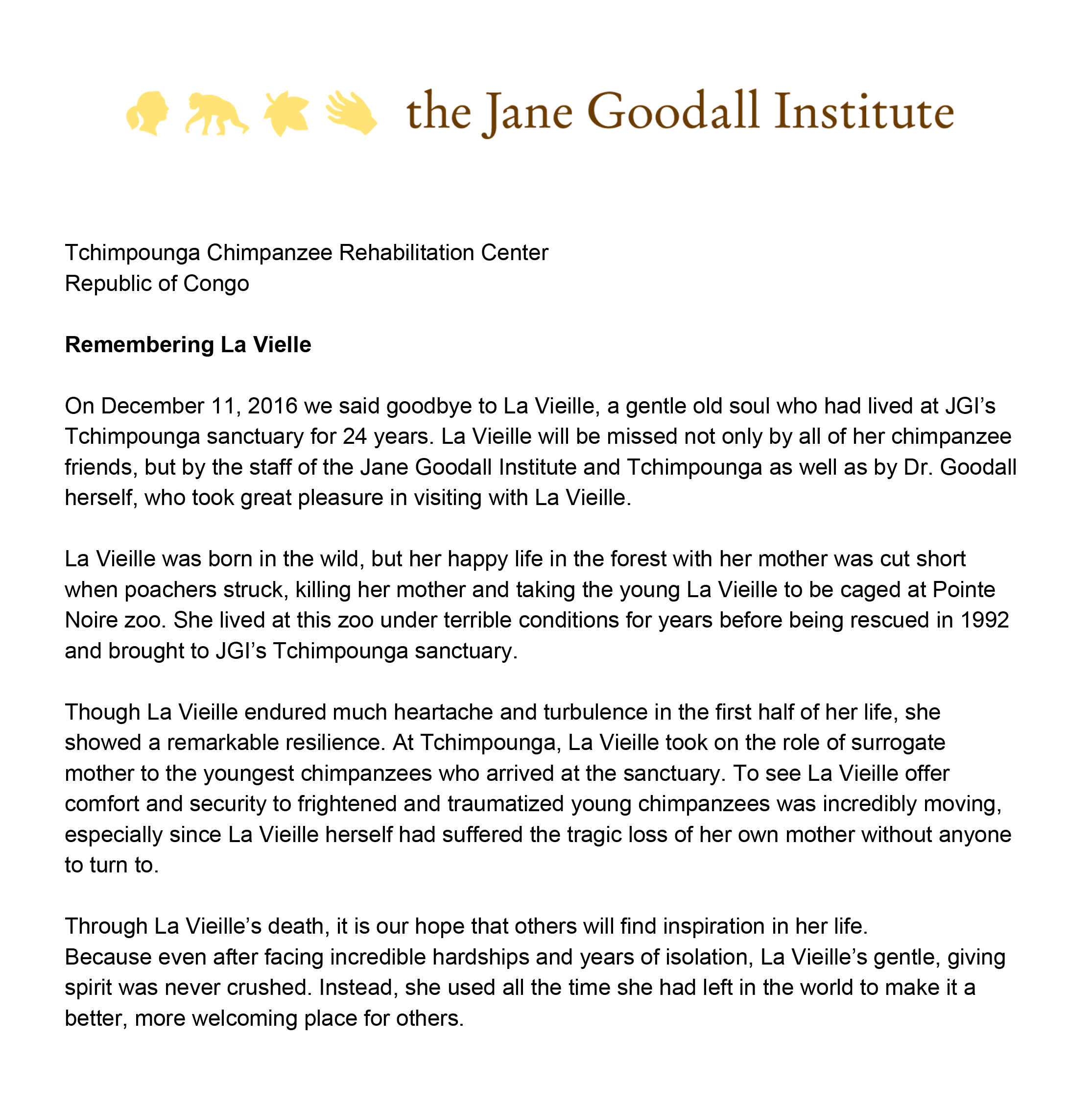 We hope that La Vieille's life will inspire you to support Tchimpounga, the place where La Vieille used her second chance at life to make the world a little brighter.
Give to Tchimpounga in La Vieille's name here.