Chris White teaches third graders at Elm Street School in Rome, Georgia. Recently, she and her students completed a Roots & Shoots project that combines kindness with recycling. Chris shares how her students collaborated with their community to make this project a success.
Coming Up with an Idea
Every year, third graders at her school complete a unit on resources and recycling. The idea for this project came from the research that her students performed during their unit.
"One of our partners, Anita Sealock has done a great job each year making artwork out of recycled items," Chris said. "This year, as we were studying recycling, we learned about the massive problem we have with plastic garbage bags. Our students researched different things we could make with these plastic bags, so we could keep them out of the landfills."
The solution they chose was called Plyarn — a type of yarn made from plastic bags. This yarn can be crocheted into a type of fabric. Chris's students got the idea to make bags with it after hearing about the issue of homelessness in their community.
"In order to inspire our students we decided to have a partnership with the Salvation Army of Rome," Chris said. "Captain McClure came and spoke to our students about the homeless situation in Rome [Georgia]. It was amazing the questions these students had about homelessness. They had seen homeless people all over Rome. They had so many negative preconceived notions about homeless people. It was so powerful to watch how their ideas shifted from negative to a more compassionate opinion."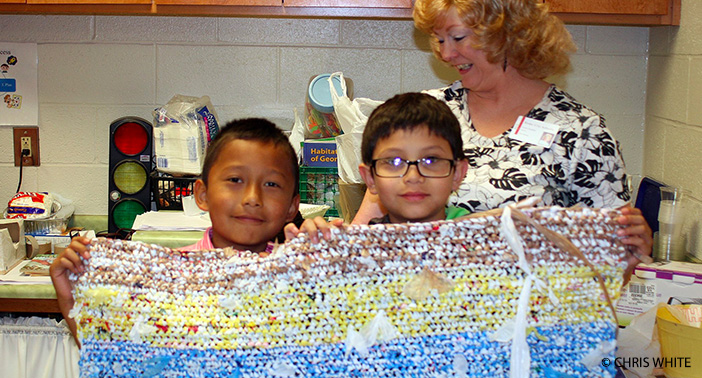 Collecting Resources
The original plan was to collect plastic bags that the students could recycle into plyarn ones. Pretty soon however, the project expanded.
"One parent that had been helping us with our project brought an advertisement of a 5K run to help the homeless in Rome," Chris said. "The advertisement stated it took $300 dollars per day to run our local Salvation Army. We decided we probably couldn't get all 100 of our students to the run on a Saturday, but we could conduct our own run."
This generated a new wave of projects that Chris's students could work on.
"We made T shirts and sold sponsorship to local stores that support our community. That snow-balled into a festival where a local grocery store brought in fruit and water for the celebration and a local icee truck donated slushees. The students paid to enter the race. All proceeds from the race would go to Salvation Army."
The students also decided to collect supplies to fill their plyarn bags.
"With that in mind we decided why not collect items and make hygiene bags for the ones who are not lucky enough to have a place to stay," Chris said. "A local chapter of DKG teamed up with us on this project and brought in travel size items of shampoo, soap, toothpaste, and other items. Local dentist helped us out with toothbrushes."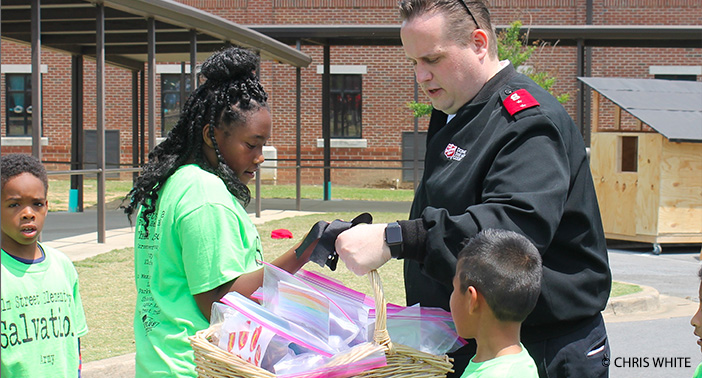 Engaging with the Community
For Chris, a big success for this campaign was the engagement of the students themselves.
"In our school students sometimes struggle to pay for field trips and school supplies, but this time most of the money was collected the very next day and we had over 90% participation," Chris said. "On the day [of the race]all students participated due to local school sponsorship. We ended up donating $500.00."
The students were also able to gather support for their cause from local businesses and organizations in their community, which got more and more people involved and really helped spread the message of their project.
"This was such an incredible community connection. Local Hispanic grocery stores and restaurants supported our students, government officials saved plastic bags, companies donated items, and students and parents crocheted bags and every heart was changed."