Make it a day on, not a day off.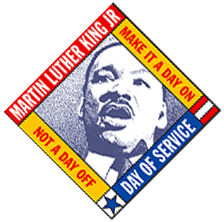 Since 1994, Dr. Martin Luther King Jr.'s birthday has been celebrated as a national day of service — a "day on" instead of a day off. Dr. King, a pivotal figure in the Civil Rights Movement, is someone who Dr. Goodall often discusses as one of her reasons for hope. His indomitable human spirit, compassion and persistence helped him achieve many goals, against many odds, and blaze trails for so many other civil rights leaders who have followed in his footsteps. 
On Monday, January 18, spend the day bettering your community, your planet, and yourself. Here are a few things you can do before then to get ready:
Dr. King said, "Life's most persistent and urgent question is, 'What are you doing for others?'" We're proud to know that Roots & Shoots groups around the world can answer that question every day.
Tell us about your service in honor of Dr. Martin Luther King Jr.'s birthday. Tag us on Facebook, Instagram, and Twitter: @rootsandshoots.