With a new year comes the perpetual annual resolutions to eat healthy, exercise, save money, quit an unwanted habit, travel to new places, get involved, volunteer and so much more. For anyone looking to get involved in the amazing work Dr. Goodall and the Jane Goodall Institute (JGI) do each and every day, here is something to feed your appetite!


In less than two weeks from now, global citizens will unite for JGI's second annual mobile phone recycling day on January 26, 2016. Along with our office in the USA, seven other country offices will participate on this important day to collect unwanted cell phones to save them from their ultimate fate of ending up in a landfill. By collecting phones to be recycled, you will accomplish three major things:
These unused devices will be recycled and not sit in a landfill.

You will raise needed funds to help chimpanzees and other great apes in Africa.

You will raise awareness about the mining of coltan (the mineral most commonly found in cell phone batteries) in the Congo Basin, an area where chimpanzee populations are most prevalent.
Take the pledge and sign your school, workplace or other community member up to become an electronic recycling partner.
Partners in Conservation – Monthly Giving
One of the best ways to help continue JGI's work is by signing up to become a monthly sustaining donor. For as little as $5.00 a month, your ongoing support to JGI will help ensure our reach goes even further. From protecting chimpanzees, empowering people living in communities in Africa, engaging with youth and stopping deforestation, your donation will go far in helping us realize our mission. You can even make your gift in honor of a loved one!
Starting at just $23.00 a month, or a one time gift of $37.00, you can help care for more than 160 chimpanzees that call Tchimpounga home. Our dedicated staff care for rescued chimpanzees, many of whom are victims of the illegal commercial bushmeat and exotic pet trades. Most of these baby chimpanzees come to us sick, malnourished and injured, scared of what is going to happen next. Your contribution goes to support these intelligent and loving individuals, giving them a second chance to have a happy and healthy life.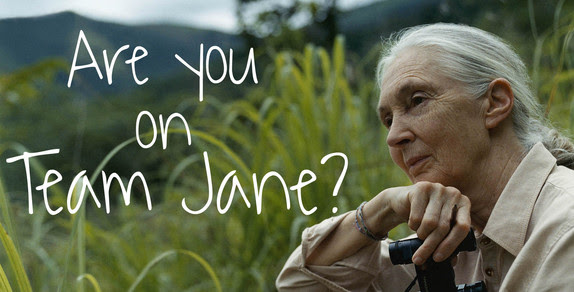 Do you have the entrepreneurial spirit and want to make a difference? Then Team Jane is just for you! Start a fundraiser and choose how you will gain support from friends, parents, classmates and community members. Whether you decide to giveup your birthday presents, run/walk a race for donations, get your classroom/workplace involved, start a bake sale or do your own thing, know that your hard work is contributing! Get competitive, in a fun way, and join our team in supporting the work of Dr. Goodall and JGI!
Connect with young people from all over the world through Jane Goodall's Roots & Shoots program. Get involved with friends, classmates and coworkers to do your part in making the world a better place. For 25 years, Roots & Shoots groups have tackled projects in their local communities, focusing on the wellbeing of people, animals and the environment. And the best part, you will have fun while making a difference in the lives of others!