Chembo has a new, safe home now.
Chembo knows what it is to feel trapped. The chimpanzee lived alone for six years in a cramped cage as a "pet" in the eastern Democratic Republic of Congo. Unable to climb or walk, incapable of socializing or playing, Chembo's legs atrophied over the years, wasting away her natural strength. But thanks to the tireless efforts of seven different organizations working together, Chembo can now grow strong again at the Lwiro Primate Rehabilitation Center (CRPL) in DRC.
Chembo's rescue began when an American man spotted a Frankfurt Zoological Society (FZS) vehicle passing him. The American stopped the zoologist passengers in the middle of the street to tell them that he had seen, from his boat on Lake Kivu, a chimpanzee in a cage at someone's home. Because it is illegal to keep endangered chimpanzees as pets in DRC, the zoologists acted immediately by contacting the nearest Jane Goodall Institute field office to share the information.
In order to extract Chembo and take her to a sanctuary, JGI needed her exact location to notify wildlife authorities of where her rescue would take place. The American informant felt a duty to help Chembo and offered to venture out again on his boat, this time collecting GPS coordinates for the private home where the lone chimpanzee was being held.
JGI's collaboration on the rescue mission did not end with informing authorities. The JGI team informed the Congolese Institute for Nature Conservation (ICCN) and asked for help with the confiscation from the Mountain Gorilla Veterinary Project (MGVP). Finally, JGI asked the Great Apes Survival Partnership (GRASP) to stand by in case the extraction team needed GRASP to airlift Chembo to Lwiro, the only sanctuary in the region. Lwiro's technical and financial partner, Coopera, would then be responsible for Chembo's rehabilitation.
The preparation was quick, and on the day when JGI and its partners teamed up to confiscate Chembo from her illegal captivity, MGVP vets found it easy to sedate the calm and kind-tempered chimp for her transfer and brought her to Lwiro.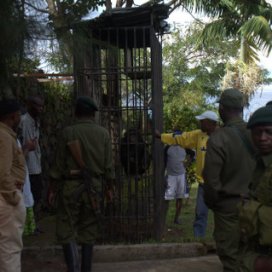 Chembo awoke to find herself in a more spacious cage at the sanctuary where she was temporarily quarantined for 40 days to protect any spread of diseases among the chimps at the sanctuary. After quarantine, it was best for Chembo's recovery to be introduced to other juvenile chimpanzees; however, there was no room for another chimp in the juvenile enclosure, so Chemo was moved into her own new and spacious cage 10 times larger than her former cramped concrete home. Staff at Lwiro chose a nice, calm chimp, Lubuswa, who was the same age as Chembo, to live in the cage next to her so the two could have reassuring chimp-on-chimp contact with one another. When Lubuswa moved in next door though, Chembo was a bit curious but mostly terrified of him. She did not realize she was a chimp just like him! Her complete isolation as a "pet" prevented her from feeling safe around Lubuswa at first. She preferred the company of her human caretakers. In time though, the two were moved in together, yet she is still weary of him.
Caretakers at Lwiro are working hard to make sure that Chembo becomes a happy and confident chimpanzee among her peers. They hope to move a third young chimp in with Chembo and Lubuswa when the two move into their new external enclosure, currently being built for them, which will have dormitories and one hectare of forest for them to romp around in. This new enclosure will allow Chembo to stay at Lwiro. As more chimpanzees come to Lwiro though, staff are going to need larger cages to provide the rescued chimpanzees with good homes.
Sadly, Chembo may never have a chance to go back to the wild; but, she will be safe and happy at Lwiro. Lwiro is the only sanctuary for chimpanzees and monkeys in the region, making it an especially important partner in conservation efforts to protect great apes. Without Lwiro as a destination for confiscated chimpanzees, law enforcement efforts would be seriously hampered, and illegal trade in great apes would be rampant. Already, JGI has seen an improvement in local respect for the laws protecting great apes — in the region, confiscations and reports of illegal killing of apes are both declining. The combined efforts of JGI and partners ensure that the general public is aware of the wildlife laws through education and public awareness campaigns. The active and prompt enforcement of the wildlife laws by ICCN and community elders, coupled with other sanctuaries' (CRPL, GRACE and Senkwekwe) ability to take care for confiscated wildlife, are critical components to the collective efforts to protect great apes in Eastern DRC.
Just this June, another infant chimpanzee orphan was delivered from Garamba National Park in DRC to CRPL. Once again, many organizations collaborated to get the infant chimpanzee, who was only a few months old, quickly to a sanctuary. African Parks, a nonprofit, received the chimpanzee in late May after he was confiscated by military authorities on a patrol south of Dungu in DRC near Garamba. African Parks reached out to the Chimpanzee Sanctuary and Wildlife Conservation Trust, who connected African Parks with the Pan African Sanctuary Alliance and CPRL, who then contacted JGI and ICCN. These organizations advised and worked together to transport the infant, named Garamba, via military and United Nations planes and helicopters, to Lwiro. Garamba's speedy arrival proves once again how difficult these confiscations and rescues can be, but also how teamwork between law enforcement, nonprofits and sanctuaries ensures that these amazing creatures have a safe place to come to, where they are protected and loved.
To learn more about the Lwiro Primate Rehabilitation Center, you can visit their site here.