June is here, and with it, the end of another school year and the beginning of summer vacation in the U.S.! While COVID-19 still represents a very real challenge, thanks to vaccinations many are returning to changemaking in person! One silver lining of the pandemic was the increase in animal adoptions as more people were able to be home with their new furry friends. In 2020, Shelter Animals Count recorded a pet adoption increase of about 15% compared to the year before! But now that people are leaving the house more often, there isn't the same rush to adopt pets, which leaves many shelters with the same problems they had before the pandemic. Also, unfortunately, many who had not thought through their situation returning animals. Thankfully, Roots & Shoots groups are here to help, with projects like Support Your Local Animal Shelter, from Jupiter, Florida! 
The young changemakers in this group used the Roots & Shoots 4-Step Formula to Step 1: Get Inspired by their love of animals. They Step 2: Observed  that their local shelter was filling up with cats and dogs that weren't getting adopted quickly enough, and how the staff had to keep up with the necessary care of these animals—cleaning, feeding, and providing medical care. There weren't enough of them to give each animal the attention and play-time that they deserve. 
This group realized there were two ways they could Step 3: Take Action to solve this issue in their local shelter: either they could increase the enrichment help for the animals, or they could decrease the number of animals that need enrichment.
Their decision: Why not both?
Because of the pandemic, there were restrictions on how they could help. They couldn't actually go into the shelter to play with the animals out of concerns of spreading COVID. Instead, the students made their own "animal enrichment items"—also known as pet toys—and donated them to the shelter. That way, when staff had their hands full with feeding, cleaning, and other essential tasks, rambunctious pups and curious cats could entertain themselves!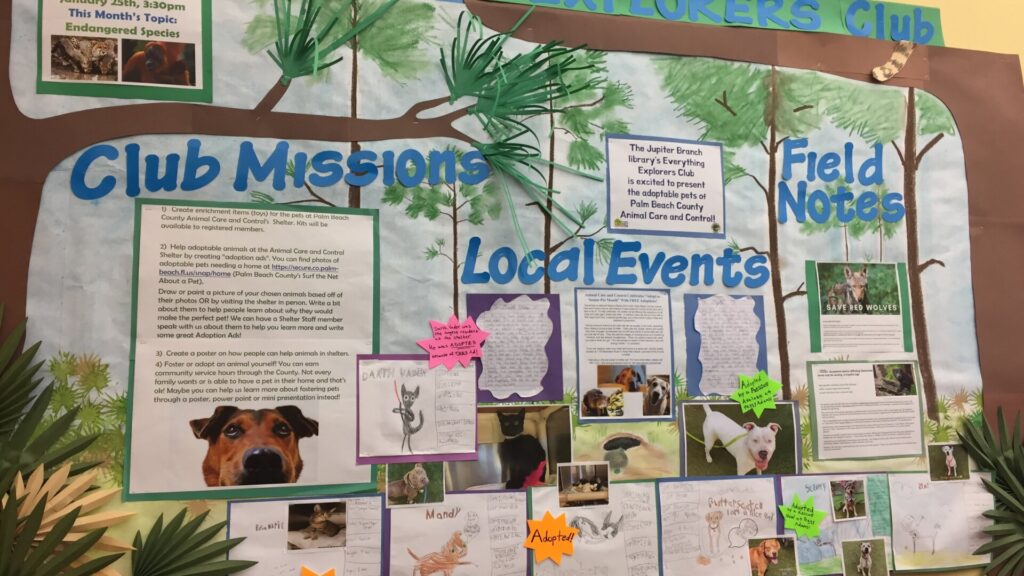 Of course, this isn't the same as the hands-on attention many animals need. So, in order to get these furry friends out of the shelter and into their forever homes, these creative changemakers created adoption advertisements for each of the shelter's long-standing residents! They added portraits of each resident—either photographs or artistic illustrations—and a short bio describing their personality, likes and dislikes, and ideal home; it was important to students that these cats and dogs were finding truly compatible homes, rather than something short-term where they wouldn't be happy. These eye-catching ads were then displayed at the local library, the county shelter, and on the shelter's social media pages!
The project was a great success, and their efforts paid off in one particularly notable way with the adoption of the resident at the shelter who at been there the longest , Darth Vader! Darth Vader's new owner saw the ad and proclaimed, "Look at this! I have to go get him!" showing just how effective a creative marketing team can be! By solving this community problem from two different angles, these changemakers doubled their impact, and left these shelter animals with a much higher likelihood of second chances. Now that's something to Step 4: Celebrate!
INSPIRED TO START YOUR OWN PROJECT? WE GOT YOU.
Once you've signed up as a member and come up with a project, be sure to register it on our website for a chance to be featured in a future project of the month! Not a Roots & Shoots member yet? You're only a few clicks away!
Not sure how to start a project? Use the Roots & Shoots 🔗 4-Step Formula to find ways to make an impact in YOUR community! Remember to invite your friends to help out, because even when we take small actions, they're multiplied by collaboration. You can even create a Roots & Shoots group at your school, or join one already in your area!
Looking for a quick way to help out? Here are some 1-click actions you can take to help other animals!
🔗 Be a Humane Hero: Learn what you can do to help homeless cats and dogs in your neighborhood with this short video.
🔗 Captive Animal Checklist: Next time you visit a zoo or wildlife park, use this checklist to make sure that where you're visiting is humane and doesn't exploit its residents.