It's officially springtime, which for many parts of the US means warmer weather, blooming plants, and the return of native wildlife! Not only do these animals bring a smile to our faces when we see them, but they play important roles in healthy ecosystems. Through pollination, seed dispersion, and other essential processes, native wildlife ensures that everything continues to grow and thrive!
Unfortunately, habitat loss is one of the greatest threats to biodiversity, which is why it is so important to give wildlife a helping hand. Luckily, you can create spaces for wildlife wherever you are, and April's Root & Shoots youth project of the month, Certified Wildlife Habitat and Butterfly Garden, provides a great example of how you can do just that using the 4-Step Formula to create a community project!
Like so many of us, members of Lewes Public Library in Lewes, Delaware, were Step 1: Inspired by the birds, butterflies, and other animals that they saw in their community, and wanted to do something to help them out. They Step 2: Observed wildlife enjoying the flowerbeds around town, and realized that they had several empty flowerbeds they could be using. They wanted to make the most of the space they had, so they did their research and came up with a plan to provide as many resources for local wildlife as they could within a limited space.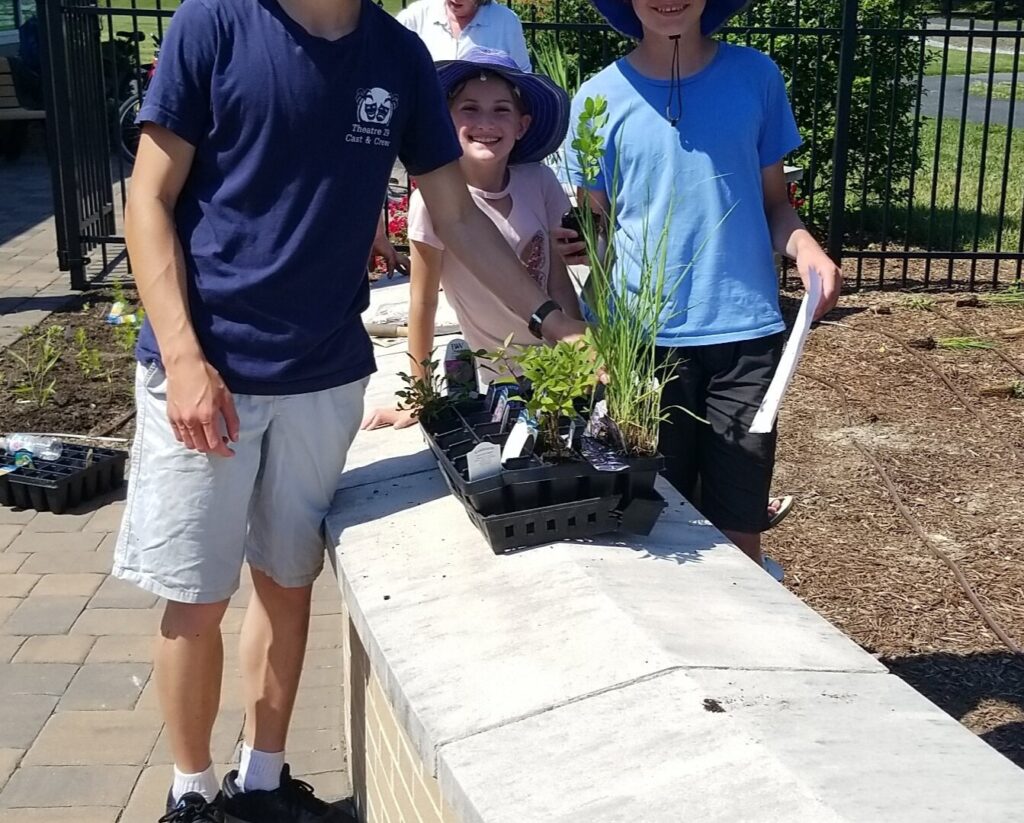 Group members and their families quickly came together to Step 3: Take Action! They used the empty flowerbeds, as well as large planting pots on the library's patio space, to grow over 150 native plants for pollinators to enjoy. Knowing that weary wildlife travelers might need more than just food, they also installed a birdbath, several feeders, and even houses for birds to take shelter and build their nests in. By finding ways to include all the necessities of life—food, water, and shelter—for a variety of pollinators, they created a little wildlife habitat that the whole community could enjoy!
By creating in this project, participants not only supported their local wildlife, they also strengthened their community. What was once empty space around a public library became a green oasis visitors can enjoy before and after attending events or checking out books. Because many people were able to come together to accomplish a shared goal, they can Step 4: Celebrate their collective work with their community of humans and other animals!
INSPIRED TO START YOUR OWN PROJECT? WE GOT YOU.
Once you've signed up as a member and come up with a project, be sure to register it on our website for a chance to be featured in a future project of the month! Not a Roots & Shoots member yet? You're only a few clicks away! 
Not sure how to start a project? Use our 4-Step Formula to find ways to make an impact in YOUR community! Remember to invite your friends to help out, because even when we take small actions, they're multiplied by collaboration. You can even create a Roots & Shoots group at your school, or join one already in your area! 
Looking for an easy way to help out?
We have lots of 1-click actions to help you help local wildlife!
Move for Monarchs: Learn about the monarch butterfly's migration, and plant milkweed for them to lay their eggs!
Be There for Bees: Tell your representatives to prioritize pollinators, and create a little bee bath for your wild neighbors to enjoy!
Backyard Wildlife Refuge: Turn your backyard into a wildlife refuge with pinecone birdfeeders, reptile rockeries, and more!