JGI's Tchimpounga Chimpanzee Rehabilitation Center in the Republic of Congo has been rescuing captive chimpanzees for nearly 30 years. While the COVID-19 pandemic necessitated some adjustments, that did not stop the mission. To celebrate the brave work of Tchimpounga's staff, here are just a handful of success stories from 2020!
Perrine
Just before 2020 began, Perrine was found in the remote village of Enyelle in northern Republic of the Congo, stolen for the illegal wildlife trade. Dr. Rebeca Atencia, executive director of JGI RoC, flew from Spain to Republic of the Congo to save the infant's life. At two years old, Perrine was severely underweight, weighing less than six pounds (at birth, chimpanzees typically weigh four pounds). The situation was dire as she was also anemic and had a fever. JGI staff performed a blood transfusion—one of only two known successful chimpanzee-to-chimpanzee blood transfusions performed across countries in Africa, both at Tchimpounga. JGI caretaker and surrogate mother Antoinette then spent every moment with Perrine, 24 hours a day, gently feeding her to make sure she had adequate nutrition. After weeks on the brink, thanks to JGI's expert staff Perrine started to eat on her own. Today, she can walk, play, and even climb.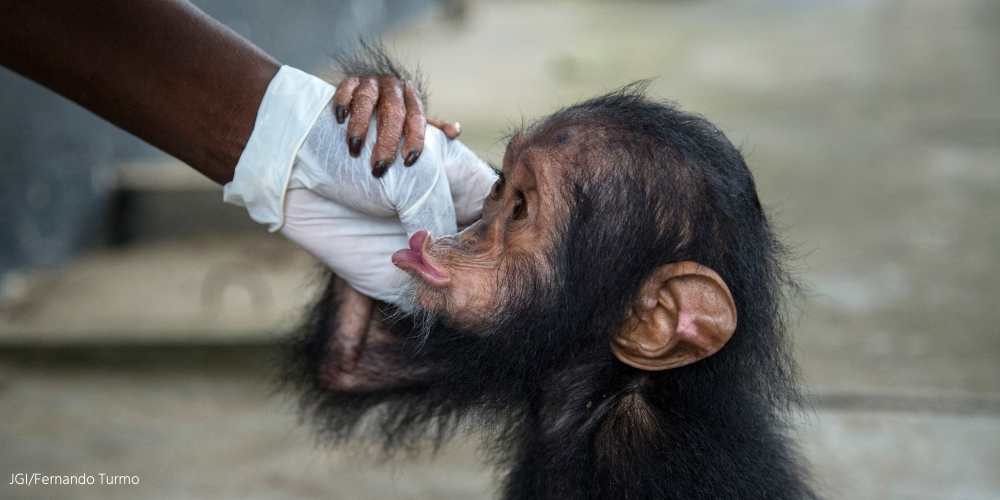 Zeze
In 2020, little Zeze was attacked and lost his eye as a result of the illegal pet trade in Angola. Because of Zeze's injuries and malnourishment, the Angolan government worked with JGI to ensure the transport of Zeze to Tchimpounga. Though the infant's future seemed bleak, JGI's expert staff devoted specialized care to him, making sure his caregiver provided 24-hour love and treatment. Though he will never recover his eye, Zeze has recovered a sense of family with the other rescued chimpanzees, like Perrine. Their kinship and compassion, along with the professional care of JGI's caregivers, present an opportunity for Zeze to see a future filled with hope.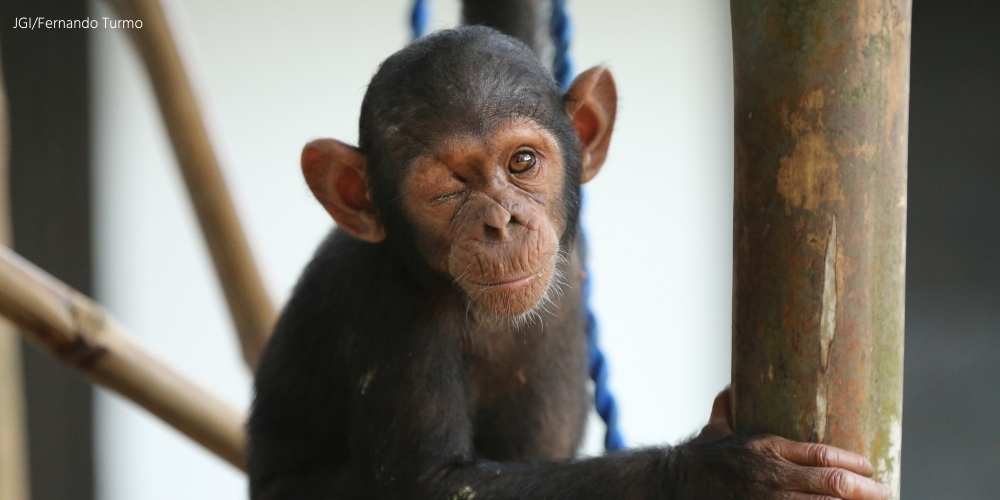 Koungoulou
At Tchimpounga, every chimpanzee's individual needs are our focus. JGI's Chimpanzee Welfare Index helped staff at Tchimpounga develop an individual care plan for Koungoulou, who was too dominant to integrate with other chimpanzees living at the sanctuary's island sites. After careful consideration, he was transferred back to the main sanctuary where he was slowly integrated into a new group. There, he was able to enjoy the outdoor enclosure and formed strong bonds with other chimpanzees, Christopher and Dan. While Koungoulou has still expressed dominant behavior, which has changed some of his new group's dynamics, the new dominant male of the group has not yet been determined. Their relationship has helped Dan to find a comfortable place within the hierarchy of the group.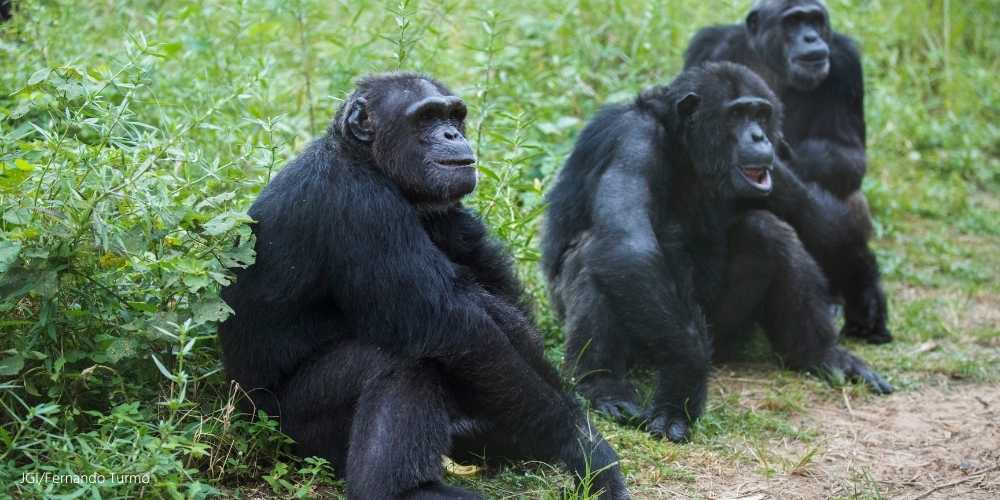 Covid
In September, a young male chimpanzee was confiscated from a private residence by Dr. Atencia in the city of Pointe Noire, in Republic of the Congo, in cooperation with a local associate. While he was found in good physical health aside from mild filariasis, he exhibited anxious behavior associated with psychological trauma. Dr. Atencia promptly transported the little chimpanzee to Tchimpounga sanctuary, where he very quickly relaxed within the comfort provided by his JGI RoC caregivers. Shortly after his arrival, the baby was named Covid as a reminder that the fight for the protection of wild primates continues, even when so much came to a halt during the pandemic.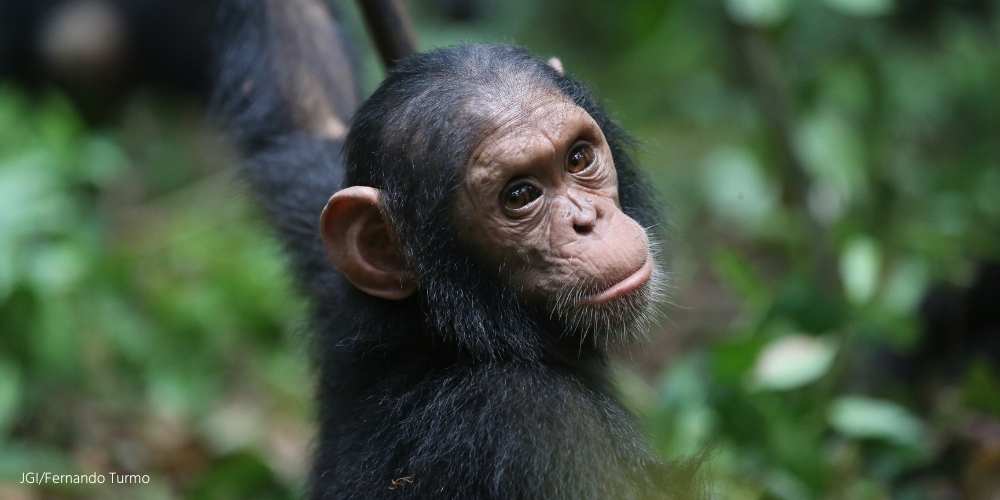 About JGI's Tchimpounga Sanctuary + Make a Difference for Rescued Chimpanzees
Founded in 1992, the Jane Goodall Institute's Tchimpounga Chimpanzee Rehabilitation Center is one of the largest chimpanzee sanctuaries in Africa, with nearly 140 rescued and rehabilitated chimpanzees. In the Republic of Congo, Tchimpounga serves as a beacon of hope, taking in orphaned chimpanzees rescued from the illegal pet or bushmeat trade. Through the expert care of the JGI staff and the generous support of people just like you, Tchimpounga is a second chance for chimpanzees who have suffered. You can support their care and help us keep our promise to never turn away a chimpanzee in need by becoming a Chimpanzee Guardian today.