The Jane Goodall Institute is proud to announce the launch of the new book/cookbook, published by Simon & Schuster with a forward by Dr. Goodall herself and 80 plant-based recipes, titled #EATMEATLESS: Good For Animals, The Earth & All. The book and accompanying campaign of the same name focus on all the ways in which choosing to go plant-based doesn't have to be a complete upheaval in order for it to be completely revolutionary for people, other animals, and the planet we share.
The book is available now on our eStore, as well as other online vendors!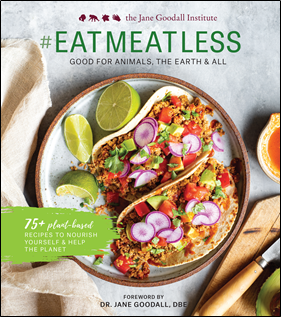 From conservation to animal rights and climate action, Dr. Goodall and the Jane Goodall Institute have taken on efforts to improve wellbeing for all through core community-led and youth programs, in addition to global activism. One important and cross-cutting advocacy effort is the need to transform food systems away from the harm of animal agriculture and toward greater sustainability and plant-based products. To that end, Jane and JGI have introduced #EATMEATLESS, a campaign encouraging plant-based and sustainable living including a pledge. The campaign is now fueled and supported by the new #EATMEATLESS book/cookbook which is unlike any in the landscape – a truly new way to look at and approach the way we each live in an interconnected world through food.
The timing and importance of this expansive and beautiful cookbook cannot be understated as we face some of the greatest challenges of our time including the climate crisis, unparalleled habitat loss, millions of animals suffering in factory farms, and the spread of zoonotic disease. This is an urgent issue, as scientists forecast that pandemics like COVID-19 created by a zoonotic spillover event will be one of many if we do not fundamentally change our current systems including animal agriculture. As a solution, this book provides a proactive and approachable way for individuals to understand their role in embracing plant-based lifestyles through inviting and exciting recipes and reflections.
Crafted especially for curious consumers looking to incorporate healthier dietary practices, those interested in environmental sustainability and animal welfare, and for fans of Jane Goodall's work, this collection of 80 vegan, accessible, and sustainable recipes gives home cooks the tools they need to take charge of their diet and take advantage of their own ability to make a difference in their communities and beyond. Along with colorful food photography, quotes from Dr. Goodall interspersed throughout transform this plant-based staple into an inspiring guide to reclaiming our broken food system: for the environment, for other animals, and for ourselves.
#EATMEATLESS DO GOOD WITH GOODALL CHALLENGE: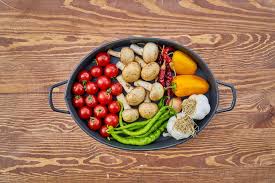 GET SOCIAL
#EATMEATLESS by going plant-based! Tag us on Twitter, Facebook and Instagram with a photo of your favorite meal gone meatless or favorite meatless recipe with #EATMEATLESS @janegoodallinst for a chance to be featured!
SHARE ON SOCIAL
Click to tweet: https://ctt.ec/s94Xq
Join Dr. Jane Goodall @janegoodallinst and the Jane Goodall Institute to #EATMEATLESS for people, other animals and the environment! janegoodall.org/ieatmeatless_pledge
#EATMEATLESS PLEDGE
Don't forget to take the #EATMEATLESS Pledge! Join us by going plant-based and reducing the negative impact food choices have on the environment, and other humans and animals, both locally and worldwide.
---

The Jane Goodall Institute is a global community conservation organization that advances the vision and work of Dr. Jane Goodall. By protecting chimpanzees and inspiring people to conserve the natural world we all share, we improve the lives of people, animals and the environment. Everything is connected—everyone can make a difference.