I only met Frank twice.  We got together for the first time 4 years ago and right from the start it felt as though I had known him forever. And that was the first time I met a bilby, that beautiful little Australian nocturnal marsupial ( Macrotis lagotis).  Frank had brought some very special ones with him – three young and very famous triplets. He asked, "Would you mind if one was named Jane?" Would I mind! I was so honoured.  It is impossible to see these delightful little creatures and not fall in love. With their huge ears and long noses they are a bit like the result of a romantic love affair between a rabbit and a very large shrew! No wonder Frank was hooked when he saw his first bilby.  He was with his ranger friend Peter McRae who had been studying these enchanting marsupials for several years.  Little was known about them because of their nocturnal habits, but Peter took frank into the field and showed him one with a flashlight.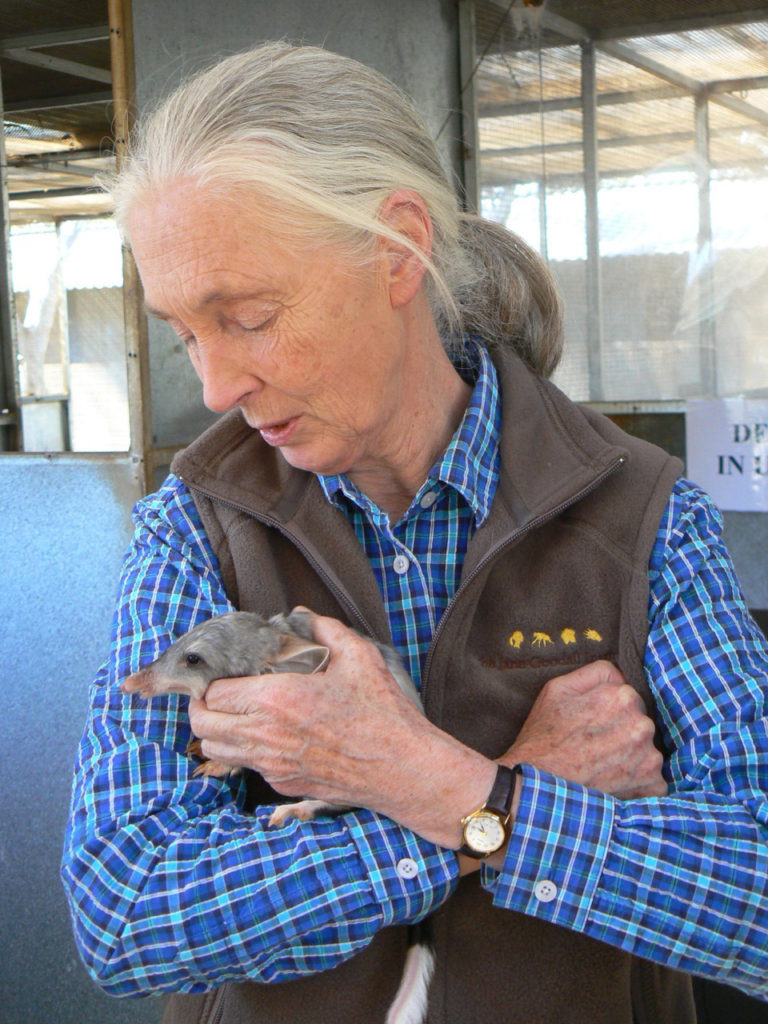 At one time bilbies were found in many parts of Australia, from the arid interior to the temperate coastal areas, but that was a hundred years ago. Today, changes in their habitat has seen their range reduced and their status listed as 'vulnerable'. They are now in competition with introduced animals and the demand for agricultural land. Sheep, cattle and rabbits graze on the same plants and they are hunted by foxes and feral cats.  Today there only isolated populations surviving in places in the arid regions throughout Australia, mostly on land protected by the Aboriginal people.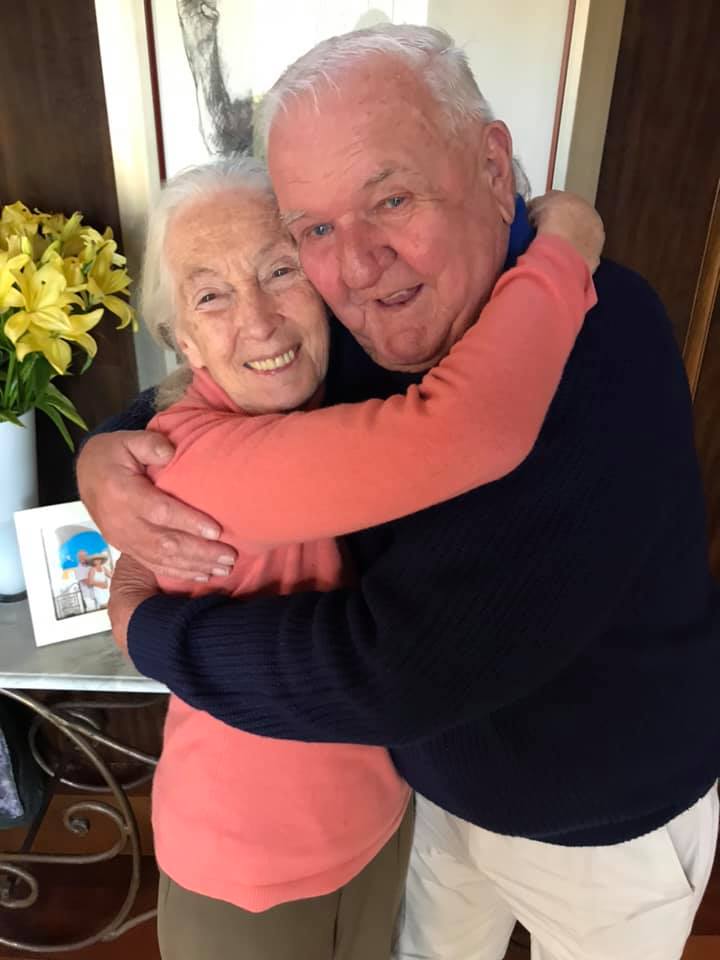 It was after the tragic death of his beloved wife, Eva, in 1996, that Frank decided to devote his life totally to trying to protect the remaining bilbies and increase their numbers. And so, in 1999, he and Peter Rae  co-founded the Save the Bilby Fund. Their first task was to raise the money to build a fence to keep out the cats (introduced by white settlers of course). For Frank, one of the most import things was to educate children, and he began visiting schools always taking a very docile bilby with him, one who was used to people.  Over the years Frank and his bilbies visited hundreds of children in schools throughout south west Queensland and  if they were very quiet the children were allowed to gently stroke  the soft blue-grey fur of the little animal.  Many of them, like Frank (and me!) fell in love. For most of his life Frank had been a Park Ranger, and he told the children about Australia's wonderful and unique wildlife heritage. It is so true, as I have so often said, that only if we understand can we care;  only if we care shall we help; only if we help will they be saved.  Thanks to Frank thousands of children will grow up wanting to save the wild places and the bilbies and all the other indigenous animals.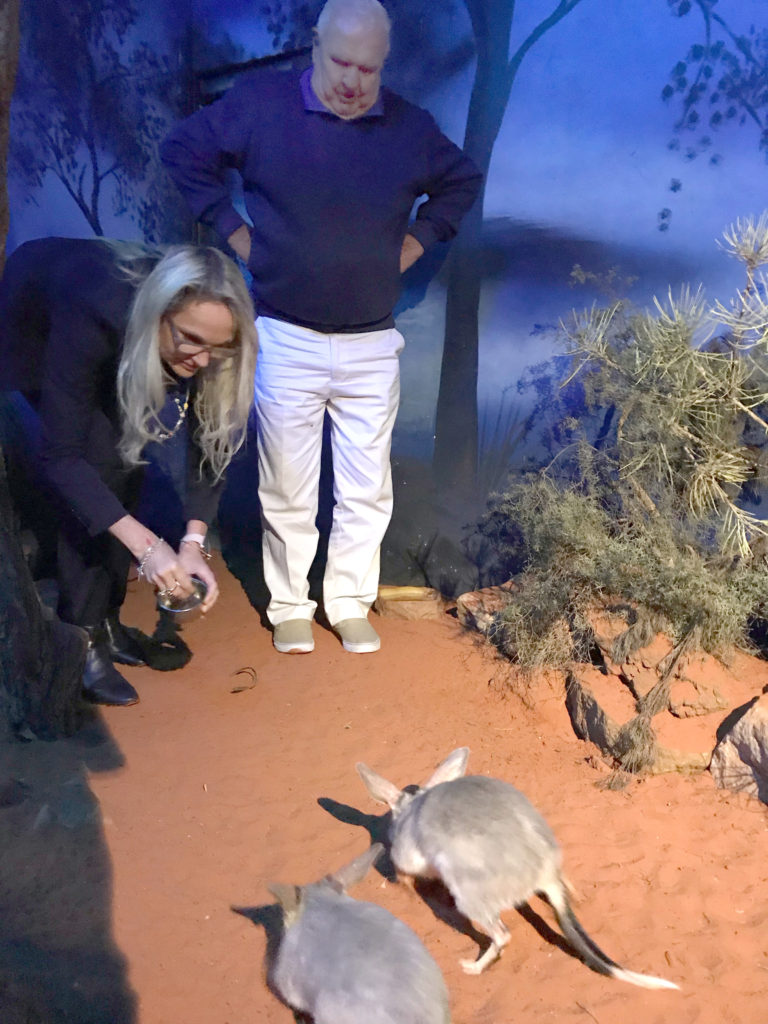 I saw Frank for the second time about a month ago in May, during my 2019 Australia tour.  He had been battling cancer for several years, and had written to me last year to tell me that he might not be able to see me for health reasons. But then, just before my recent visit, he wrote to say he was determined to make the journey to Sydney so that we could get together again.  And, thanks to his indomitable spirit he did.  His daughter, Karen Eva Russell, told me afterwards: "It would not have mattered what anyone would have said in regards to him travelling to Sydney to see you, he was going, and nothing would stop him".  He traveled  together with Judith "Judi" Stutchbury, a teacher friend of Frank's, who is doing much to develop Roots & Shoots in South West Australia. (And whose trip to Sydney was sponsored by Education Queensland in her capacity as State Finalist Showcase Teacher of the Year for her environmental work). 
I was so very, very happy that we had that second meeting. We had a wonderful conversation and discussed so many things – bilbies of course, but also the importance of giving children an opportunity to get close up to the natural world and how we could develop a partnership between Save the Bilby Fund and Roots & Shoots. He had brought with him two birthday gifts – he had commissioned his very talented son Geoffrey to make and carve a wooden boomerang and a glorious wooden bowl, both with Aboriginal designs. And last year's birthday gift was a fantastic walking stick, also carved and with Aboriginal art carved into the wood, also by his son. They are among my most treasured possessions.
Frank also brought a very special book to show me, Tenzing and the Sherpas of Everest. He had bought it about 18 years ago, and been amazed to read that Tenzing's 10 year old son, Pasang, who loved Australian wildlife, had given his father a small toy bilby to take to the top of Mt Everest. Frank immediately set to work to track down the Tenzing family and a few years ago was able to meet them during one of his trips to Sydney where he sets up an educational display. And as he always takes a bilby he wanted to give Pasang a chance to hold a real live bilby. What a wonderful moment! After that the Tenzing family met up each year with Frank to help with his display. Pasang, Frank told me, is now 27, has completed a PHD in Marine Biology and teaches at a Sydney school. What a great story!
That evening, with Judi and her daughter, he came to my lecture and afterwards came backstage to the Green Room. We had a last hug and we both had tears in our eyes. I think we both knew we would not see each other again.
Two weeks later I got the message that he had passed away. He will be terribly missed by his friends and especially his family.  But how wonderful that, thanks to the work of Frank and Peter and the Save the Bilby Fund, the number of bilbies has greatly increased.  And, even more important, new generations are growing up with a passion to save the natural world  – thanks to Frank. He was a conservation icon, beloved by many, and his work will never be forgotten. 
---

The Jane Goodall Institute is a global community conservation organization that advances the vision and work of Dr. Jane Goodall. By protecting chimpanzees and inspiring people to conserve the natural world we all share, we improve the lives of people, animals and the environment. Everything is connected—everyone can make a difference.