After intensive research and scoping to understand the threats to the populations of chimpanzees in Liberia, along with deepened existing relationships with conservation partners including Liberia Chimpanzee Rescue and Protection Organization, the Jane Goodall Institute (JGI) will begin implementation, alongside expert scientists in the fields of behavior change and species viability, of our well established, unique community-centered conservation and chimpanzee welfare approach in the region.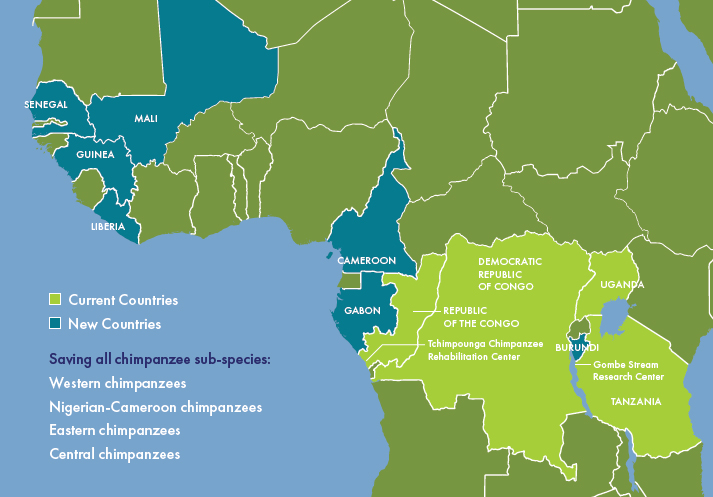 During the development of the current JGI Africa Programs 10-year strategy, it was underscored that to protect endangered chimpanzees, ensuring the conservation and welfare of chimpanzees across their range in Africa was imperative. It was determined that expansion was the best way forward – going beyond the existing regions of our work in Tanzania, Uganda, DRC and Republic of Congo. To do this, a variety of tools including the Open Standards for the Practice of Conservation methodology, use of JGI's "chimpscapes" (ecological management landscapes in chimpanzee range), and IUCN viability assessment and monitoring, allowed identification of several countries which could be included in our targets for chimpanzee conservation. This new expansion either increases capacity of existing work or supports developing conservation actions in Senegal, Mali, Burundi, Cameroon, Gabon, Guinea and Liberia.  
With an estimated abundance of approximately 7,000 individuals, Liberia is among the most important countries for the conservation of the western chimpanzee, Pan troglodytes verus. Threats to chimpanzees in Liberia are characterized by human behaviors such as illegal trafficking, habitat loss arising from mining, forestry practices, and bushmeat hunting. The goal of this project is to reduce the extinction risk of chimpanzee populations across Liberia by 2030 through understanding human needs fueling threats, increasing partner capacity to introduce a successful behavior change campaign, and using our proven model of community-centered conservation to improve human well-being while preserving great ape habitat and populations. JGI began our efforts in Liberia through advocacy around welfare concerning the NY Blood Center Research chimpanzees, and has developed several key relationships to ground our work. We've developed a stellar partnership with the Liberia Chimpanzee Rescue and Protection Organization's Dr. Jim and Jenny Desmond, who will be vital assets in sanctuary care and working with local communities.   
With this project led by Dr. Marc Fourrier, JGI's Director of Species Conservation (through generous support by U.S. Fish and Wildlife [USFW] and the JP Fletcher Foundation), we aim to deliver the best of our work in holistic conservation planning, implementation, management and learning. This approach represents a "package" of best practices in community-centered conservation which we have adapted and perfected over the last 25 years across our programmatic sites in Africa. Through the integration of proven science and grounding of IUCN's Conservation Planning Specialist Group, predictive modeling of chimpanzee population viability, Open Standards, and the collaboration with Impact by Design to develop effective behavior change campaigns, Liberia exists as a developing exploration into the hopeful possibilities of the expansion of our efforts across the chimpanzee range. What unfolds in Liberia will greatly enhance our ability to make sure our closest living relatives have a fighting chance for years to come. 
---

The Jane Goodall Institute is a global community conservation organization that advances the vision and work of Dr. Jane Goodall. By protecting chimpanzees and inspiring people to conserve the natural world we all share, we improve the lives of people, animals and the environment. Everything is connected—everyone can make a difference.