Brad Meltzer is a historian, host of the History Channel's 'Decoded' and a best selling mystery and thriller author. So what is he doing writing children's books?
Meltzer is fueled by the notion that we can all be heroes. Through the lens of history, he provides children (and adults) an illustrated portal into the everyday people who made choices to do great things. The books in his series "Ordinary People Change the World" were a clear response to the absence of literature for young people providing that theme – that ANYONE can be someone worth remembering for all that they've accomplished. That beacons of grand importance are really very similar to us, and just took the extra initiative to achieve magnificent things. His latest book could not be about a more fitting subject: someone who took chances, never gave up and used her whole heart to not only discover more than anyone else at the time, but to also share her heart with the world. Brad's latest book is… "I am Jane Goodall."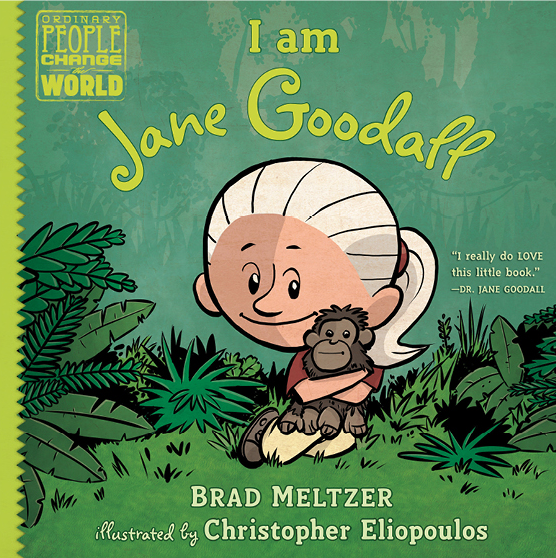 I wanted my kids to see more than princesses and sports figures. I wanted them to see real heroes — Amelia Earhart…Abraham Lincoln — real people no different than themselves. For that reason, each book tells the story of a hero when THEY were a kid. We see them as children. So it's not just Amelia Earhart and Abraham Lincoln being famous — but them being just like us.
"I am Jane Goodall" tells the story of the chimpanzee scientist, the nature lover and the dedicated champion for animals, Dr. Jane Goodall. The book follows Jane from childhood and her early curiousness pertaining to the natural world, and follows her into her scientific landscape shifting work in Gombe, Tanzania. This book in the hands of so many children shows them that if you look closely enough and stay committed to your dream, you will unlock unimaginable learning and improve the future for those who come after you. Jane's story most especially describes what her pioneering work did for women in science, and the boundary between intuition and research.
Jane's story is one that will never get old. It first spoke to me as a woman. I found inspiration in her perseverance and determination. Now, as a mom, I find that I want to be like Jane's mom! This book does a wonderful job of telling the story of those around Jane in her life that may have given her opportunity or supported her in some way along her journey–big or small. The illustrations were cool too!

I look forward to reading this book for years to come as my daughter grows old enough to understand the many important messages–first as a girl, then as a woman, perhaps one day as a mom, but most importantly as a person who has a role in making a difference in this world that we all share.

-Kamilah Martin, Associate Director, Roots & Shoots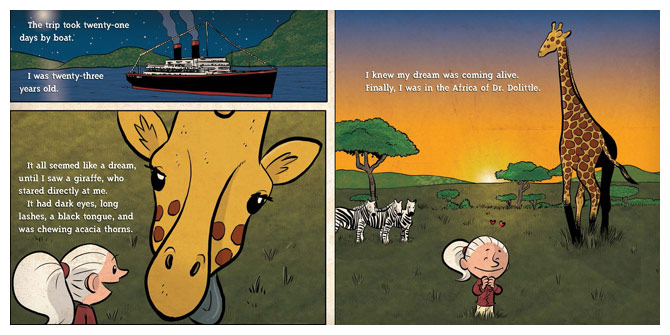 Books have shaped the course of people and history perhaps like no other medium. Jane Goodall herself was inspired by the 'Tarzan' novels, wanting only to study animals in the wild and to write about them. In this way, she felt she could understand them like no one had before (like perhaps only Tarzan did in fiction), and share that understanding with the world. Little Jane Goodall would climb a beech tree to
"….feel a part of the life of the tree, swaying when the wind blew strongly, close to the rustling of the leaves… And I would read up there, in my own leafy and private world. I think I went through all the Tarzan books thirty feet or so above the ground. I was madly in love with the Lord of the Jungle, terribly jealous of his Jane. It was daydreaming about life in the forest with Tarzan that led to my determination to go to Africa, to live with animals and write books about them. I also went up Beech simply to be myself, to think."
(excerpt from Reason For Hope)
The ripples which occurred as a byproduct of Jane Goodall's interactions with books, and the evocation of delight and dreaming they resulted in, molded Jane into the person she would become. This special form of entertainment and learning is so unlike film or tv, by giving the reader all of the ability to fill in and provide life to the characters in their own minds. With Brad Meltzer's series, and especially "I am Jane Goodall," it is obvious that many, many young people will be changed after reading about this remarkable woman, and in turn will go on to change the world.