Alice Kaahwa lives on the edge of an important forest.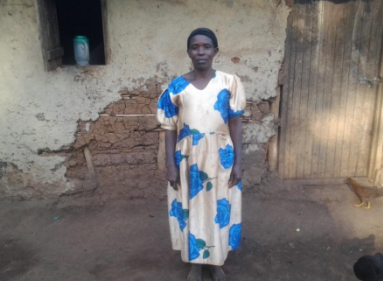 She is a resident of Kyakatemba village in the Hoima district of western Uganda, a village in between the Budongo and Bugoma Forest Reserves which provide a home to more than 1154 chimpanzees and other wild animals.
For the last 10 years, the Jane Goodall Institute (JGI) in Uganda has engaged communities on the forest edge in conservation activities intended to reduce dependence on these natural forests for survival while also improving their livelihoods.
One of JGI in Uganda's sustainable livelihood project activities involves introducing energy saving stoves into the community. These stoves are designed to reduce the amount of wood fuel used, enabling villagers to cook meals much more efficiently, unlike with the conventional three-stone cooking stoves.
These stoves also emit less smoke than conventional ones, hence minimizing indoor air pollution and which reduces the frequency of respiratory infections, among women especially.
Alice is one of the community members who has been trained by JGI on how to construct these stoves, and has been using hers for the past two years.
I used to fetch fire wood from forests five times in a week, but ever since I started using the energy saving stoves, I fetch once a week.
As a mother with a family of twelve, the stove not only saves Alice energy, but also time. With the conventional stove, she could only begin cooking after she finished gardening. As the food cooked, she would have to sit by the fire and add more logs to keep it burning until the food was ready. This left little time for performing other useful chores while the food cooked.
Now Alice is able to multi task. Leaving the food on the stove, Alice can tend to her garden. By the time she returns, the food is ready and she can serve lunch to her family on time.
To further support Alice and her community, JGI in Uganda has also helped her start up a family woodlot of the fast growing indigenous tree species (Maesopsis eminii). This will provide her with a consistent source of fuel, further reducing the time it takes to collect firewood.
In common with much of Uganda (where, according to the UNDP and the German Agency for International Development, 90% of the population uses charcoal or firewood based cook stoves), Hoima District is suffering from a shortage of firewood. In response, Alice is reaching out to other women in her community to share the knowledge of constructing energy saving stoves. Her efforts have greatly reduced the time that women and children spend cooking and searching for firewood, improved their livelihoods and helped to protect the Budongo and Bugoma forests.
To learn more about the Jane Goodall Institute's Sustainable Livelihood Program, please visit here.